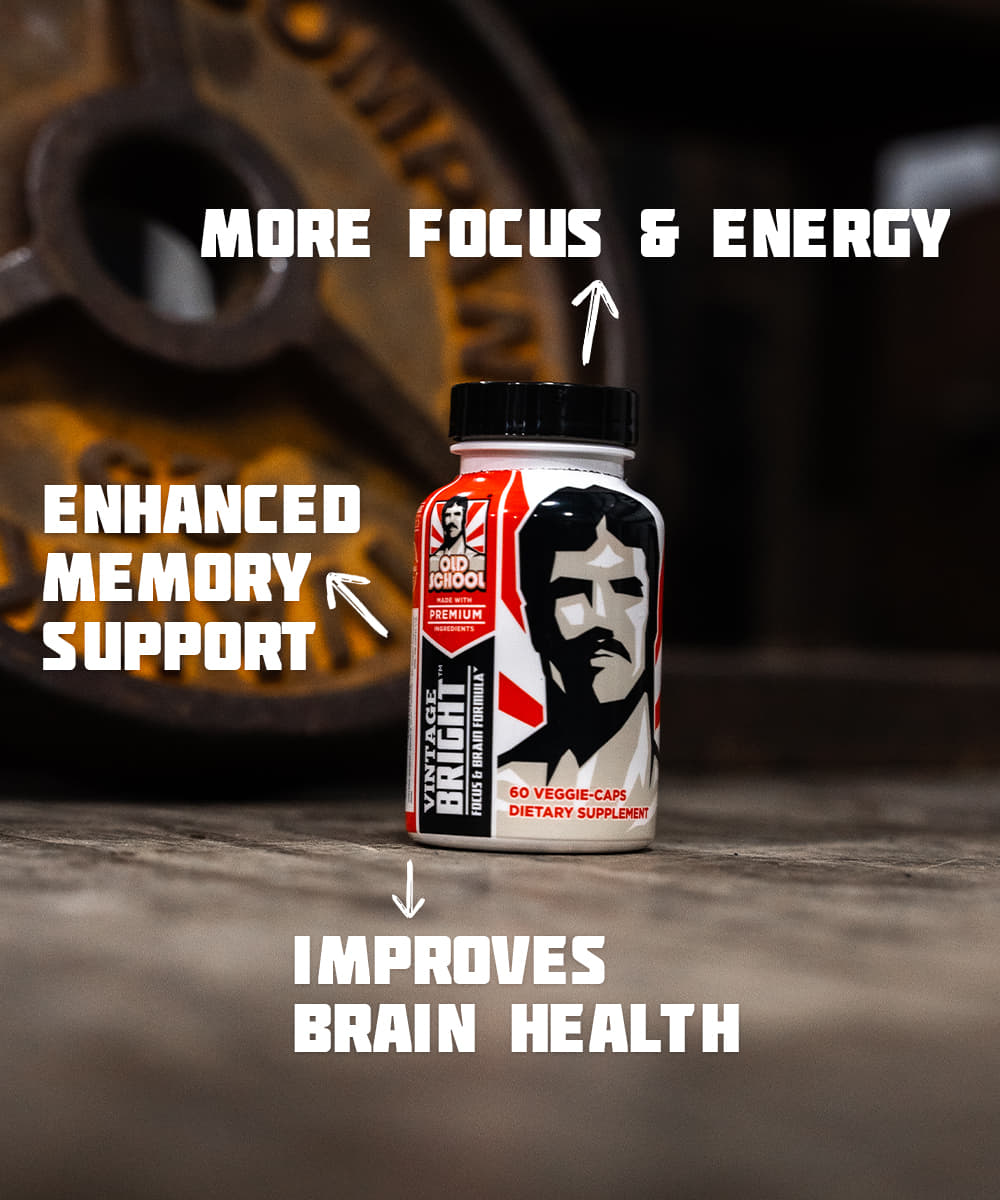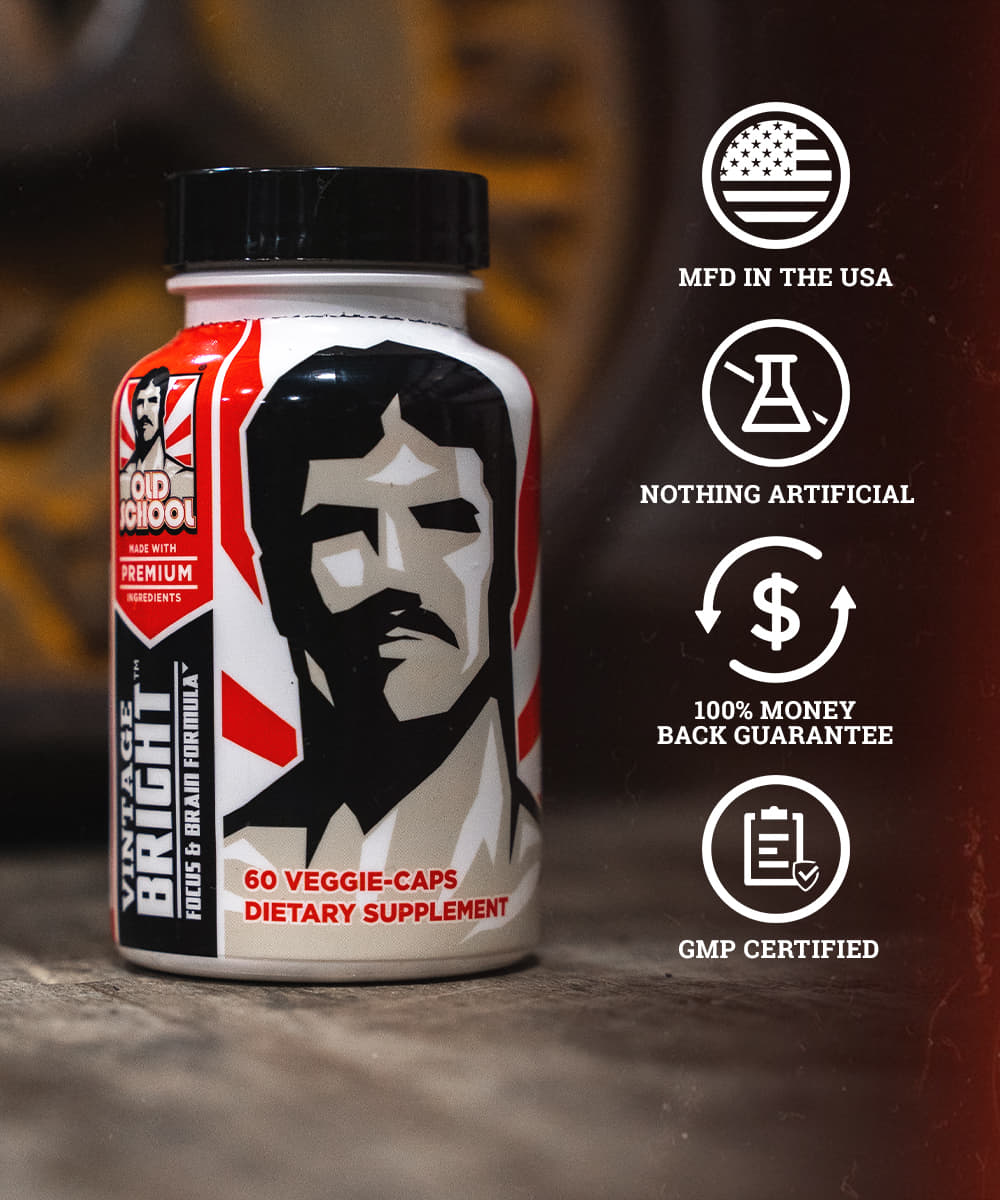 Focus & Brain Health Formula
Vintage Bright™
Vintage Bright™ is a natural nootropic that boosts cognitive ability and energy for increased productivity and motivation all day.
• Provides heightened focus and steady energy throughout the day – for increased productivity in all tasks and activities
• Aids long-term memory and short-term recall for an 'unforgettable experience'
• Bacopa herb and blueberry fruit extract work to strengthen and protect your most valuable asset inside and outside the gym, your brain
• 60 veggie capsules - 30 servings
---
The Formula
Ginseng Root Extract (300 mg)
Contains numerous active substances that play key roles in overall health, including brain health support, immune system strengthening, increased stamina, and improved athletic performance.
Ginkgo Leaf Extract (180 mg)
An herbal extract that has been shown to improve blood flow, while supporting cognition and memory.
L-Theanine (200 mg)
An amino acid that aids the body in transmitting impulses to the brain more efficiently. This directly improves focus and brain function.
Bacopa Herb Extract (150 mg)
Helps build up chemicals in the brain that are responsible for cognition and memory.
Caffeine (200 mg)
The well-known stimulant blocks adenosine signals to the brain, allowing you to feel more alert, energetic and focused.
Blueberry Fruit Extract (100 mg)
Helps to minimize memory and motor function deficiencies related to aging, and is important in maintaining long-term brain health.
---
Vegetable Capsule: Our rapid-release vegetable capsules are completely see-through and made only from plant cellulose. No gelatin is ever used.
Vegetable Stearate: The highest quality vegetable-based stearate is used to ensure that each and every capsule contains the same amount of active ingredients.
---
ALLERGEN WARNING: This product was produced in a FDA inspected cGMP facility that also processes ingredients containing eggs, milk, tree nuts, peanuts, soybeans, shellfish and fish.
WARNING: Consult your physician prior to using this product if you are pregnant, nursing, taking medication, or have a medical condition. Do not take if seal is broken. Keep out of reach of children.
Product Details
Your state of mind can have a huge effect on your physical and mental performance. It can affect things like focus, memory and energy.
When you're mentally tired, you feel depleted of energy and lose the motivation to train or perform any physical activity.
For us at Old School Labs™, that just doesn't make sense!
To be at your best, both in the gym and in your daily life, you need to be firing on all cylinders. That's why we created Vintage Bright. It is designed to boost cognitive ability, as well as enhance your focus and energy. It helps you to be more productive and turns you into the best version of yourself – inside and outside the gym.
So stop going through your days in a mental fog – and get the most out of each waking hour with Vintage Bright today!
Directions

Take 1 capsule twice a day before or with meals. For concentrated focus and mental acuity, take 2 capsules 15-30 minutes before activity. Avoid taking before bedtime and do not exceed 4 capsules in a 24 hour period.
Frequently Asked Questions
No, Vintage Bright™ is a natural focus and cognitive energy aid that contains no substances banned by universities.
---
Vintage Bright™ will provide you with heightened focus and cognitive energy, as well as improved memory, to keep you fully engaged in whatever activity you're doing.
---
We recommend taking Vintage Bright™ before or with a meal on a daily basis. For more concentrated focus, take 2 servings 15-30 minutes before activity.
---
Yes, Vintage Bright™ may be taken with any other Old School Labs™ supplements.
---
Vintage Bright™ can be used as a light pre-workout. But for more energy and pumps, try our two-stage pre-workout, Vintage Blast™, which is designed to help you take full advantage of your workouts.
---
Yes, Vintage Bright™ includes ingredients such as blueberry fruit extract and bacopa herb extract to support both short-term and long-term brain health.
---
More Questions?
If you have any questions about this product please feel free to get in touch. At Old School Labs™, we pride ourselves in the quality of our products and our customer service.