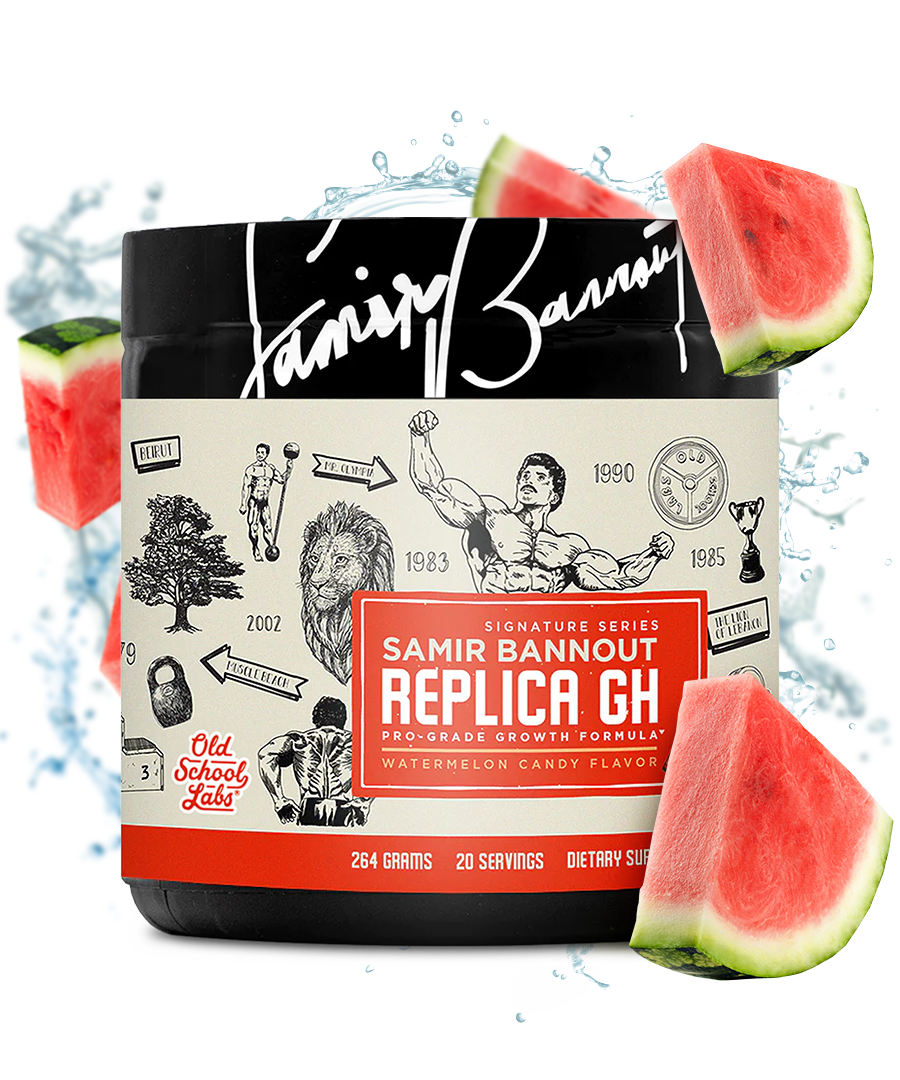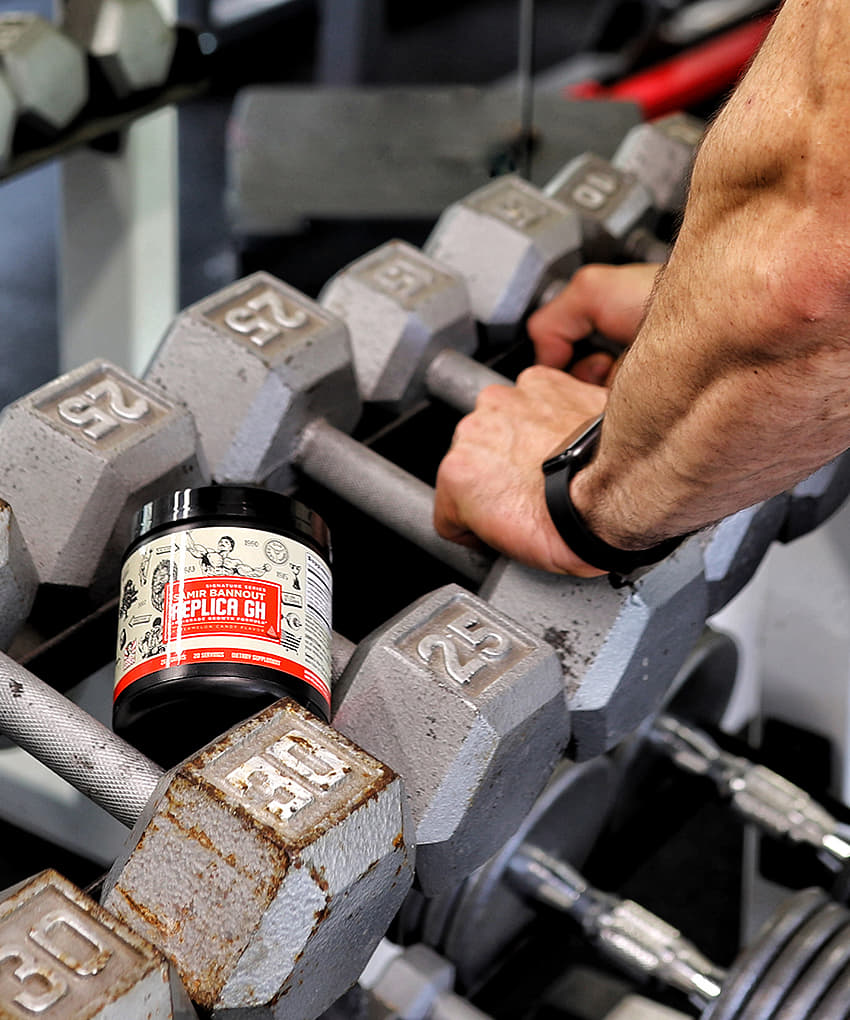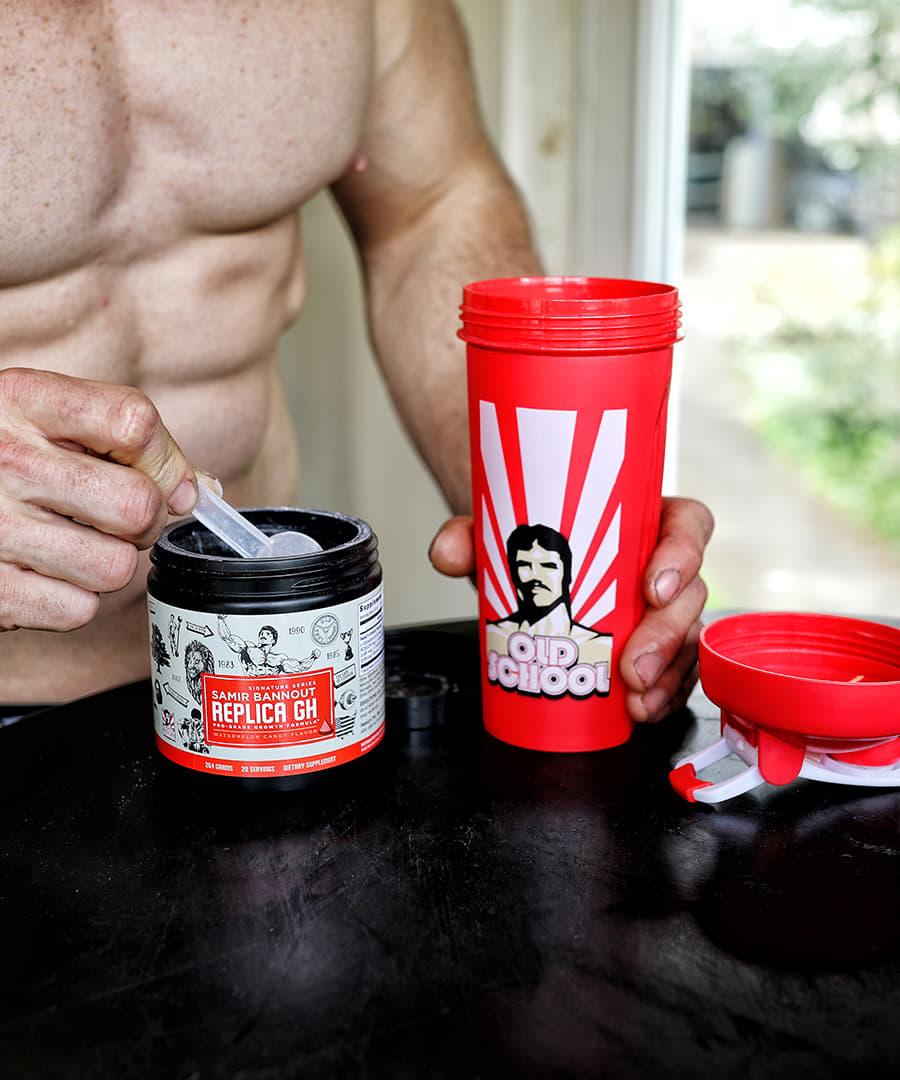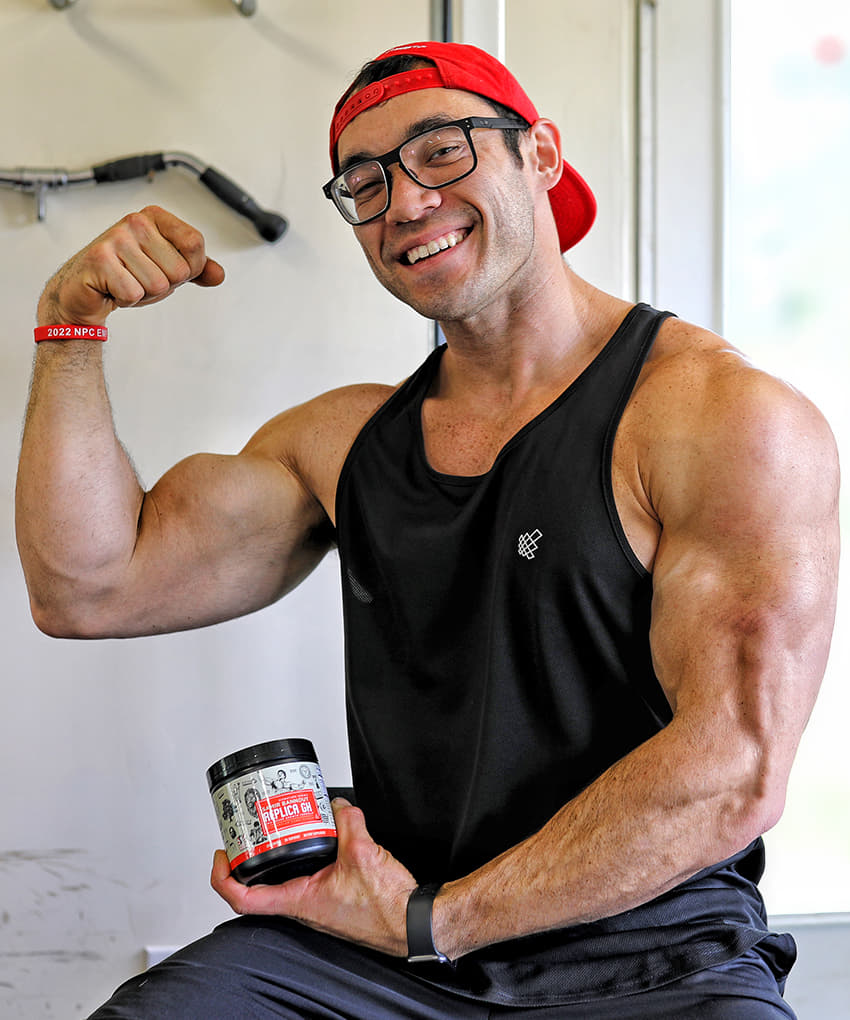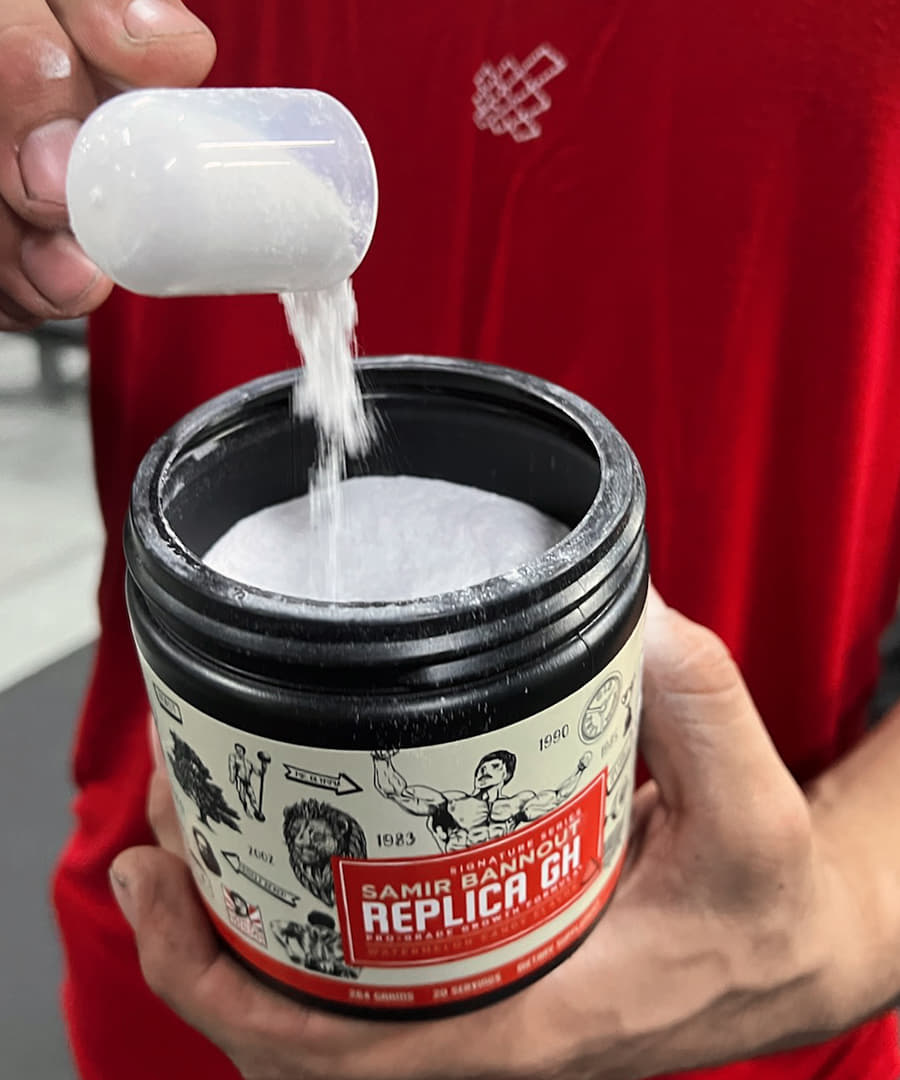 Samir Bannout REPLICA GH
REPLICA GH is the ultimate anabolic formula that helps maximize muscle fullness and vascularity while preventing catabolism, even when cutting and in a caloric deficit.
In collaboration with Golden Era icon Samir Bannout, we modernized and brought back this unique formula he created and used during his prep for the 1983 Mr. Olympia win.
• Visible results in as little as 72 hours
• Maximize the body's natural release of growth hormone (GH)
• Optimize muscle anabolism
• Prevent muscle loss and catabolism
• Enhance muscle fullness and volumization
• Improve vascularity throughout the body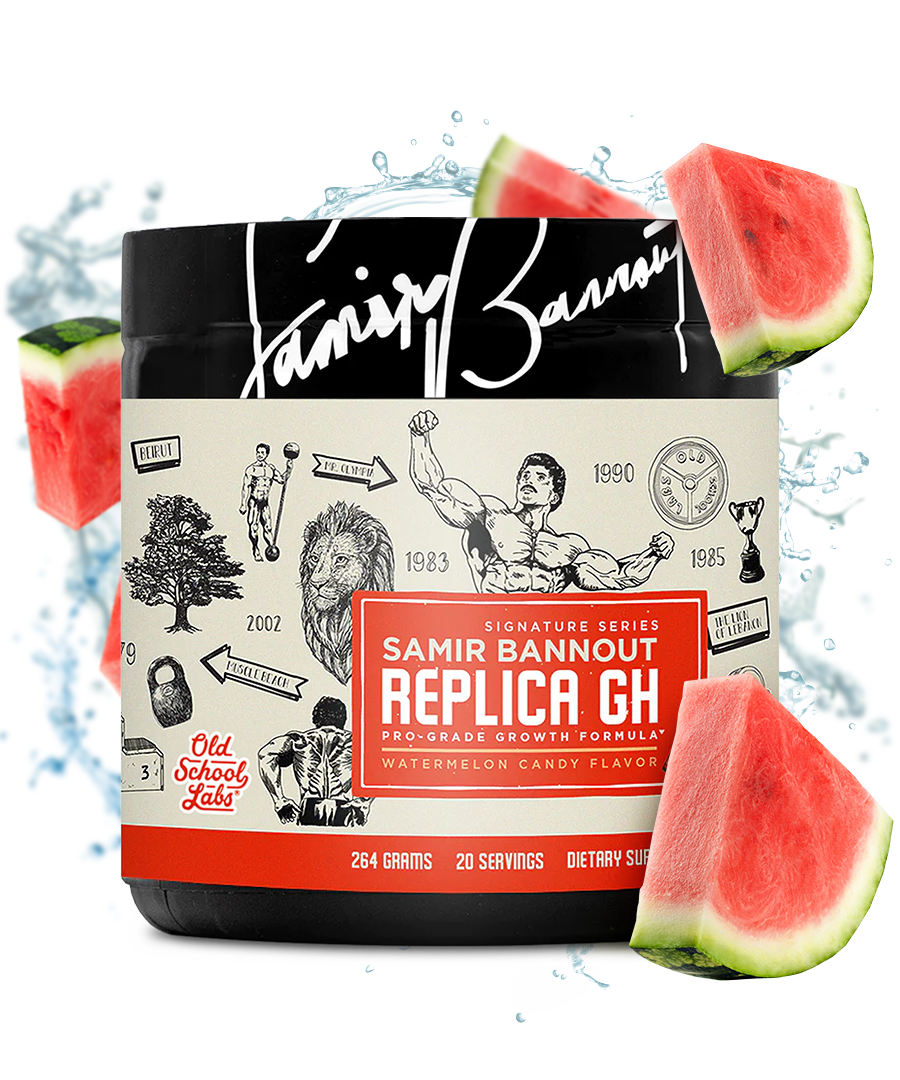 RECOVERY & VISIBLE GROWTH WITHIN 72 HOURS
GH (Growth Hormone) is incredibly important at helping build strong bones and muscles while also helping regulate body fat and blood sugar levels.
Unfortunately, as we age, the pituitary gland starts decreasing the amount of GH that it produces which can cause muscle loss, body fat storage increase, and bone weakening.
Here at Old School Labs, we won't let that happen!
REPLICA GH helps increase GH production, enhance muscle fullness, amplify vascularity, and improve leanness.

Golden Era legends like Samir Bannout spoke openly about naturally boosting their GH levels with very specific ingredients, long before exogenous GH was available. This is Samir's own GH-boosting formula that he credits for helping achieve his Olympia-winning physique!

We guarantee you'll see growth and recovery results as early as the first 72 hours, or your money back.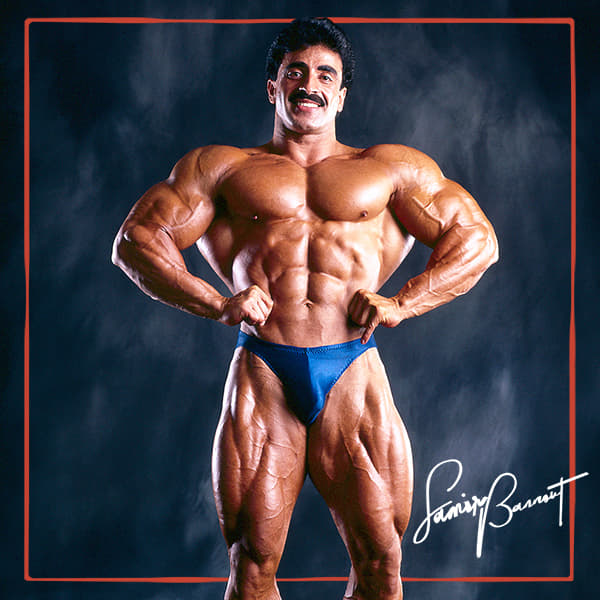 SAMIR BANNOUT
The Legend Himself
Widely known as one of the best to ever step on the stage, Samir Bannout participated in more than 50 competitions & famously lifted the 1983 Mr. Olympia trophy.

Renowned for his posing & his incredibly developed lower back, which was immortalized as the "Lebanese Cedar'', Samir was inducted into the IFBB Hall of Fame in 2002.

During his competition preps, Samir religiously consumed the 3 formulations we've modernized & reincarnated today under the Samir Bannout Signature Series.

This is your chance to experience greatness at its finest!
The Formula
An amino acid that is conditionally essential when training at a high intensity. L-Glutamine plays a central role in maintaining a positive nitrogen balance and an anabolic state by reducing muscle breakdown and supporting cells. Additionally, it acts as a muscle protector when on a fat-loss regimen. In terms of GH, L-Glutamine has been shown to help increase natural GH production and secretion.
---
Lysine is an essential amino acid that the body cannot make. This EAA helps improve calcium absorption, which supports bone strength and skin structure. It can also enhance the recovery and healing process. Most important for those looking to increase their lean muscle mass, L-Lysine HCl can stimulate GH release.
---
Arginine is a naturally occurring amino acid that plays a vital role in cell division, immune system response, healing wounds, removing ammonia from the body, and releasing hormones. The body can convert arginine into nitric oxide as needed to help enhance muscle pumps and vascularity. L-Arginine has also been shown through research to be able to boost GH levels in the body.
---
Building a muscular physique can be challenging, but L-Ornithine HCl plays a key role in boosting strength as well as improving muscular endurance. This amino acid also helps increase the production of the body's natural GH secretion. Additionally, L-Ornithine HCl can aid in the removal of waste products from the body, such as ammonia.
---
This powerful amino acid is needed to help make the most powerful antioxidant in the body, glutathione. This helps prevent cellular damage due to free radicals and oxidation. The body also uses glycine to make creatine to help boost muscular strength and performance. When it comes to muscle mass, glycine can prevent muscle wasting and shifting into a catabolic state where the body breaks down muscle tissue — this is especially important when dieting and in a caloric deficit.
---
Citric Acid: Naturally occurring acid found in fruits (notably citrus fruits such as oranges). We use it to bring out the flavor.
Silicon Dioxide: This vegetarian-friendly compound, naturally found in many foods, is used to help prevent clumping.
Natural Flavors: Countless iterations of taste-testing allowed us to arrive at a flavor that tastes great and mixes easily.
Calcium Silicate: Salt to help bring out the flavors within the product.
Sucralose¹: A calorie-free sweetener that doesn't have a bitter aftertaste.
Beet Root Powder: While used to add natural coloring to a product, beet root powder can increase blood flow, strengthen muscle contractions, decrease blood pressure, reduce inflammation, and is loaded with helpful vitamins and minerals to aid in the recovery process.
Stevia Leaf Extract: A zero-calorie natural sweetener. A minimal amount of high-quality stevia is used to remove the bitterness and acidity naturally occurring in L-Glutamine.
Luo Han Guo Fruit Extract²: A natural, zero-calorie sweetener, that is also rich in antioxidants.
Beta Carotene²: For that peachy red-orange natural color.
Notes: ¹Watermelon Candy flavor only. ²Peach Lemonade flavor only
---
ALLERGEN WARNING: This product was produced in a FDA inspected cGMP facility that also processes ingredients containing eggs, milk, tree nuts, peanuts, soybeans, shellfish and fish.
WARNING: Consult your physician prior to using this product if you are pregnant, nursing, taking medication, or have a medical condition. Do not take if seal is broken. Keep out of reach of children.
CALIFORNIA PROP 65 WARNING: Consuming this product can expose you to chemicals including lead which is known to the State of California to cause birth defects or other reproductive harm. For more information go to www.P65Warnings.ca.gov/food.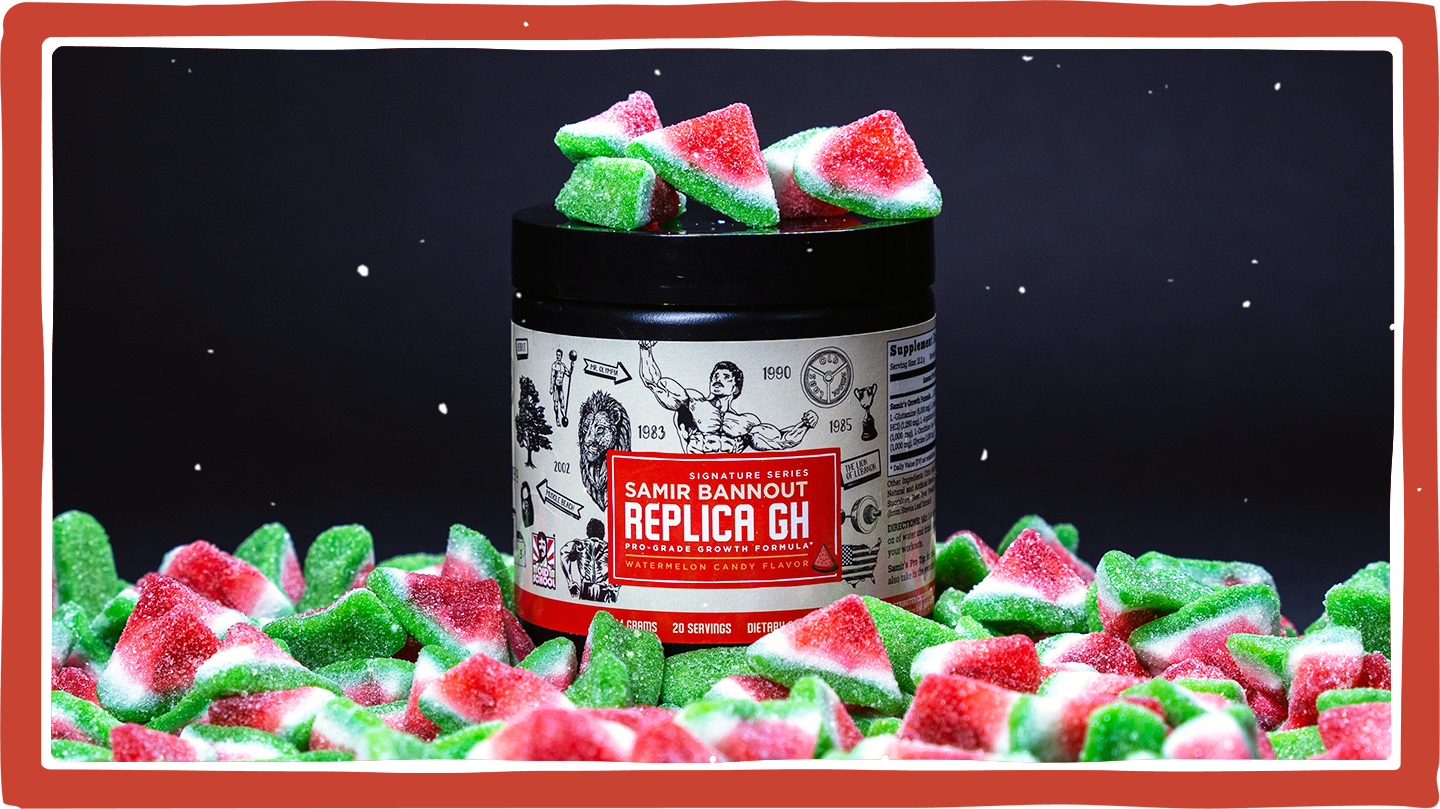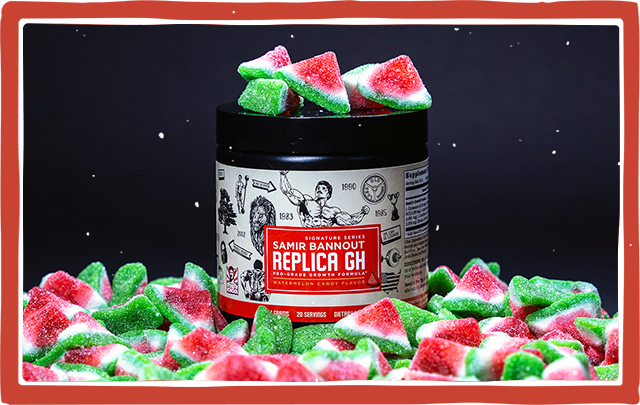 Directions

Samir's Pro Tip: For maximum results, also take in the evenings on rest days.
Frequently Asked Questions
Definitely! In fact, if you want to further enhance your results, you can combine REPLICA GH with many other Old School Labs muscle-building & other supplements to maximize muscle growth & recovery, such as our protein Vintage Brawn, pre-workout Vintage Blast, 3-in-1 muscle builder Vintage Build, Classic Creatine, Classic BCAA, and many others!
---
If building lean muscle mass & recovery gains is what you're after, REPLICA GH can help both men and women get the results they desire.
---
Due to the precise combination of key ingredients that provide lasting results without side effects, there is no need to cycle off of REPLICA GH.
---
No chance. There is nothing in REPLICA GH that will cause you to test positive for any PEDs. REPLICA GH has also been 3rd party tested to ensure quality & that what's on the label is precisely what's in the product.
---
The potent yet natural ingredients in REPLICA GH allow you to get the results you want without the need for any type of PCT after you've finished a bottle.
---
Absolutely not. Whether you're a bodybuilder, an elite athlete, or just someone looking to get in better shape and condition, you can achieve fantastic results from this product.
---
None of that stuff. Samir's formula helps your body make more.
---
More Questions?
If you have any questions about this product please feel free to get in touch. At Old School Labs™, we pride ourselves in the quality of our products and our customer service.
---