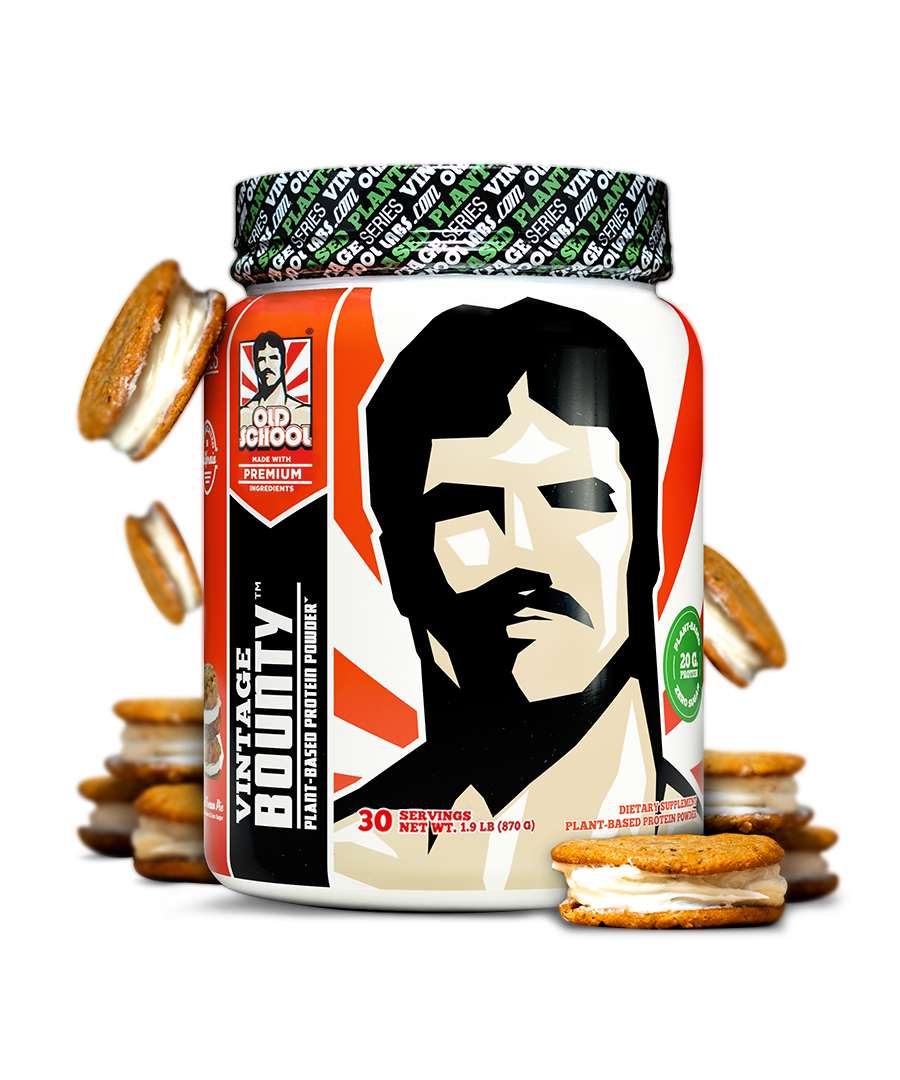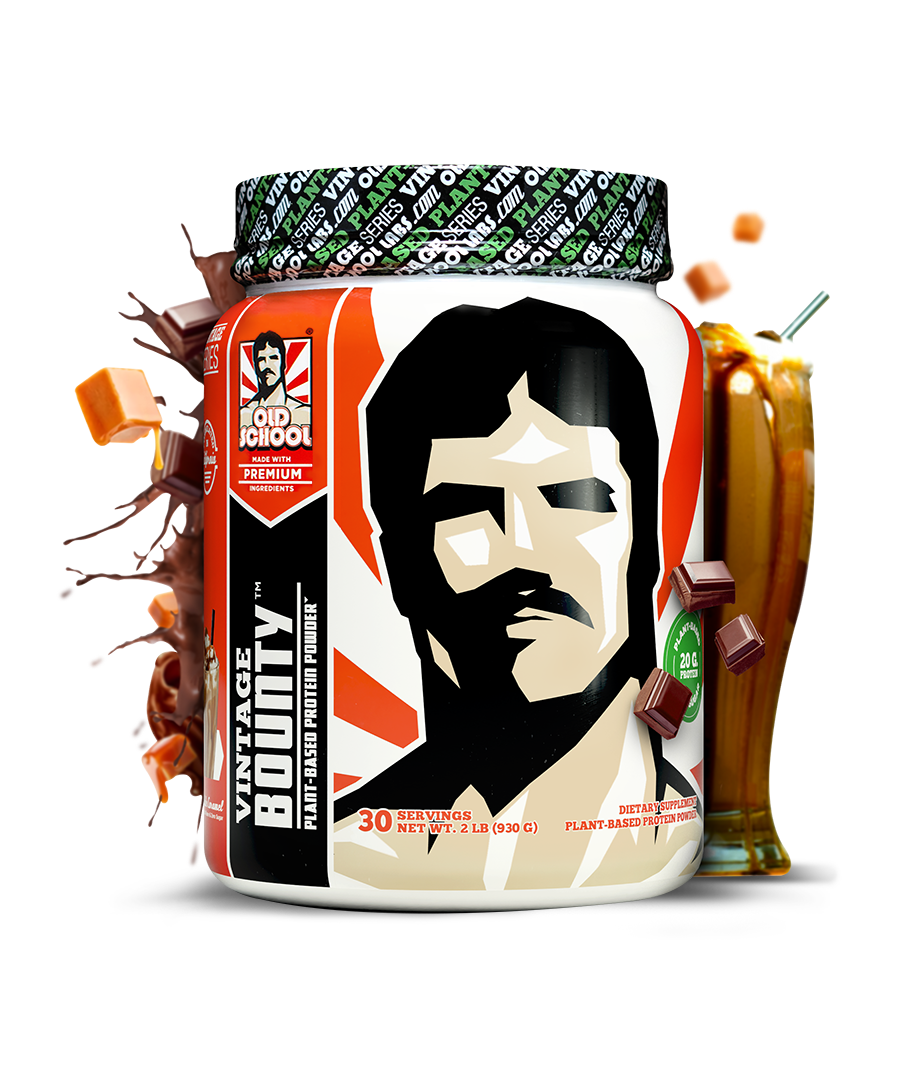 Plant-Based Protein Powder
Vintage Bounty™
Vintage Bounty™ is formulated for anyone looking to reduce their reliance on animal proteins, without compromising anabolic muscle building. Four vegan-friendly best-in-class protein sources supply a complete amino acids profile. Plus it beats the taste, texture, and benefits of any other plant-based protein supplements on the market - and even most animal-based ones!
• Plant-based, dairy-free protein
• Complete amino acids profile
• Enhances recovery
• Never chalky or gritty
• Zero sugar, vegan-friendly
• 20g per serving, 30 servings
---
The Formula
Pea Protein
Pea protein is rich in eight essential amino acids: histidine, isoleucine, leucine, lysine, phenylalanine, threonine, tryptophan, and valine. This protein is easily absorbed by the body.
Brown Rice Protein
Brown rice protein supports protein synthesis and helps build muscle mass. It is also gentle on digestion.
Pumpkin Seed Protein
Pumpkin seeds contain all nine essential amino acids and are especially high in lysine, leucine, and arginine.
Sunflower Seed Protein
Sunflower seeds are a complete protein, containing nine essential amino acids to support muscle growth and recovery.
---
Natural Flavors: Countless iterations of taste-testing allowed us to arrive at a flavor that tastes great and mixes easily.
Cocoa Powder¹: For a rich, intense, and deep chocolate flavor that you'll love.
Medium Chain Triglycerides: A source of beneficial fatty acids that can be used for fuel by the body.
Organic Agave Inulin: A low-glycemic natural sweetener.
Sunflower Lecithin: Rich in choline, sunflower lecithin also helps prevent clumping in foods.
Sucralose² ³: A calorie-free sweetener that doesn't have a bitter aftertaste.
Steviol Glycosides: Extracts from stevia leaves, a natural calorie-free sweetener.
Sea Salt: Helps with the flavor.
Malic Acid³: This is what makes apples tart. It helps with flavoring.
Citric Acid³: Naturally occurring acid found in fruits (notably citrus fruits such as oranges). We use it to bring out the natural flavor.
Notes: ¹Chocolate Caramel flavor only. ²Oatmeal Cream Pie flavor only. ³Lemon Bar flavor only.
---
ALLERGEN WARNING: This product was produced in a FDA inspected cGMP facility that also processes ingredients containing eggs, milk, tree nuts, peanuts, soybeans, shellfish and fish.
WARNING: Consult your physician prior to using this product if you are pregnant, nursing, taking medication, or have a medical condition. Do not take if seal is broken. Keep out of reach of children.
Product Details
It's not a secret… For anyone looking to reduce their reliance on dairy or animal based proteins, it can be challenging to find a plant-based protein that is as effective as those products.
Oftentimes in the search for a plant-based protein, people get stuck wasting money on powders that taste gritty and chalky – and just don't deliver muscle-building results. At Old School Labs™, we don't want you to have to keep searching, and that's why we created Vintage Bounty™.
Vintage Bounty™ combines four of the highest quality plant-based proteins: pea, brown rice, pumpkin seed, and sunflower seed. It's specifically formulated to start digesting right away but provides hours of amino acids to support muscular recovery and growth. It's also sugar-free and dairy-free so you can stay on track with your goals and feel good.
Directions

Add 1 scoop of Vintage Bounty™ to 12-16 fluid ounces of cold water or your favorite beverage. Shake or blend for 20-30 seconds and enjoy. Take one serving during the day: post-workout on training days, and any time on rest days. You can also take a second serving before bed to support muscle repair and recovery while you sleep.
Frequently Asked Questions
Definitely. You don't have to be a vegan nor a vegetarian to enjoy the benefits of Vintage Bounty™ – it's for anyone who wants to use protein to build and maintain muscle, recover from intense workouts, and support muscle repair and recovery without relying on animal protein.
---
Yes! Vintage Bounty™ delivers a complete amino acids profile with proteins and ratios chosen for their ability to support muscle building, growth, repair, and recovery.
---
You can use Vintage Bounty™ like any other protein shake. Enjoy it right after your workout or as a meal replacement or midafternoon snack.
---
Yes! Taking it after workouts will help you preserve lean muscle and boost your metabolism. Using it as a meal replacement to replace a higher-calorie meal can help you lose fat faster. Vintage Bounty™ can also help you regulate your appetite: Protein is satiating and curbs your appetite. Plus, the delicious taste of Vintage Bounty™ helps satisfy cravings for sweets.
---
Absolutely. If you love getting creative in the kitchen, you can use Vintage Bounty™ in old favorites and new recipes far beyond shakes, smoothies, and baked goods.
---
More Questions?
If you have any questions about this product please feel free to get in touch. At Old School Labs™, we pride ourselves in the quality of our products and our customer service.