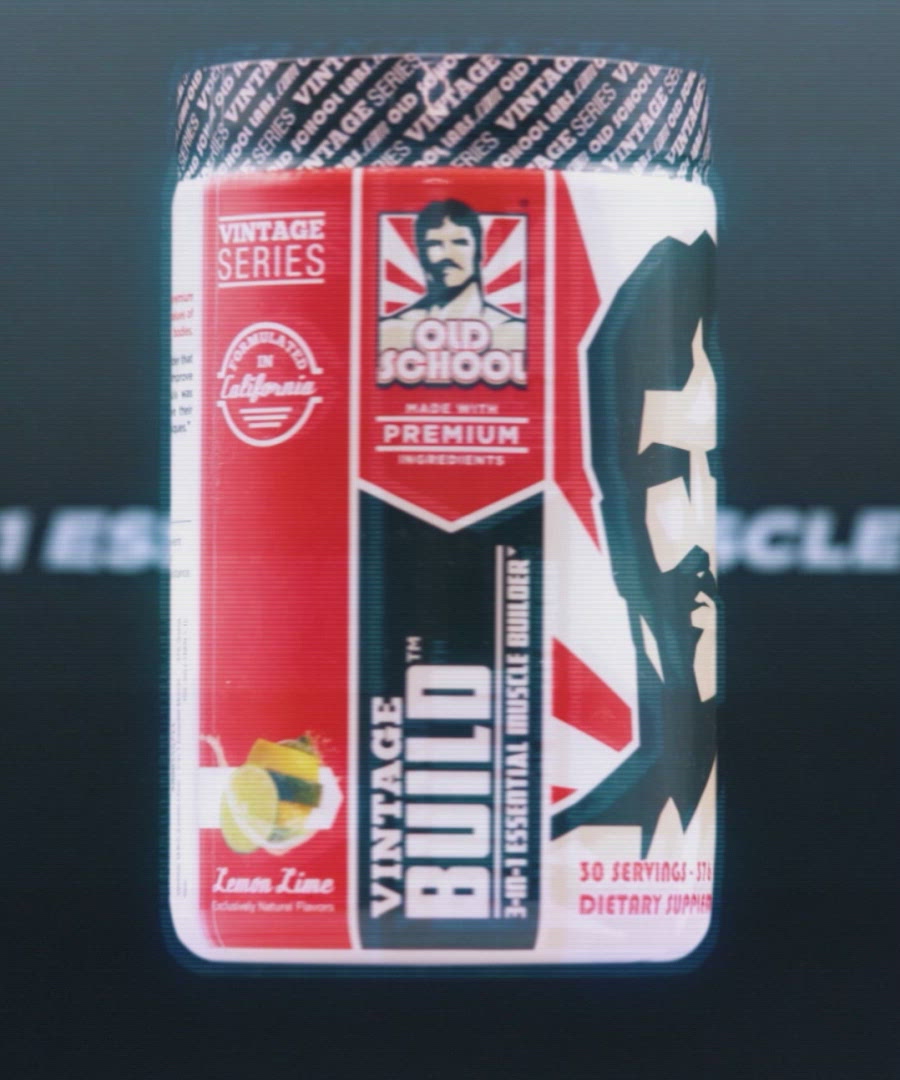 Vintage Build™
Contains an effective mixture of three essential muscle building ingredients: BCAAs, Creatine Monohydrate, and L-Glutamine. Naturally flavored with zero sugar. 100% vegan.
• BCAAs help stimulate and retain your muscle mass
• Creatine Monohydrate for more strength and endurance
• L-Glutamine helps improve protein metabolism
• Natural flavors and sweeteners
• 30 Servings
---
The Formula
Branched Chain Amino Acids (BCAAs) (5,000 mg)
Isoleucine, Leucine and Valine are the most important of the essential amino acids and are absorbed directly into the muscle tissues. They are metabolized quickly to stimulate and support muscle protein synthesis and drive quality muscular development.
Creatine Monohydrate (3,000 mg)
This is the gold standard of creatine and increases strength as well as explosive endurance by acting as an energy reserve to fuel muscular performance and development.
L-Glutamine (2,000 mg)
An amino acid that is conditionally essential when training at high intensity, it plays a central role in maintaining a positive nitrogen balance and an anabolic state by reducing muscle breakdown and supporting cells. Additionally, it acts as a muscle protector when on a fat-loss regimen.
---
Stevia Leaf Extract: A zero-calorie natural sweetener. A minimal amount of high-quality stevia is used to remove the bitterness and acidity naturally occurring in BCAAs & L-Glutamine.
Natural Flavors: Only natural flavors go into our refreshingly crisp tastes. Countless iterations of taste-testing allowed us to arrive to a flavor, which in addition to being natural, tastes great.
Citric Acid: Naturally occurring acid found in fruits (notably citrus fruits such as oranges). We use it to bring out the natural flavor.
Calcium Silicate: Salt to help bring out the flavor.
Silicon Dioxide: This vegetarian-friendly compound, naturally found in many foods, is used to help prevent clumping.
Beet Juice and Powder¹: We use this natural super vegetable to give Vintage Build™ a distinctive color.
Malic Acid² ³: This is what makes apples tart. It helps with flavoring.
Natural Green Color²: None of that artificial stuff.
Turmeric and Annatto²: Also used to give Vintage Build™ its distinctive color.
Sodium Chloride³: Salt to help bring out the flavor.
Tartaric Acid³: Natural acid found in many fruits (mainly grapes). It helps enhance the flavor.
Sucralose³: A calorie-free sweetener that doesn't have a bitter aftertaste.
Notes: ¹Fresh Berries, Juicy Watermelon, and Black Cherry. ²Lemon Lime only. ³Black Cherry only.
---
ALLERGEN WARNING: This product was produced in a FDA inspected cGMP facility that also processes ingredients containing eggs, milk, tree nuts, peanuts, soybeans, shellfish and fish.
WARNING: Consult your physician prior to using this product if you are pregnant, nursing, taking medication, or have a medical condition. Do not take if seal is broken. Keep out of reach of children.
CALIFORNIA PROP 65 WARNING: Consuming this product can expose you to chemicals including lead which is known to the State of California to cause birth defects or other reproductive harm. For more information go to www.P65Warnings.ca.gov/food.
Product Details
Good nutrition and a proper training regimen are key to building muscle. Muscle-builders can help you maximize your results with higher amounts of essential amino acids (your body's building blocks) and nutrients that are not always practical to get from food alone.
However, most come loaded with carbs, simple sugars or exotic ingredients that increase your caloric intake and water retention. They will increase your body weight, but those 'gains' will be mainly water and bulk. Moreover, their effects fade once you stop taking them.
For us at Old School Labs™, that just doesn't make sense!
When it comes to building balanced and aesthetic muscularity, the Golden Era bodybuilders did it right. They did not fool around with fad ingredients, relying instead on what was tried, tested, and true. Vintage Build™ carries on this philosophy in what has become a fundamental trio of ingredients for natural bodybuilders and athletes wishing to build hard, quality, lasting muscle – not useless bulk.
Directions

Mix 1 scoop with 8-10 fl. oz. of cold water. Take within 30 minutes post workout and any time on rest days. Accustomed users: Take 1 scoop between meals and a 2nd scoop post workout.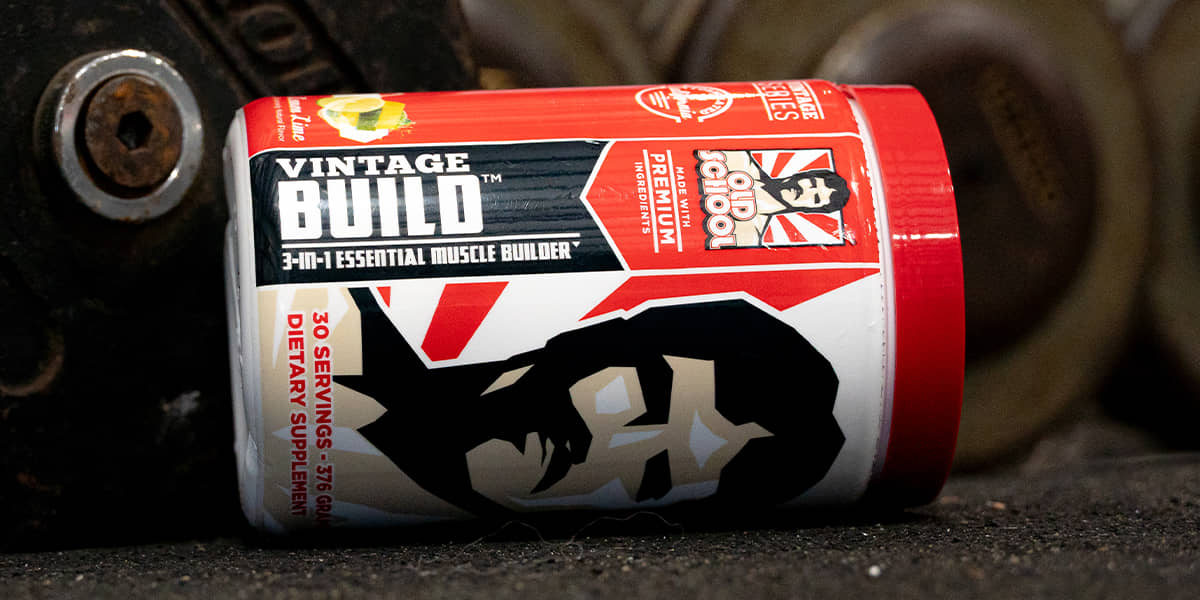 Frequently Asked Questions
Absolutely. Vintage Build™ is suitable and safe for use by both men and women. Though male natural bodybuilders love using Vintage Build™, many women interested in building an attractive musculature without adding bulk have also benefited from using it.
---
No. Vintage Build™ was specifically formulated with only tried-and-tested ingredients that are both safe and effective. No banned substances are ever used in any Old School Labs™ products.
---
Vintage Build™ can be taken at any time during the day. As a rule of thumb, split your servings between a.m. and p.m. to allow your body to be constantly fueled by Vintage Build™. If you are taking Vintage Build™ once a day, make sure to include at least one serving following your workout to accelerate your recovery and muscular development.
---
You will definitely feel, and see, Vintage Build™ working as early as 3 to 5 days after starting to use it. The trio of ingredients in Vintage Build™ will have a positive effect on your muscular development (that you will see), as well as your strength and recovery times (that you will feel).
---
Yes. Vintage Build™ mixes effortlessly and does not lump up or sit atop water. Whether in a glass or a shaker, Vintage Build™ will dissolve easily with just a few twirls of the spoon or shakes.
---
Vintage Build has 0 carbs and 0 sugars. Some other notable 0s: 0 artificial flavors, 0 artificial sweeteners, and 0 compromises. If you haven't tried it yet, we hope you'll do that soon – you won't regret it!
---
More Questions?
If you have any questions about this product please feel free to get in touch. At Old School Labs™, we pride ourselves in the quality of our products and our customer service.