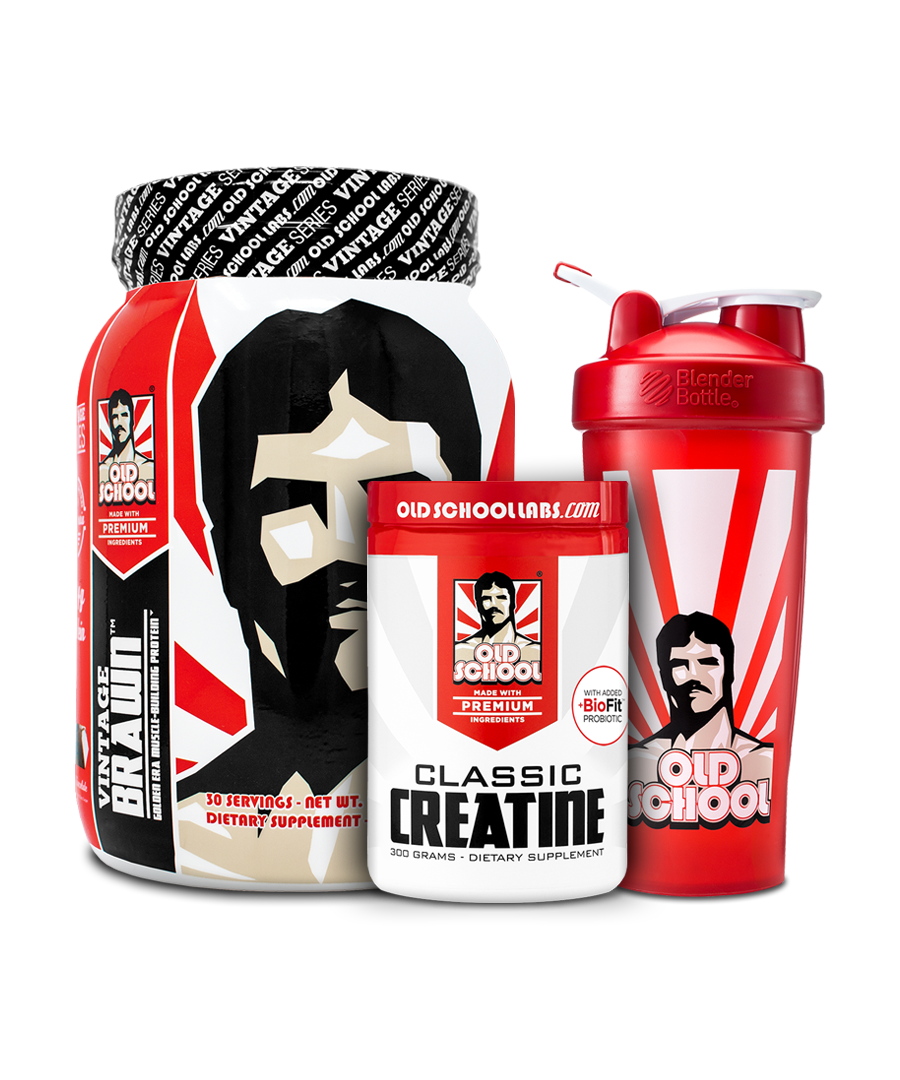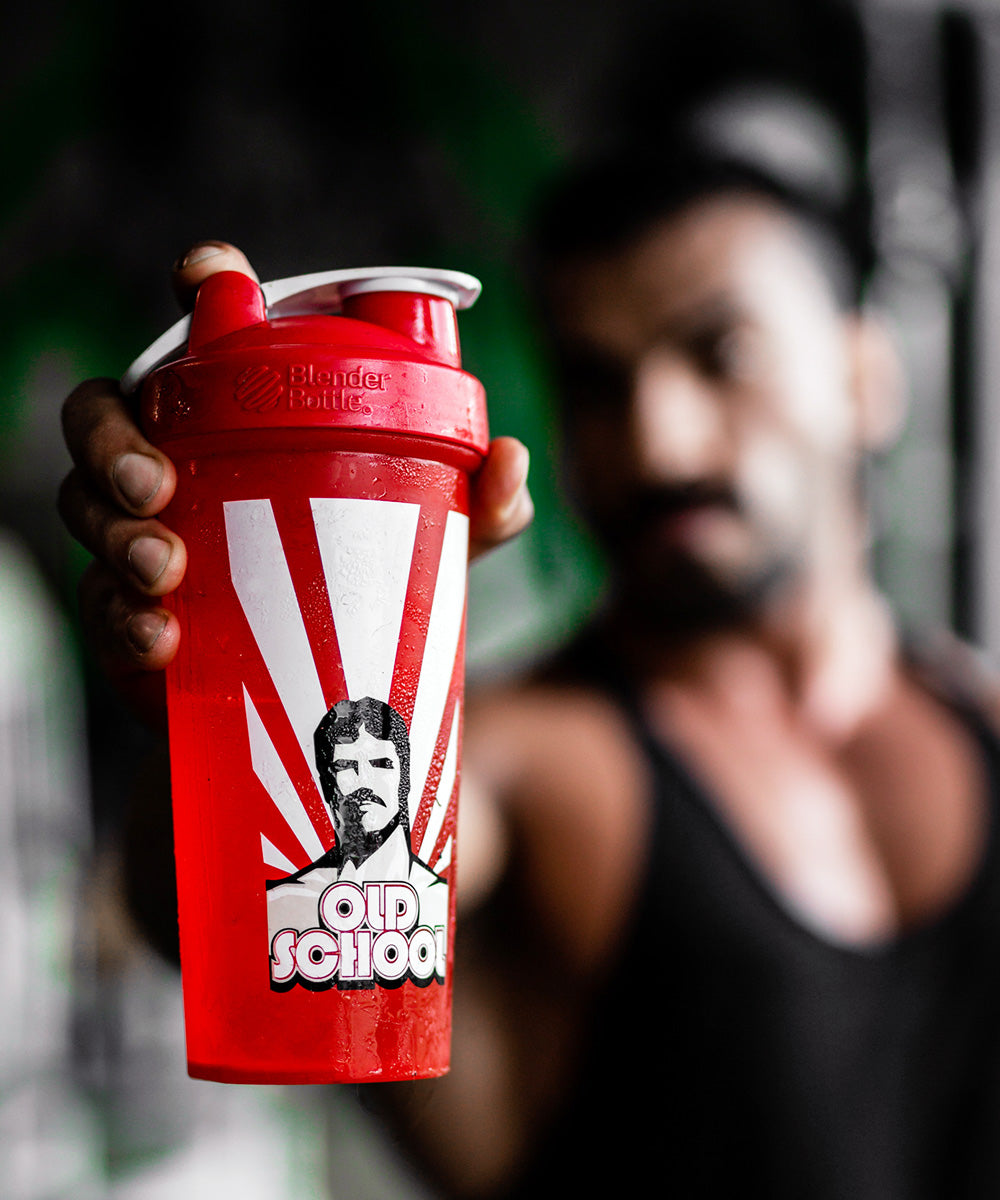 Protein + Creatine + Shaker
Essential Builder Stack
& free shipping (U.S. only)
The prefect stack whether you're working out at home or at the gym. Combine our premium protein blend of eggs, milk (casein + whey), and beef with Creatine. Mix these essential muscle-building ingredients in our custom-made BlenderBottle® shaker and enjoy both the taste and the results!
---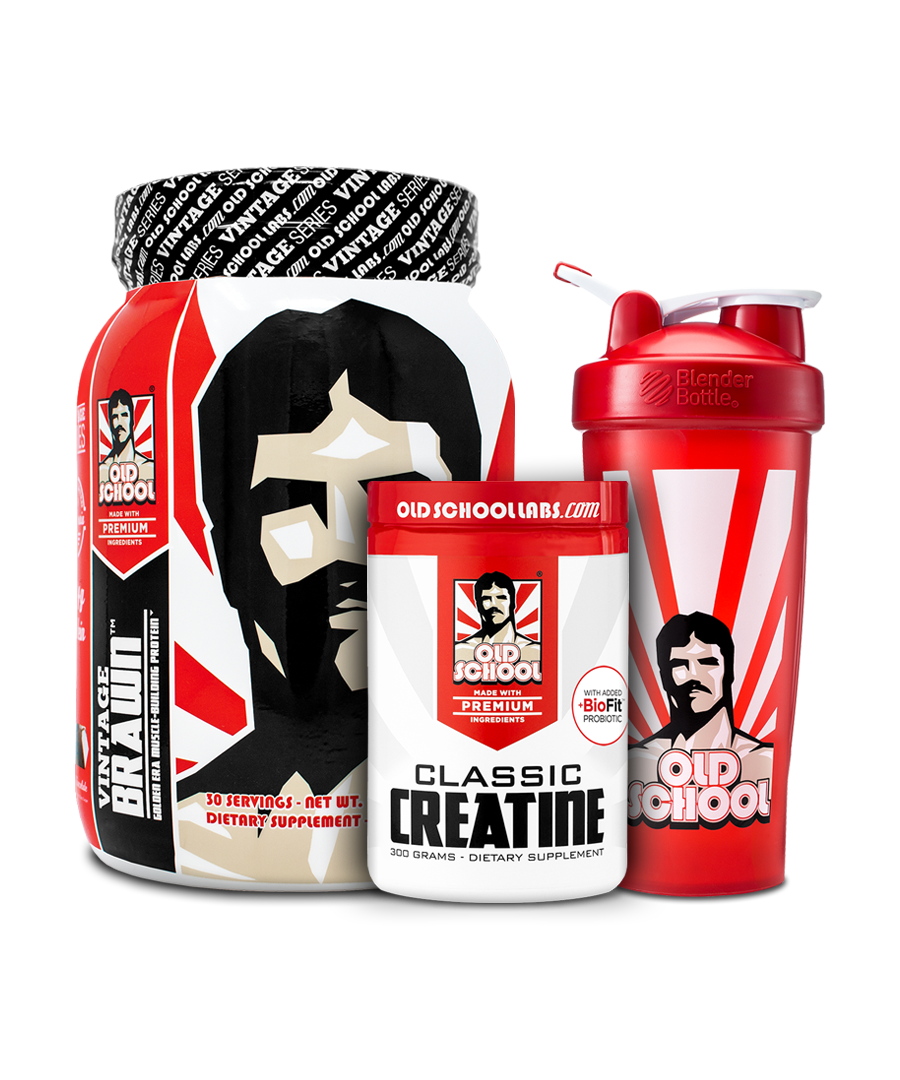 Stack Details
Vintage Brawn™
A blend of three protein sources: eggs, milk (casein + whey) and beef. It is far superior than any single-source protein like whey. More Details →
Directions: Add 1 scoop to 6-8 oz of cold water, milk, or your favorite beverage. Shake or blend for 20-30 seconds and enjoy.
---
Classic Creatine
This natural amino acid reliably increases muscle size, strength and stamina. What's more, each serving contains BioFit™ probiotic - which helps gut flora and aids quicker ingredient absorption. More Details →
Directions: Mix 1 scoop with 8 oz of water or your favorite beverage. Take 1 scoop 4x per day for 5 days. Then 1 scoop per day after workouts, or anytime on non-workout days
---
Frequently Asked Questions
First, it has been suggested that the maximum amount of creatine your muscles can absorb at once is roughly around 5 g. Your muscle cells contain tiny proteins, known as transporters, that pull creatine inside the cell. Once these become saturated with creatine, they need a few hours to process it before they can take on another 5 g dose. For this reason, we suggest allowing at least 4 hours between doses. Second, creatine requires adequate water to produce maximum results. We advise drinking 10-12 oz with each 5 g dose. Finally, eating carbohydrate ("carbs") enhances the uptake of creatine by your muscles. This is because it stimulates the release of insulin, which in turn stimulates the creatine transporters in your muscle cells. A simple way to take advantage of this is to take each dose of creatine right after eating a carbohydrate-containing meal or snack. Carbs that digest quickly work best. Examples include breakfast cereals (e.g. corn flakes), white rice and potatoes.
---
Absolutely. Taking it after workouts will help you preserve lean muscle and boost your metabolism. Using it as a meal replacement – especially to replace a higher-calorie meal – can help you lose fat faster. Vintage Brawn can also help you regulate your appetite: Protein tends to be satiating. Plus, the delicious taste of Vintage Brawn™ helps satisfy cravings for sweets.
---
Having Vintage Brawn™ after cardio is a great way to enhance recovery. Plus, because it's high in protein but low in carbs, it won't cause your fat-burning metabolism to slow down, unlike what happens if you eat a meal high in carbs (especially high-GI carbs).
---
Yes. There are all kinds of protein powder recipes online. Protein puddings, cupcakes, pancakes, and so forth. Vintage Brawn™ can be used in many different recipes besides shakes and smoothies.
---
We can happily confirm that there is absolutely NO beef or egg taste or aftertaste (nor milk for that matter). The flavor is delicious rich chocolate, made with natural Dutch cocoa. Vintage Brawn™ is possibly the best-tasting naturally flavored and naturally sweetened protein powder on the market today.
---
Vintage Brawn™ shouldn't cause any negative side-effects for individuals who are lactose-intolerant, as their sensitivity stems from the inability to properly breakdown the SUGARS (lactose) in milk. Vintage Brawn™ contains milk protein isolate (MPI) – meaning the lactose and fat have been extracted and removed – to leave behind ONLY the two milk proteins casein and whey.
---
More Questions?
If you have any questions about this product please feel free to get in touch. At Old School Labs™, we pride ourselves in the quality of our products and our customer service.