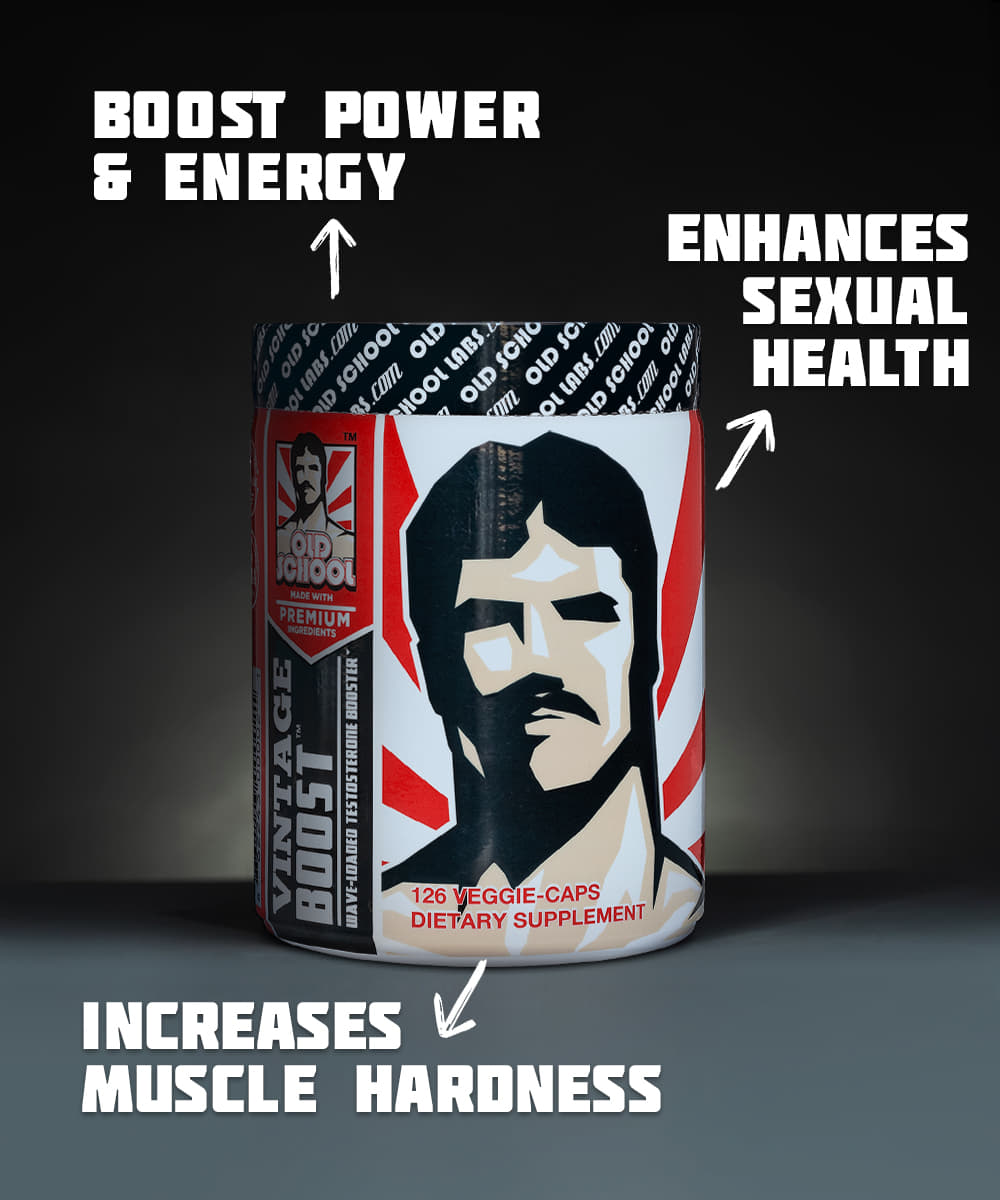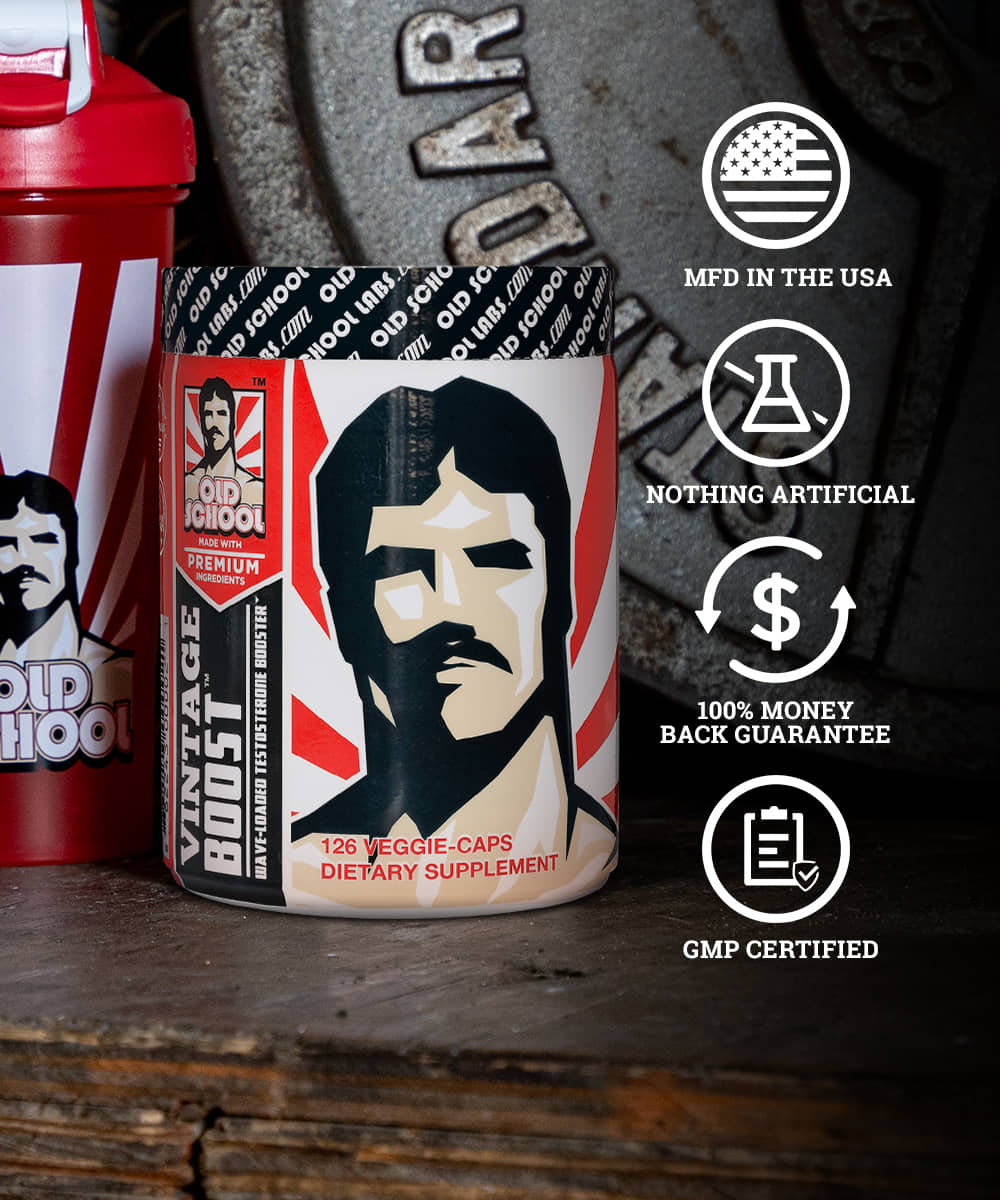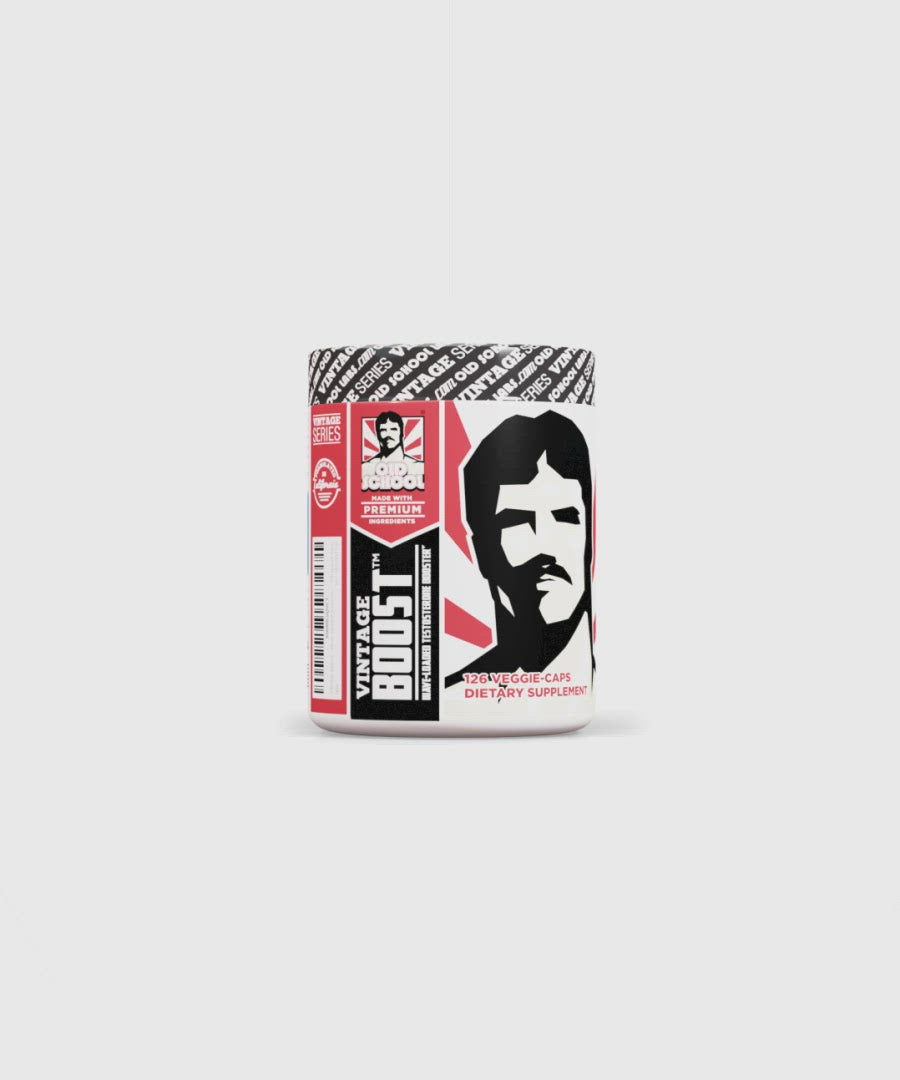 Natural Performance Booster
Vintage Boost™
Vintage Boost™ works with the body's self-regulating hormonal mechanisms for a natural testosterone boost which produces noticeable increases in strength and muscle hardness, and amps up recovery.
• Delivers a potent dose of pro-testosterone and estrogen-regulating ingredients that help increase strength and muscle hardness, and amp up recovery
• Contains natural androgenic hormone amplifiers that induce a strong response, regardless of age or fitness level. Mental and muscular performance go up, and stay up
• Whether you're an athlete looking for a performance edge or an older man looking to restore energy, Vintage Boost delivers a natural, safe, and effective solution
• 126 veggie capsules - 1-month supply
---
The Formula
Tribulus Fruit Extract (500 mg)
Though it is commonly promoted for its testosterone-increasing effects, the tribulus terrestris plant also enhances libido, energy, virility and vitality.
Maca Root Powder (450 mg)
A natural root that is proven to enhance libido, help with sexual dysfunction, and improve mood. It also has an anti-estrogenic and estrogen-regulating effect.
PrimaVie® Shilajit Extract (50 mg)
An adaptogen. The PrimaVie variant has been shown in clinical studies to enhance male reproductive health, better male sexual function and promote healthy testosterone levels.
D-Aspartic Acid (3,000 mg)
A dietary amino acid which, when cycled appropriately, is proven to increase testosterone levels by acting as a natural regulator for testosterone synthesis.
Vitamin D3 (50 mcg)
There is a proven link between low vitamin D and low testosterone levels, and supplementing with this vitamin is critical to raising testosterone.
Vitamin B6 (5 mg)
Typically found in fresh vegetables, vitamin B6 helps with testosterone synthesis. It is also linked to amino acid, glucose, and lipid metabolism.
Magnesium (100 mg)
Deficient magnesium levels are directly linked to low testosterone. Magnesium is also involved in multiple biochemical reactions of metabolic function including energy production, cardiovascular regulation, and exercise performance.
Zinc (10 mg)
Vital for testosterone production, this essential trace element is lost through sweating, and needs regular replenishing.
---
Vegetable Capsule: Our rapid-release vegetable capsules are completely see-through and made only from plant cellulose. No gelatin is ever used.
Vegetable Stearate: The highest quality vegetable-based stearate is used to ensure that each and every capsule contains the same amount of active ingredients.
---
ALLERGEN WARNING: This product was produced in a FDA inspected cGMP facility that also processes ingredients containing eggs, milk, tree nuts, peanuts, soybeans, shellfish and fish.
WARNING: Consult your physician prior to using this product if you are pregnant, nursing, taking medication, or have a medical condition. Do not take if seal is broken. Keep out of reach of children.
Product Details
Testosterone plays a key role in muscle growth, sex drive, heart & blood flow, overall mood, and much more… You certainly want to keep it elevated, especially as you get older.
However, your body has self-regulating hormonal mechanisms. So, taking a traditional testosterone booster means you are fighting an unwinnable battle against your own body.
For us at Old School Labs™, that just doesn't make sense!
You need a product that will work with your body, not against it. Unlike other testosterone boosters, you take Vintage Boost™ following a 'wave' regimen, where the dosage is adapted from week to week. This works synergistically with the body and acts against dependency.
So stop trying to fight against your body's self-regulating hormonal mechanism - and start getting real results with Vintage Boost today!
Directions

For maximum results, follow the 4-week wave regimen: Week 1 (Activation Wave) Take 3 capsules once a day with dinner Weeks 2 & 3 (Loading Wave) Take 3 capsules twice a day with breakfast and lunch Week 4 (Balancing Wave) Take 3 capsules once a day with breakfast
Frequently Asked Questions
Vintage Boost™ does not contain any steroids. It works by increasing and regulating the natural hormones in your body.
---
Though results vary, typically you will start seeing changes 2-3 weeks after you start using Vintage Boost™.
---
Yes, Vintage Boost™ is a non-steroidal product for adults wishing to boost their testosterone to help drive gains in muscle size, strength, energy and libido.
---
Athletes looking for an extra push and older males seeking to restore testosterone levels will both benefit from taking Vintage Boost™.
---
Yes, we recommend taking 2 weeks off after 60 days of regular use.
---
Vintage Boost™ helps raise testosterone levels naturally. Women who have this goal can safely use this product for this purpose.
---
Very high levels testosterone can cause your sebaceous glands to over-produce sebum. Which, in turn, can cause acne. Vintage Boost™ helps raise your natural testosterone levels. So, whether you get any acne or not depends on how prone to acne you are.
---
More Questions?
If you have any questions about this product please feel free to get in touch. At Old School Labs™, we pride ourselves in the quality of our products and our customer service.