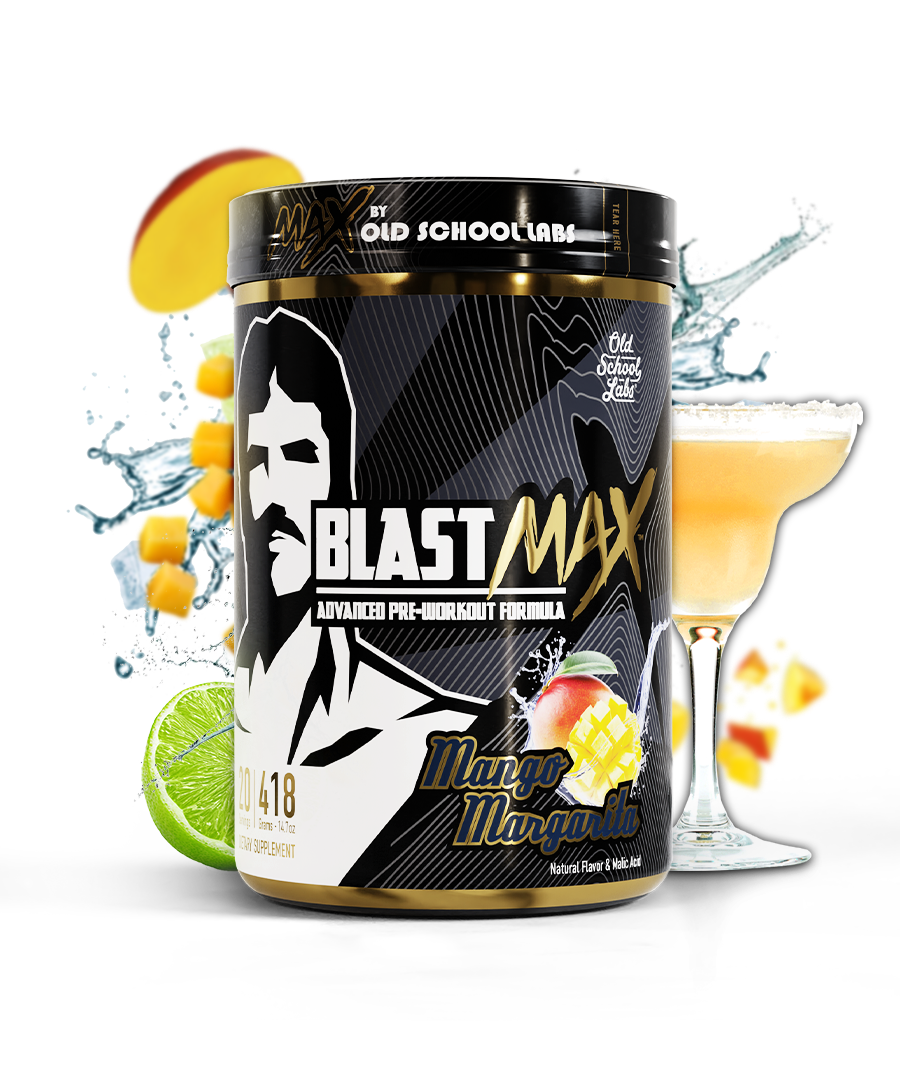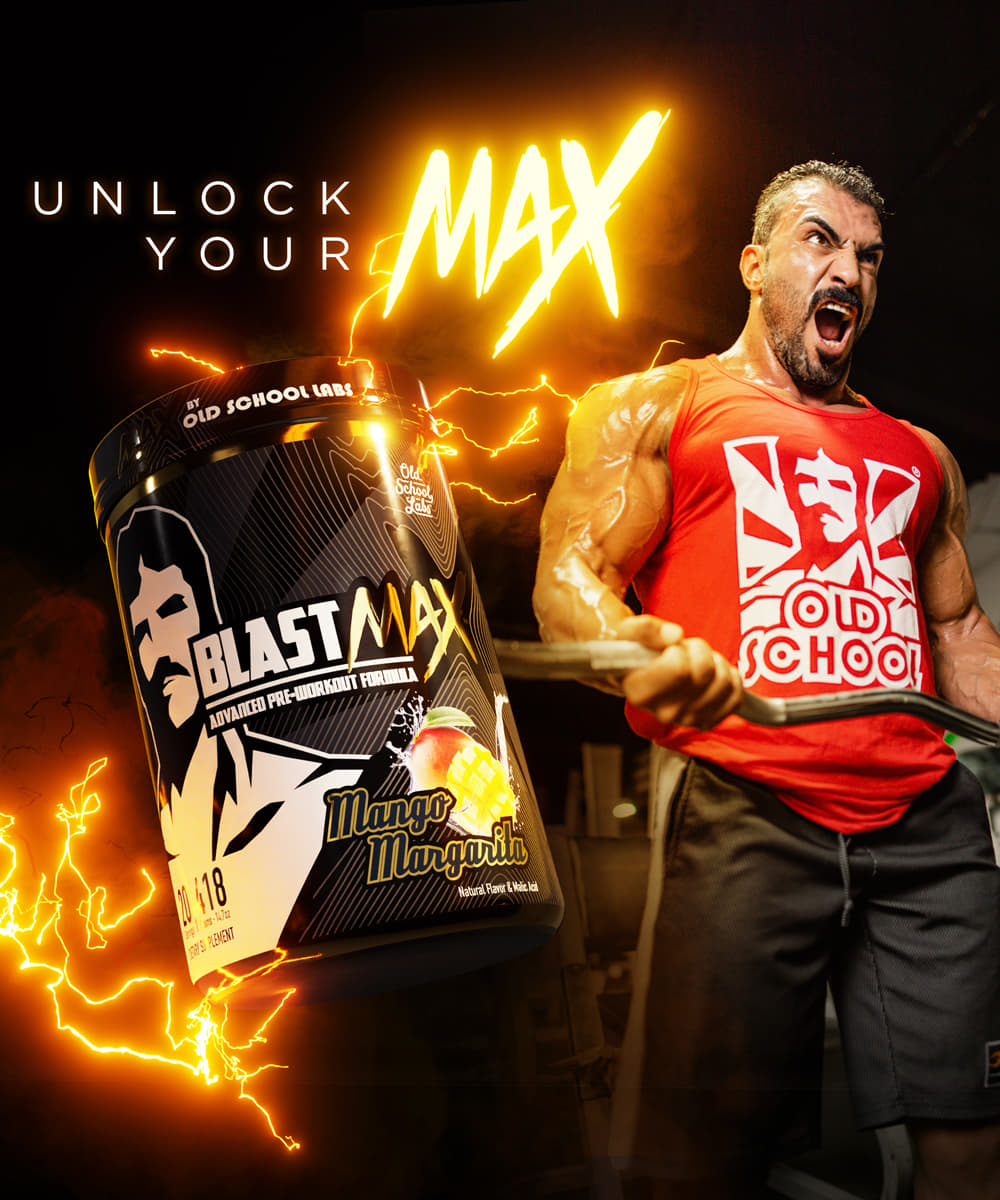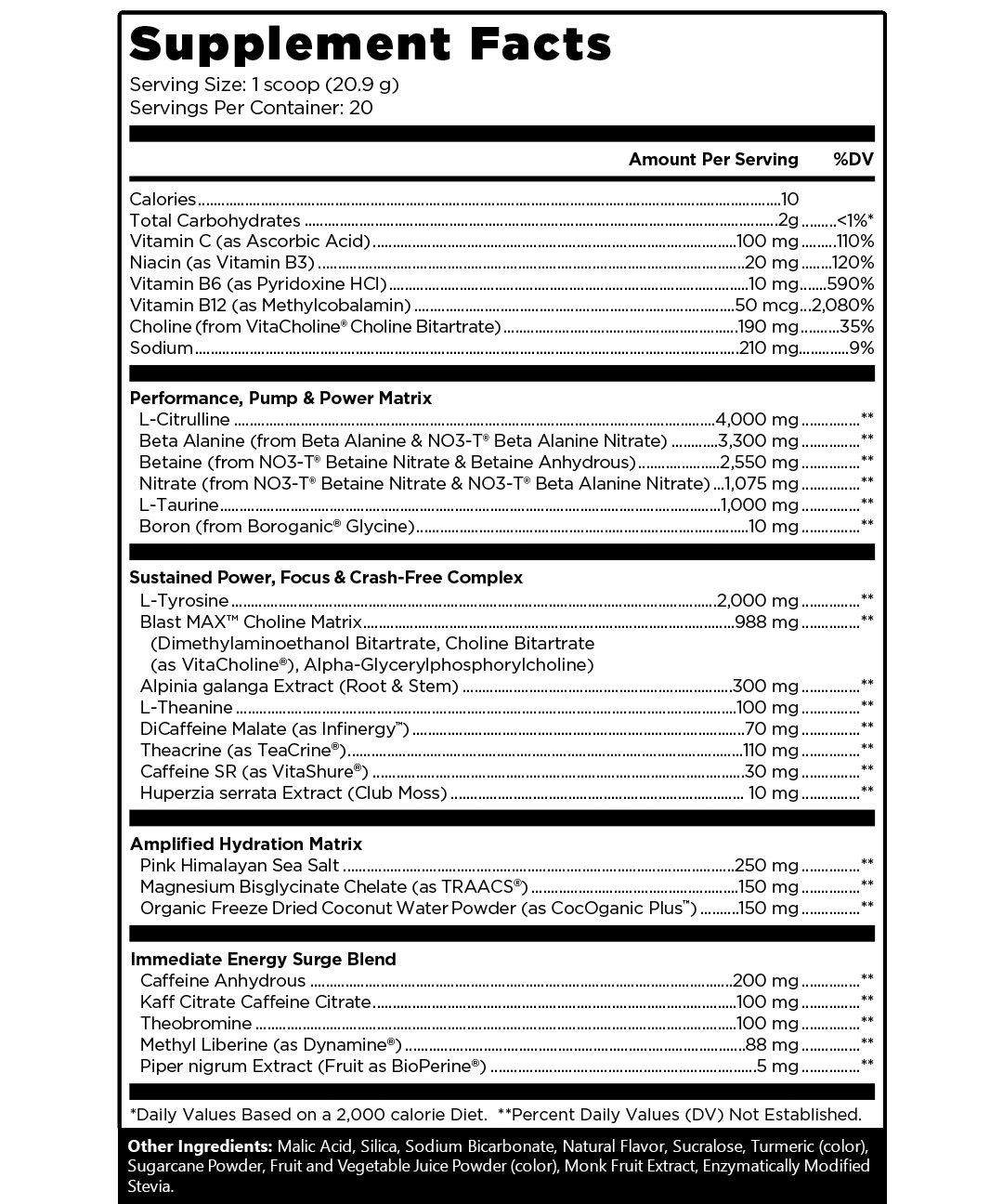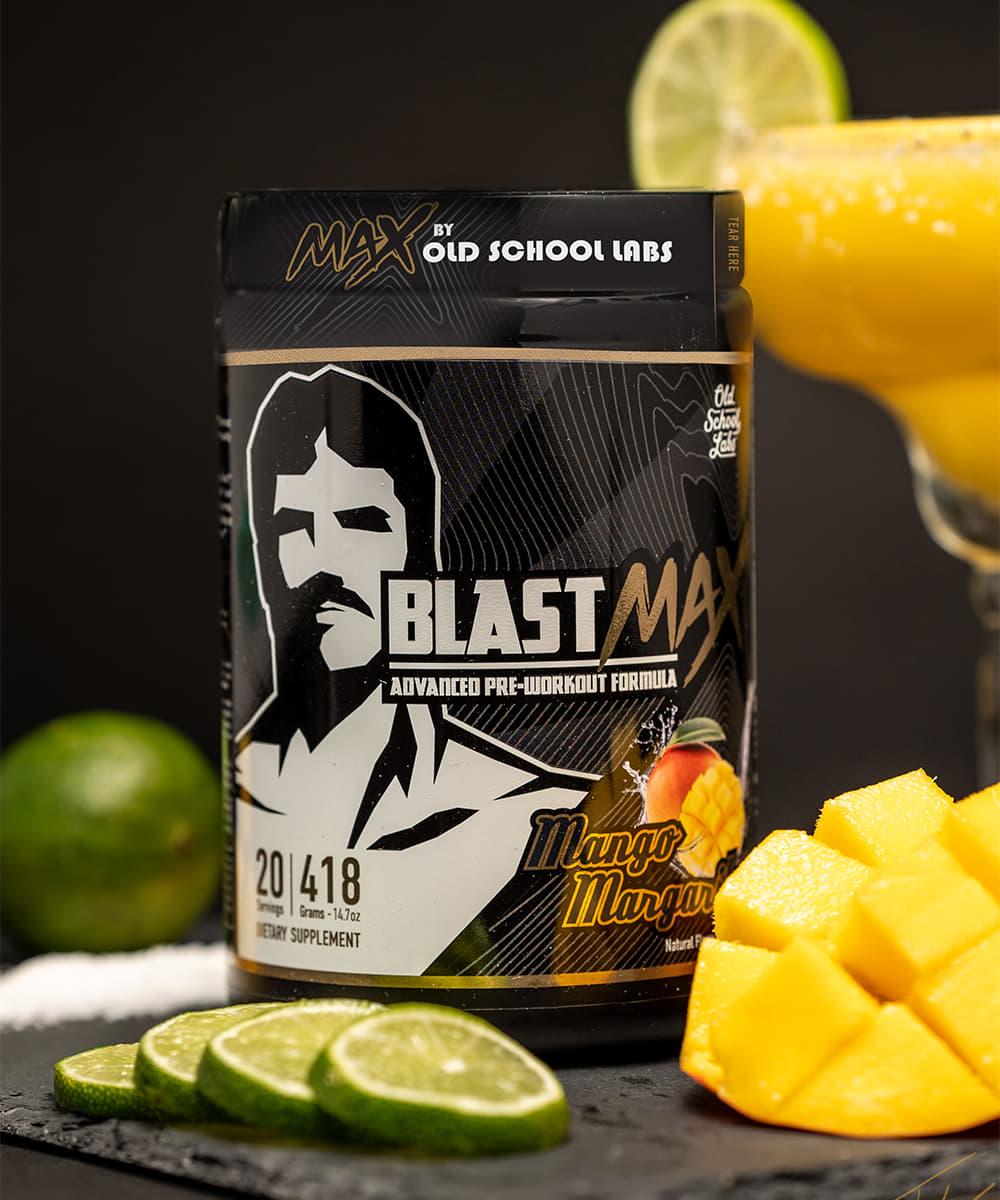 Advanced Pre-Workout Formula
Blast MAX™
Blast MAX™ is the end-game pre-workout. It takes our world-class Vintage Blast™ formula to its ultimate level so get ready to annihilate your workouts with unwavering intensity. Using only the most highly potent and advanced ingredients, you will unleash unchained energy, mind-blowing muscle pumps, surprisingly rapid muscle recovery, and an unbelievable drive and focus that will push your body past what you thought was humanly possible.
• Results-driven, advanced two-stage formula
• Designed for elite athletes and fitness enthusiasts
• Unmatched, mouthwatering natural flavors
• Simply take 1 scoop 15-30 min before workouts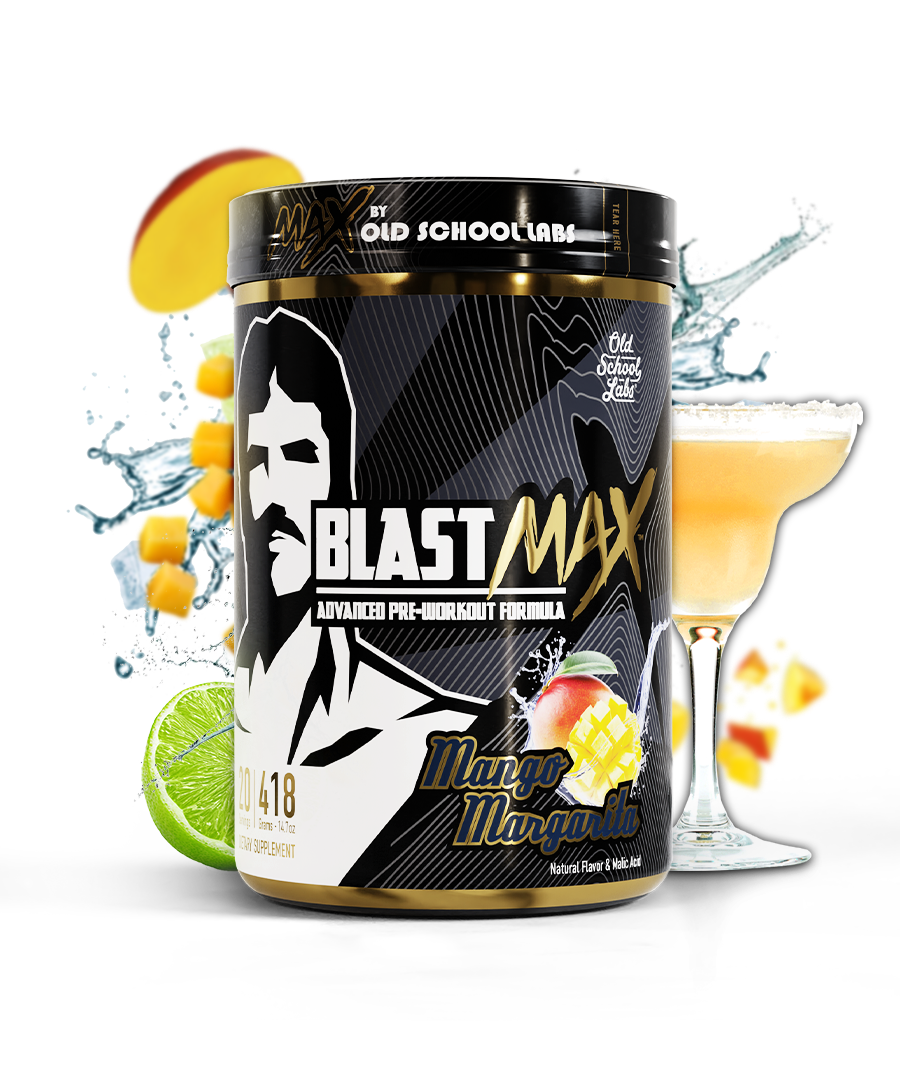 Product Details
To reach your goals, you need a product that will work as hard as you do. But what about having a product that works even harder than that? Enter Blast MAX - The End-Game Pre-Workout.

The MAX™ SERIES by Old School Labs brings our most advanced formulas for unrivaled results. With the launch of our first product from this new series, Blast MAX takes everything you've come to love from the original bestselling two-stage pre-workout Vintage Blast™ and elevates it to the MAX level.

Packed with advanced ingredients & masterfully selected dosages to create a synergistic effect - you can count on a game-changing experience with Blast MAX™. Nitrates to boost nitric oxide levels & muscular endurance, Dynamine® & TeaCrine® for focused mind-muscle connection, Choline Blends & Tyrosine nootropics for energy & crash prevention, and so much more!

With its precise formula and patented ingredients at maximum dosages, you will experience a surge of energy that lasts throughout your entire workout, an intense pump that will test the elasticity of your skin, unmatched focus to get and keep you dialed in, the drive to push your body to its ultimate limits, and rapid recovery to reduce muscle soreness and lactic acid buildup.

Start strong… finish stronger. Don't fall in line - take it to the max and set new standards with Blast MAX™.

The Formula
L-Citrulline (4,000 mg): A naturally occurring amino acid that improves endurance, relieves soreness and improves aerobic endurance.
Beta Alanine (3,300 mg): An amino acid (from Beta Alanine & NO3-T® Beta Alanine Nitrate) that boosts athletic performance and exercise capacity, and helps improve physical functioning.
Betaine (2,550 mg): The inclusion of this key ingredient (from NO3-T® Betaine Nitrate & Betaine Anhydrous), along with a powerful patented version, can help drastically improve workout performance, aid in creatine synthesis, and support muscle growth and strength.
Nitrate (1,075 mg): These two patented nitrates (NO3-T® Betaine Nitrate & NO3-T® Beta Alanine Nitrate) provide compounding effects for your workout. You can increase workout performance, boost strength and power, maximize muscle pumps, decrease muscle fatigue, and improve exercise capacity.
L-Taurine (1,000 mg): A natural anti-inflammatory ingredient that supports proper brain function, improves muscle performance, promotes muscle recovery, and can improve mood.
Boron (10 mg): A patented form of boron (Boroganic® Glycine) that supports bone health, aids in the functioning of the central nervous system, maintains healthy hormone production, and helps reduce inflammation in the body.
---
L-Tyrosine (2,000 mg): This nonessential amino acid helps improve alertness, focus, attention, memory, and mood.
Blast MAX™ Choline Matrix (988 mg): A matrix of powerful and patented sources of choline (Dimethylaminoethanol Bitartrate, Choline Bitartrate (as VitaCholine®), Alpha-Glycerylphosphorylcholine) to help boost energy, increase nitric oxide production, maximize muscle pumps, enhance muscle endurance, heightens the mind-muscle connection, and plays a role in message transmission throughout the nervous system.
Alpinia galanga Extract (Root & Stem) (300 mg): This ingredient is a natural antioxidant and anti-inflammatory to help fight off free radicals and inflammation in the body. Additionally, it can be used as a natural stimulant-free energy source.
L-Theanine (100 mg): An amino acid that aids the body in transmitting impulses to the brain more efficiently. This directly improves focus and brain function.
DiCaffeine Malate (as Infinergy™) (70 mg): As a patented di-caffeine malate, Infinergy® helps enhance mental focus and energy production. Another property of this patented ingredient is its ability to increase thermogenesis and aid in maximizing weight loss.
Theacrine (as TeaCrine®) (110 mg): A patented version of theacrine, TeaCrine® can provide clean and steady energy levels without causing a sudden crash. TeaCrine® can also help heighten focus, enhance cognition, increase motivation, and improve muscular endurance.
Caffeine SR (as VitaShure®) (30 mg): A patented time-released version of caffeine that slowly releases into the bloodstream over an extended period to prevent jitters and provide a long-lasting and smooth source of energy and focus without the general spike in energy and abrupt crash.
Huperzia serrata Extract (Club Moss) (10 mg): This toothed clubmoss aids in brain function, cognition, and can help improve memory.
---
Pink Himalayan Sea Salt (250 mg): This fresh and responsibly sourced sea salt helps to bring out flavor and aid in proper hydration. It also helps balance body pH levels, boosts brain health, reduces cramping, increases energy, regulates blood sugar, and supports a healthy metabolism.
Magnesium Bisglycinate Chelate (as TRAACS®) (150 mg): A mineral involved in multiple biochemical reactions of metabolic function, including energy production, cardiovascular regulation, and exercise performance.
Organic Freeze Dried Coconut Water Powder (150 mg): A trademarked coconut water powder (CocOganic Plus™) that helps manage proper hydration levels, replenishes key electrolytes, and supports enhanced workout performance.
---
Caffeine Anhydrous (200 mg): Caffeine boosts your metabolic rate and energy expenditure and increases alertness and focus.
Kaff Citrate Caffeine Citrate (100 mg): A potent caffeine citrate that is used to help increase energy production and provide a clean and steady flow of energy.
Theobromine (100 mg): Has the ability to increase nitric oxide production in the body to improve the dilation of the blood vessels to help engorge the muscles with blood, providing an increased pump. Theobromine may also help improve your overall mood.
Methyl Liberine (as Dynamine®) (88 mg): Patented Dynamine® helps maximize energy, focus, cognition, motivation, and mood. Additionally, when Dynamine® is added to caffeine and TeaCrine®, it provides compounding and prolonged effects (nearly 3x longer than caffeine alone).
Piper nigrum Extract (Fruit as BioPerine®) (5 mg): A powerful antioxidant and anti-inflammatory. This patented ingredient helps improve blood sugar levels while enhancing the absorption and potency of the ingredients in a formulation.
---
Vitamin C (as Ascorbic Acid) (100 mg): Reduces oxidative stress and helps protect proteins from oxidative damage that commonly occurs during training.
Niacin (as Vitamin B3) (20 mg): A vitamin that reduces oxidative stress and helps protect proteins from oxidative damage that commonly occurs during training.
Vitamin B6 (as Pyridoxine HCl) (10 mg): A vitamin typically found in fresh vegetables and linked to amino acid, glucose, and lipid metabolism, as well as hemoglobin synthesis.
Vitamin B12 (as Methylcobalamin) (50 mcg): A micronutrient used to convert protein and carbohydrates into energy while supporting oxygen delivery (from NO3-T® Betaine Nitrate & NO3-T® Beta Alanine Nitrate).
Choline (190 mg): This potent patented ingredient (from VitaCholine® Choline Bitartrate) can help with overall brain function, memory, and can also improve mental focus to help get you dialed in with a solid mind-muscle connection.
Sodium (210 mg): A macromineral that plays a key role in normal nerve and muscle function, as well as keeping body fluids in normal balance.
---
Malic Acid: This is what makes apples tart. The use of malic acid helps with flavoring a product.
Silica: This compound is naturally found in many foods, and in the case of supplements, silica is used to help prevent clumping.
Sodium Bicarbonate: Not only can sodium bicarbonate help increase strength and workout performance, but it also acts as a buffer in the stomach to help prevent acid indigestion by helping neutralize excess stomach acid.
Natural Flavor: Countless iterations of taste-testing allowed us to arrive at a flavor that is not only natural, but tastes great and mixes easily.
Sucralose: A calorie-free sweetener that doesn't have a bitter aftertaste.
Turmeric: Helps provide many health benefits such as digestive health, decreases inflammation, maintains healthy joints, and supports healthy body weight, along with being used to give Blast MAX its distinctive color.
Sugarcane Powder: Generally used as a natural sweetener, sugarcane powder is also extremely high in vitamins, minerals, and health-protective antioxidants.
Fruit and Vegetable Juice Powder: Adds a refreshing kick to the flavor.
Monk Fruit Extract: A natural, zero-calorie sweetener, monk fruit is also rich in antioxidants.
Enzymatically Modified Stevia: A zero-calorie natural sweetener. A minimal amount of high-quality stevia is used to remove the bitterness and acidity.
---
ALLERGEN WARNING: This product was made in cGMP facility that also handles ingredients containing eggs, wheat, milk, tree nuts, peanuts, crustacean shellfish and fish. Contains: Tree nuts (coconut) and caffeine (310 mg).
WARNING: Consult your physician prior to using this product if you are pregnant, nursing, taking medication, or have a medical condition. Do not take if seal is broken. Keep out of reach of children.
Directions

As a dietary supplement, mix 1 scoop in 12-16 oz. of water and drink 30 minutes before workouts or training.

Initially use 1/2 serving to assess tolerance. Take no more than 1 serving once tolerance is assessed. To avoid sleeplessness, do not consume within 6 hours of bedtime.
This product is rated 4.9 of 5.0 stars.
It has received 86 reviews.
Frequently Asked Questions
While there is nothing wrong with Vintage Blast™, our flagship best-seller pre-workout, Blast MAX™ is on a whole new level of potency. For those looking to take their training to the MAX and utilize some of the most powerful and patented ingredients on the planet, Blast MAX™ has a wide range of key ingredients in a further enhanced formula.
---
On top of higher dosages of nearly every key ingredient, Blast MAX™ includes patented ingredients that make its formula the ultimate pre-workout, namely: NO3-T® Beta Alanine Nitrate, NO3-T® Betaine Bitrate, Boroganic® Glycine, VitaCholine®, Blast MAX™ Choline Matrix, Infinergy™, TeaCrine®, VitaShure®, TRAACS® minerals, CocOrganic Plus™, Dynamine®, and BioPerine®.
---
Blast MAX™ can be used by both elite athletes and fitness enthusiasts alike. Men and women love the effects and taste of this powerful and delicious pre-workout. If you want to take your results to the MAX and already love our original Blast formula, this pre-workout is going to blow your mind. Simply mix 1 scoop in 12-16 oz. of water and drink 30 minutes before workouts or training.
---
Absolutely. Blast MAX™ can be stacked with many of our products to maximize muscle growth, such as Vintage Brawn™, Vintage Build™, Classic Creatine, Classic BCAA, and many other muscle-building supplements.
---
No. Due to the specific profile used in Blast MAX™, there is no dependency or adaptation that would cause you to stop feeling the effects. What you get is a hardcore pre-workout that utilizes maximum dosages and patented ingredients to provide you with unbelievable results.
---
Nootropics aren't just a "brain booster" — they play an important role in your workouts as well. When nootropic ingredients are added to a pre-workout formula, it allows you to get completely dialed in and focused during training sessions. What this provides you with is the ability to form a solid mind-muscle connection, which can help you feel each rep and hit those deep, hard to reach muscle fibers that you want to grow.
---
Hydration is thought of as a means of supporting proper fluid balance in the body, but many fail to realize how important it is when it comes to building quality lean muscle mass. Water plays a role in protein synthesis, improves recovery time by flushing toxins out of the muscles, helps increase muscle fullness, stretches out muscle fascia, enhances blood flow, and more. Be sure to not only drink adequate amounts of water before workouts, but also during and after. You can further enhance your results by utilizing ingredients like Pink Himalayan Sea Salt, Coconut Water Powder, and other key electrolytes.
---
A muscle pump serves many purposes. 1) It helps increase blood flow to the working muscles, which aids in transporting nutrients and oxygenated blood to the muscles. 2) Flooding the muscles with more blood helps increase volumization of the muscles and allows them to temporarily look bigger. 3) Better blood flow also helps remove lactic acid from the muscles to allow you to push harder and further. To maximize the effect, a product like Blast MAX with L-Citrulline, Beta Alanine, and even patented nitrates like NO3-T® Beta Alanine Nitrate and NO3-T® Betaine Nitrate will make a world of difference.
---
Strategically combining ingredients can create a powerful compounding effect. The combination of patented Dynamine® and TeaCrine® in Blast MAX is no exception. When looking to get through the most intense training sessions, studies have found that the combination of these two potent ingredients can help increase the half-life of caffeine by as much as 3x — providing more than enough energy to get through your workouts and without the jitters or a crash at the end. Research has also shown that this precise matrix of patented ingredients can also improve mood, focus, motivation, alertness, and reduce muscle fatigue.
---
More Questions?
If you have any questions about this product please feel free to get in touch. At Old School Labs™, we pride ourselves in the quality of our products and our customer service.