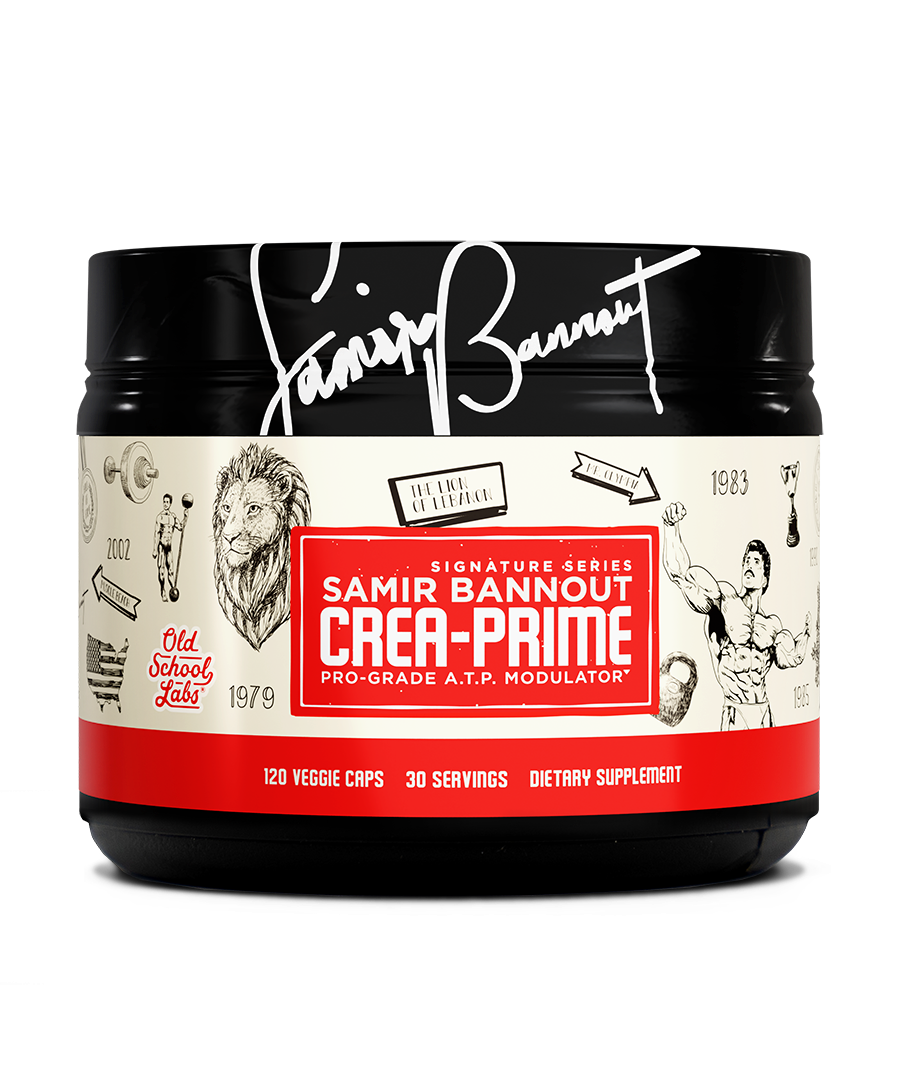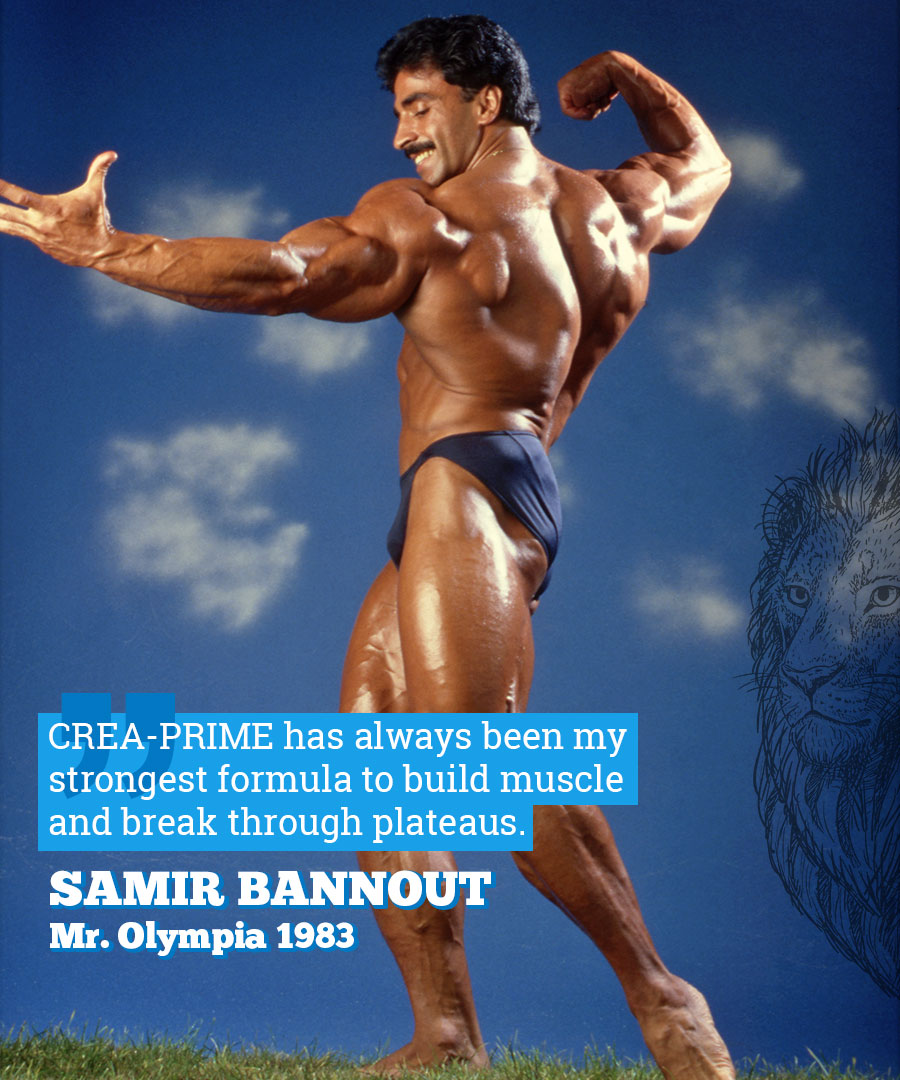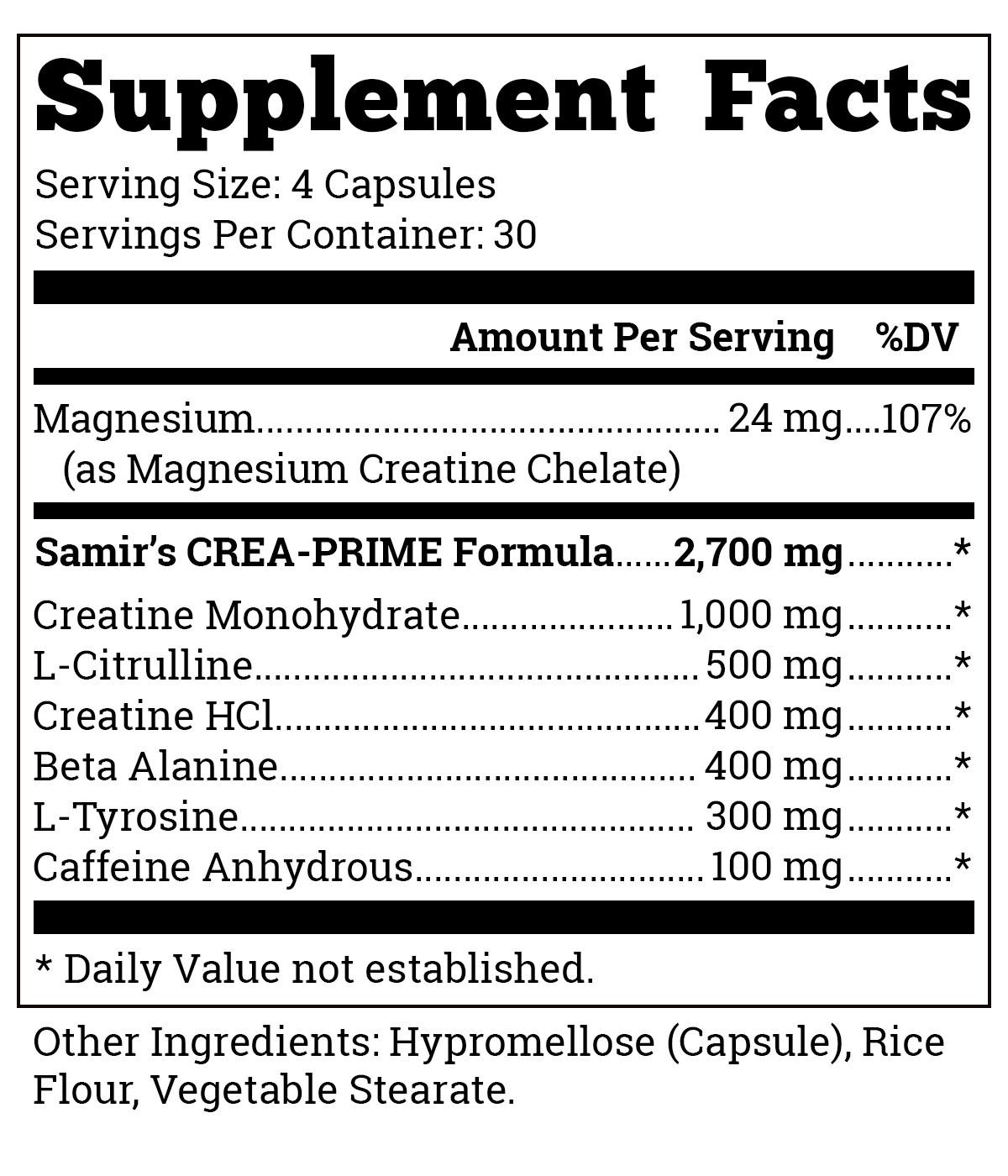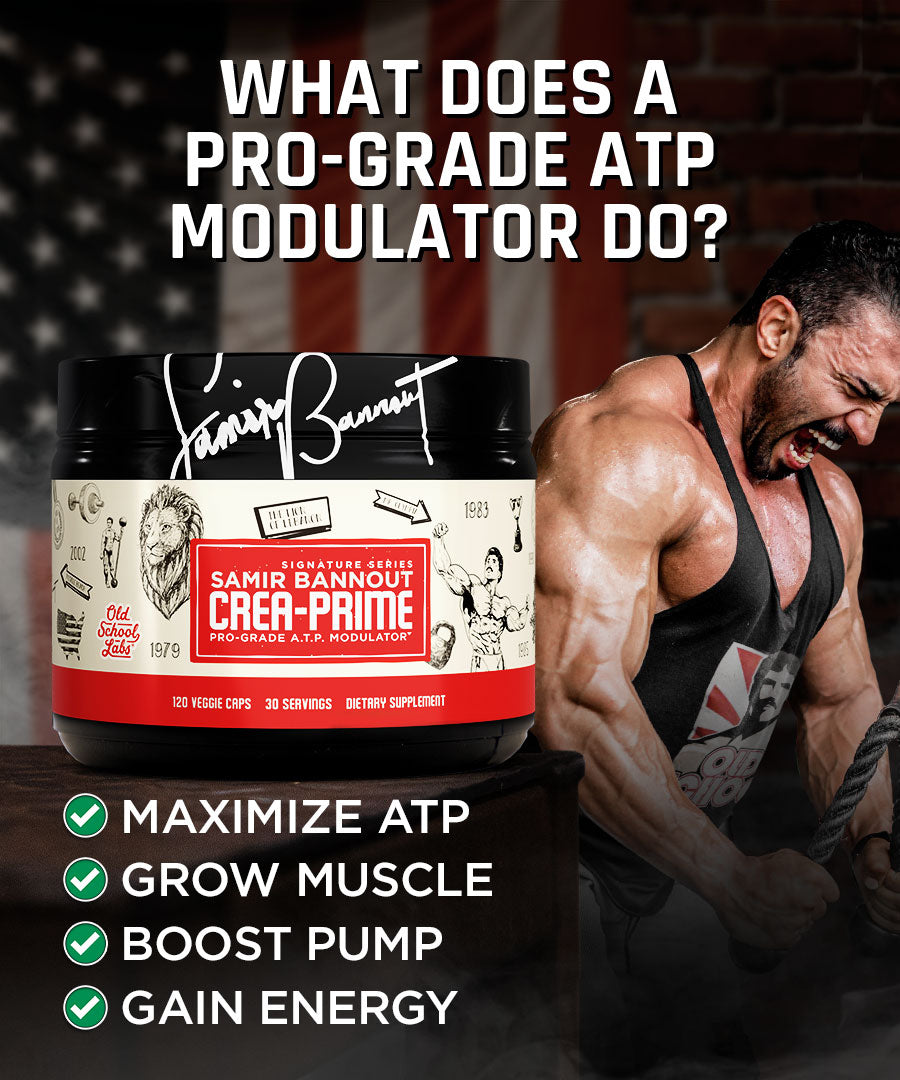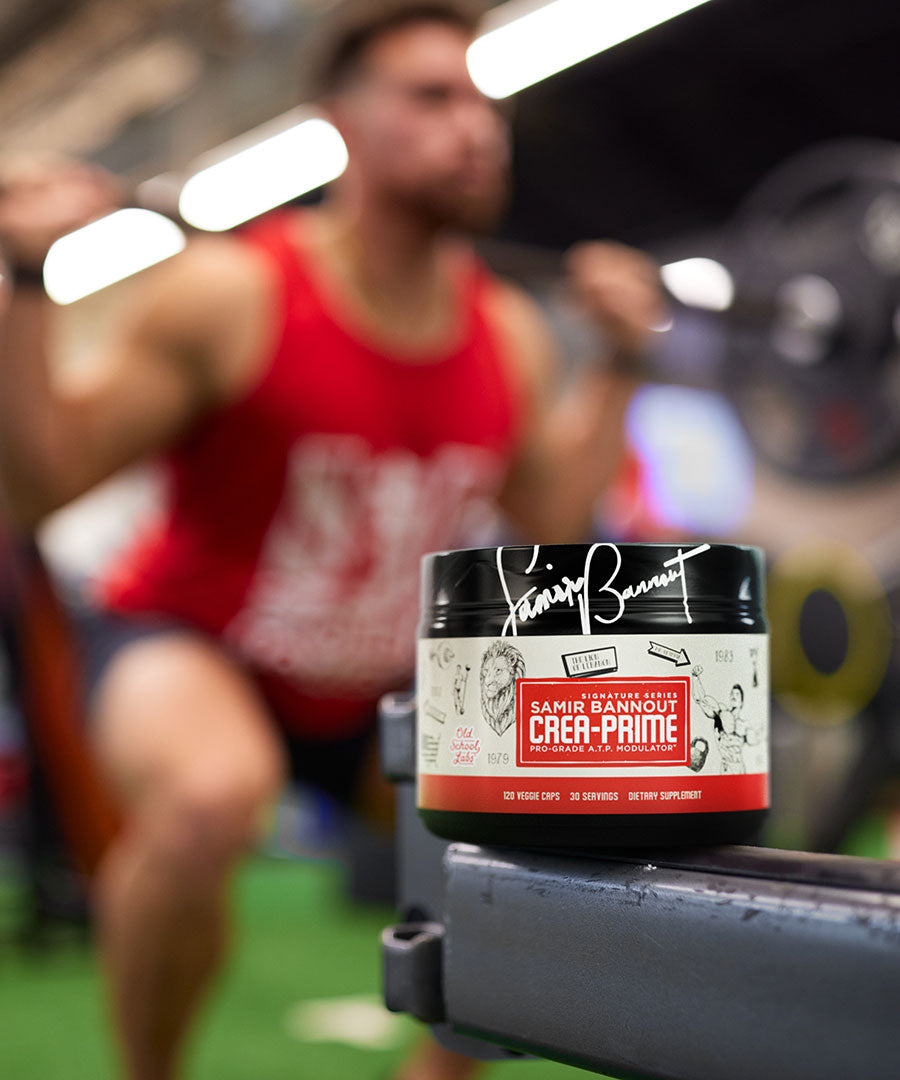 Samir Bannout CREA-PRIME
CREA-PRIME is the ultimate muscle-building, pump, & endurance powerhouse formulated in collab with Mr. Olympia Samir Bannout. Stacked with advanced, potent ingredients, it helps maximize cellular size & energy, enhance performance, elevate strength, and boost muscle gains like never before.
In collaboration with Golden Era icon Samir Bannout, we modernized and brought back this unique formula he created and used during his prep for the 1983 Mr. Olympia win.
• Maximized ATP (Adenosine Triphosphate), the "energy currency" of your cells.
• Enhanced muscle strength and power for improved performance.
• Increased endurance, allowing you to push harder and longer.
• Increased energy and alertness to power through your training sessions.
• Improved blood flow to muscles, reducing muscle fatigue and boosting endurance.
• Enhanced mental focus and cognitive function, helping you stay sharp during intense workouts.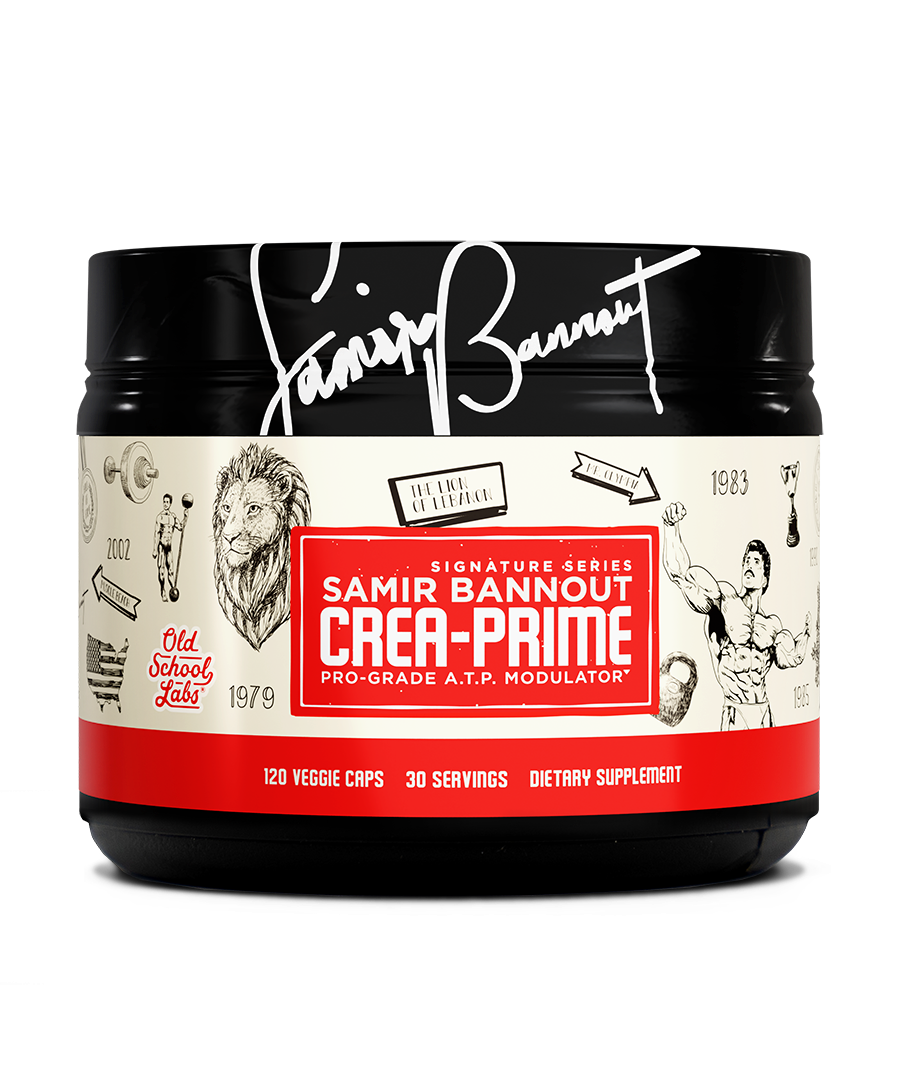 CREATINE, ELEVATED.
Crea-Prime is a pro-grade ATP modulator formula packed with Samir's favorite ingredients and types of creatine - the most researched ingredient in sports-nutrition history & an essential supplement for athletes of all levels.
ATP (Adenosine triphosphate) is a critical molecule found in all living things and is practically the "energy currency" of the cell. As the sole fuel for muscle contraction, ATP muscle store gets quickly depleted during very intense exercise. When the essential components for ATP synthesis are unavailable, or when factors disrupt its recycling, ATP levels can decline, leading to an insufficiency of energy.
Here at Old School Labs, we won't let that happen!
Crea-Prime works immediately to replenish, maximize, & maintain contractile function by helping resynthesize ATP, allowing for increased muscle strength & reduced muscle fatigue. With Crea-Prime, expect incredible muscle growth, blood flow, endurance, and alertness.
"Crea-Prime is my strongest formula to build muscle and break through plateaus."
Elevate your workouts & reach the next level with Crea-Prime - the latest addition to the OSL x Samir Bannout best-selling pro-grade supplement line.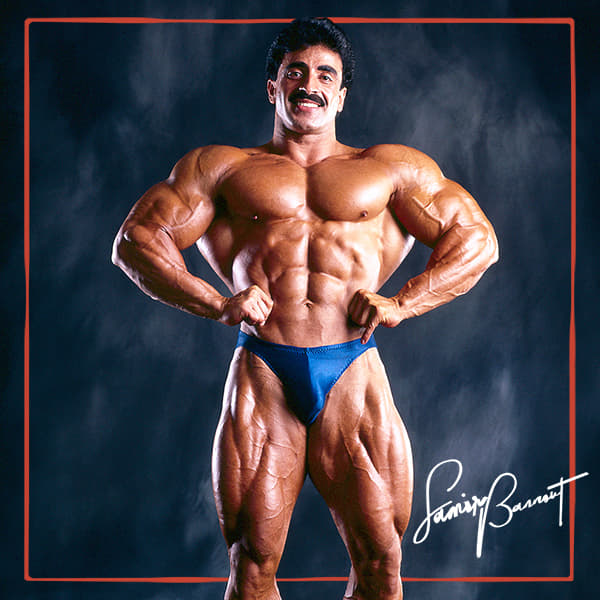 SAMIR BANNOUT
The Legend Himself
Widely known as one of the best to ever step on the stage, Samir Bannout participated in more than 50 competitions & famously lifted the 1983 Mr. Olympia trophy.

Renowned for his posing & his incredibly developed lower back, which was immortalized as the "Lebanese Cedar'', Samir was inducted into the IFBB Hall of Fame in 2002.

During his competition preps, Samir religiously consumed the 3 formulations we've modernized & reincarnated today under the Samir Bannout Signature Series.

This is your chance to experience greatness at its finest!
The Formula
Known for its proven ability to increase muscle strength and power, creatine monohydrate is a staple in any serious athlete's supplement regimen.
---
This powerful amino acid boosts nitric oxide production, promoting improved blood flow to muscles, reduced muscle fatigue, and enhanced endurance.
---
This highly soluble form of creatine is known for its fast absorption rate, which allows for improved muscle endurance & results.
---
Known for its ability to buffer lactic acid build-up, this amino acid helps delay muscle fatigue, allowing for longer and more intense workouts.
---
This amino acid supports mental focus and cognitive function, helping you stay sharp and dialed-in during your workouts.
---
A well-known stimulant, Caffeine boosts your metabolic rate and energy expenditure and increases alertness and focus.
---
A key amino acid known for its role in protein synthesis and muscle growth.
---
Hypromellose (Capsule): Clear, tasteless, easy-to-swallow, vegan-friendly capsule that provides the release of ingredients in a controlled manner.
Rice Flour: An inert ingredient used as a flow agent for the veggie capsule.
---
ALLERGEN WARNING: This product was produced in a FDA inspected cGMP facility that also processes ingredients containing eggs, milk, tree nuts, peanuts, soybeans, shellfish and fish.
WARNING: Consult your physician prior to using this product if you are pregnant, nursing, taking medication, or have a medical condition. Do not take if seal is broken. Keep out of reach of children.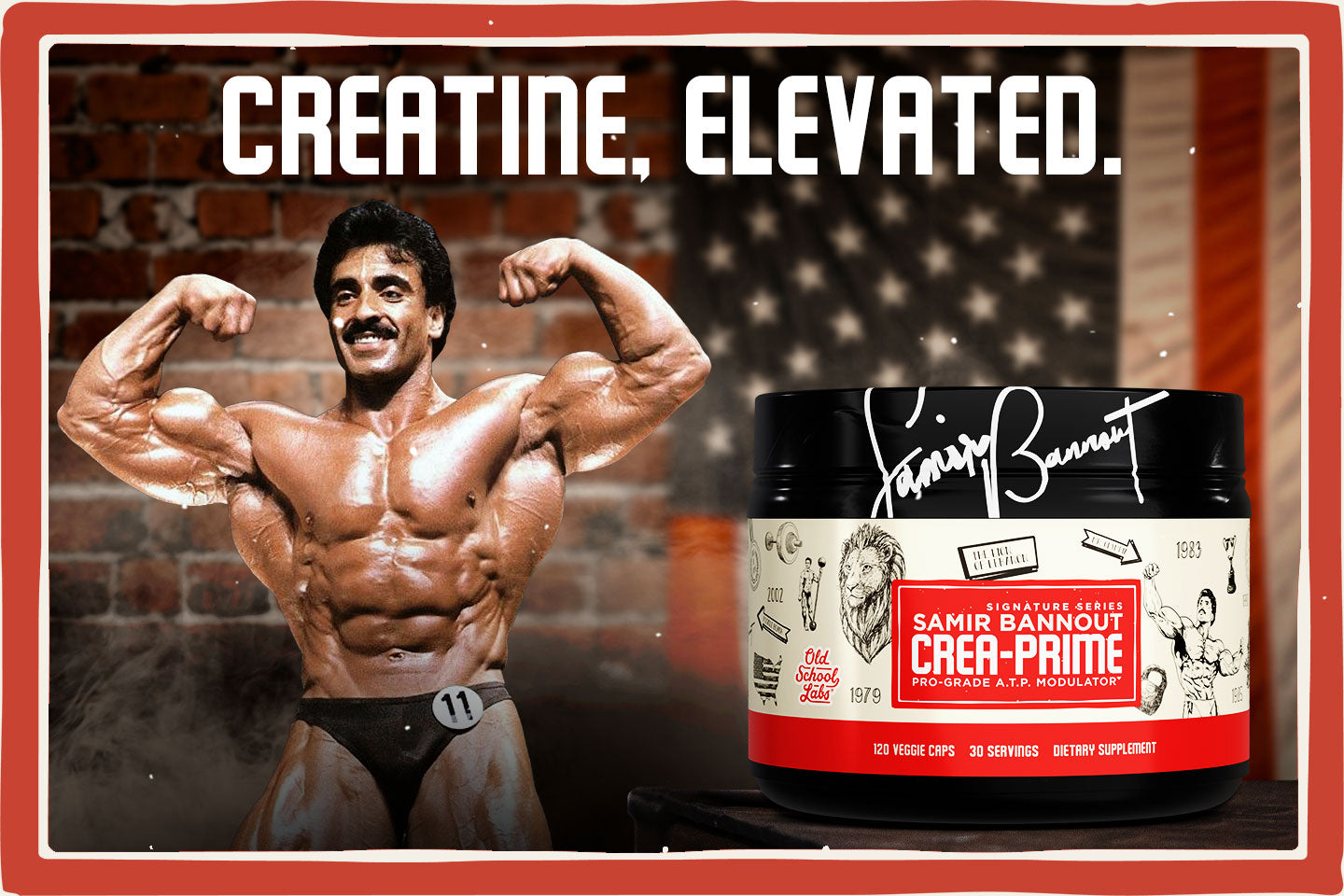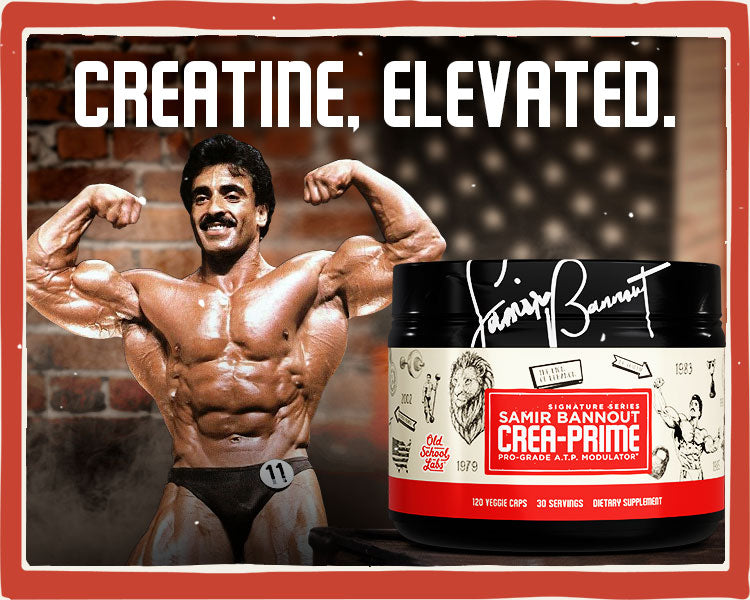 Directions

Samir's Pro Tip: On non-workout days, take 1 serving in the A.M.
Frequently Asked Questions
Yes, and it is very effective when combined with any of our other pre-workouts.
---
Adenosine TriPhosphate. It is an energy-carrying molecule found in the cells and can release energy very quickly. ATP is the universal energy source for all living cells.
---
No, you can take CREA-PRIME year-long.
---
More Questions?
If you have any questions about this product please feel free to get in touch. At Old School Labs™, we pride ourselves in the quality of our products and our customer service.