NOT ALL CREATINE IS CREATED EQUAL
Old School Labs Classic Creatine® combines research-backed creatine monohydrate with BioFit™ probiotics for better absorption and gut health.
Third-party tested for purity and efficacy.
Backed by Decades of Research
Increases muscle size, strength, and stamina
Contains BioFit™ probiotic for quicker absorption and gut flora support
Helps break training plateaus at every fitness level
Micronized creatine for improved mixability
Quality Tested At Every Possible Step
Most manufacturers do "quality testing" by randomly testing products on their way out of the factory.
We triple quality check every supplement we sell. That means we:
• Test every batch
• Test our raw ingredients AND finished formula
• Utilize 3rd party testing through external labs
The result? You can trust that every supplement we send you is potent, pure, and bioavailable until you're ready to use it.
The gold standard. Scientifically proven from decades of research, and as close to a home run as you can get in sports nutrition. Proven to increase muscle size, strength, and stamina.
150 Million CFU of high-quality probiotic cultures to aid absorption and support healthy gut flora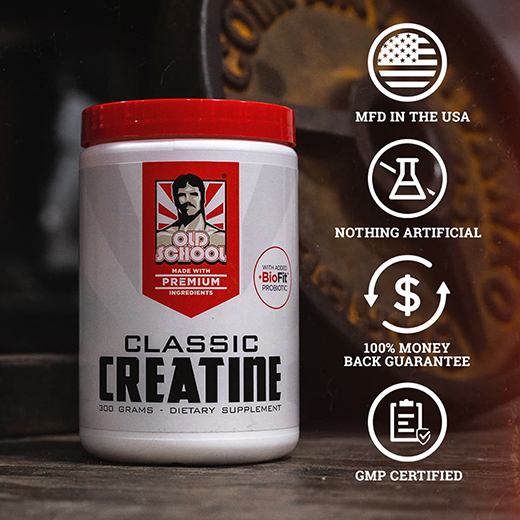 Real Customers. Real Reviews.
"Great mixing creatine, finely powdered, and the included probiotic is very beneficial."
"This product is great. Dissolves quickly in water or juice And helps get me past those plateaus"
"I love that it is a 2 in 1 product with the probiotic. It dissolves better than just plain Creatine. I put it in with my pre workout on training days and work it in whenever I can on days off."
Break through plateaus and start seeing the results you've been training for
Disclaimer: The statements on this page have not been evaluated by the FDA. Any products seen or mentioned are not intended to diagnose, treat, cure, or prevent any disease. Old School Labs™ is a brand of COSIDLA Inc.
Copyright © COSIDLA Inc. All Rights Reserved.