The 3-Hour Natural N.O. Booster
Vintage Burst™ N.O. Booster
Vintage Burst™ is specially formulated to help keep nitric oxide (N.O.) levels elevated for hours – enabling bigger and better pumps and higher-intensity workouts.
Your 20% OFF discount is automatically applied at checkout.
---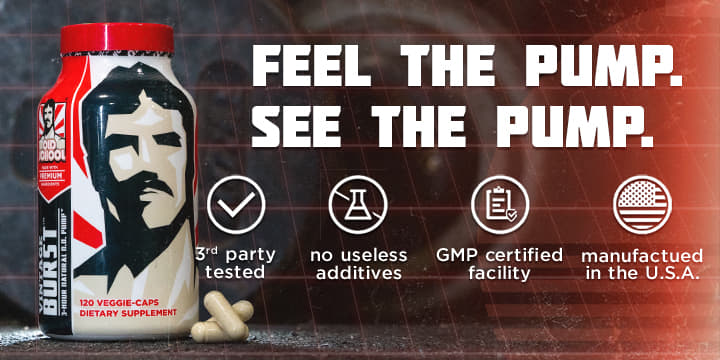 The Formula
L-Arginine HCI (1,500 mg)
Arginine is a naturally occurring amino acid that plays an important role in cell division, immune system response, healing wounds, removing ammonia from the body, and releasing hormones. The body can convert arginine into N.O. as needed.
Spectra™ (100 mg)
Made from fruit, vegetable, and herb extracts and concentrates. In a clinical study, Spectra™ was found to elevate nitric oxide (N.O.) levels by 64%, with the effects lasting up to 3 hours. It also increased mitochondrial oxygen consumption by 146%, and reduced reactive oxygen species (ROS) levels by 42%.
Coffea Arabica (100 mg)
In addition to caffeine, coffee cherry contains numerous beneficial compounds in levels higher than occur in regular brewed coffee or even the coffee bean (seed) itself. Caffeine is well known for its effects on energy, mood, metabolism, and performance.
Maca Root Extract (100 mg)
Rich in antioxidants, maca can help increase energy without giving you the jitters. Clinical trials have shown that maca improves energy and stamina.
Vanadyl Sulfate (10 mg)
Vanadyl sulfate is an "insulin mimicker" that works to increase the amount of glucose and amino acids driven into muscle. It is also used to enhance pumps and muscle fullness, as well as vascularity.
---
Vegetable Capsule: Our rapid-release vegetable capsules are completely see-through and made only from plant cellulose. No gelatin is ever used.
Vegetable Stearate: The highest quality vegetable-based stearate is used to ensure that each and every capsule contains the same amount of active ingredients.
---
ALLERGEN WARNING: This product was produced in a FDA inspected cGMP facility that also processes ingredients containing eggs, milk, tree nuts, peanuts, soybeans, shellfish and fish.
WARNING: Consult your physician prior to using this product if you are pregnant, nursing, taking medication, or have a medical condition. Do not take if seal is broken. Keep out of reach of children.
Product Details
Nitric oxide (N.O.) is best known for regulating blood flow, including to your muscles. The greater the flow of blood to your muscles, the more oxygen and nutrients they receive. This leads to better performance and bigger pumps.
However, N.O. doesn't last long. Once it appears in your bloodstream, it can vanish within seconds or even milliseconds. Normal N.O. supplements may boost the level of nitric oxide in your body, but the effect is very short-lived.
For us at Old School Labs™, that just doesn't make sense!
Unlike other nitric oxide boosters, Vintage Burst™ contains a proven ingredient that keeps blood N.O. levels elevated for 3 hours, naturally. Used twice daily, Vintage Burst™ can provide up to 6 hours of N.O. support.
Vintage Burst™ also includes nutraceuticals that enhance your exercise tolerance, so that training at higher intensities becomes less difficult. Even better it makes you feel good and is good for you.
Directions

Take 1 serving (3 capsules) 15-30 minutes before your workout. Tips: 1- For incredible workouts, stack with Vintage Blast™ pre-workout. 2- For a prolonged N.O. energy boost, take 1 serving before your morning or midday meal. Do not take more than 1 serving within 3 hours.
Frequently Asked Questions
Yes. Anecdotally, some bodybuilders say they get even better, longer-lasting pumps and muscle fullness when stacking Vanadyl Sulfate (a key ingredient in Vintage Burst™) with creatine. Vintage Build™ is a great source of high-quality creatine and stacks very well with Vintage Burst™.
---
Yes. Fat-loss or fat-cutting diets typically require eating less food (i.e., cutting down on your calories). This may cause your energy level to fall and your metabolism to slow, making it harder to lose fat. When you're on a calorie-reduced diet, you may also be eating fewer antioxidant-rich foods. Besides boosting your energy and metabolism, Vintage Burst™ supports healthy antioxidant levels with Spectra™.
---
Vintage Burst™ can be taken before any type of exercise. For the best pumps, we recommend keeping your rest between sets between 30 and 60 seconds.
---
Vintage Burst™ can be used as a light pre-workout. For more energy and pumps, try our two-stage pre-workout, Vintage Blast™, which is designed to help you take full advantage of your workouts.
---
Yes. Just make sure the total amount of caffeine you are taking from all sources doesn't exceed your tolerance. For example, if you tolerate 400 mg (about 3 cups of coffee) or less of caffeine daily, make sure that you don't exceed this amount.
---
More Questions?
If you have any questions about this product please feel free to get in touch. At Old School Labs™, we pride ourselves in the quality of our products and our customer service.