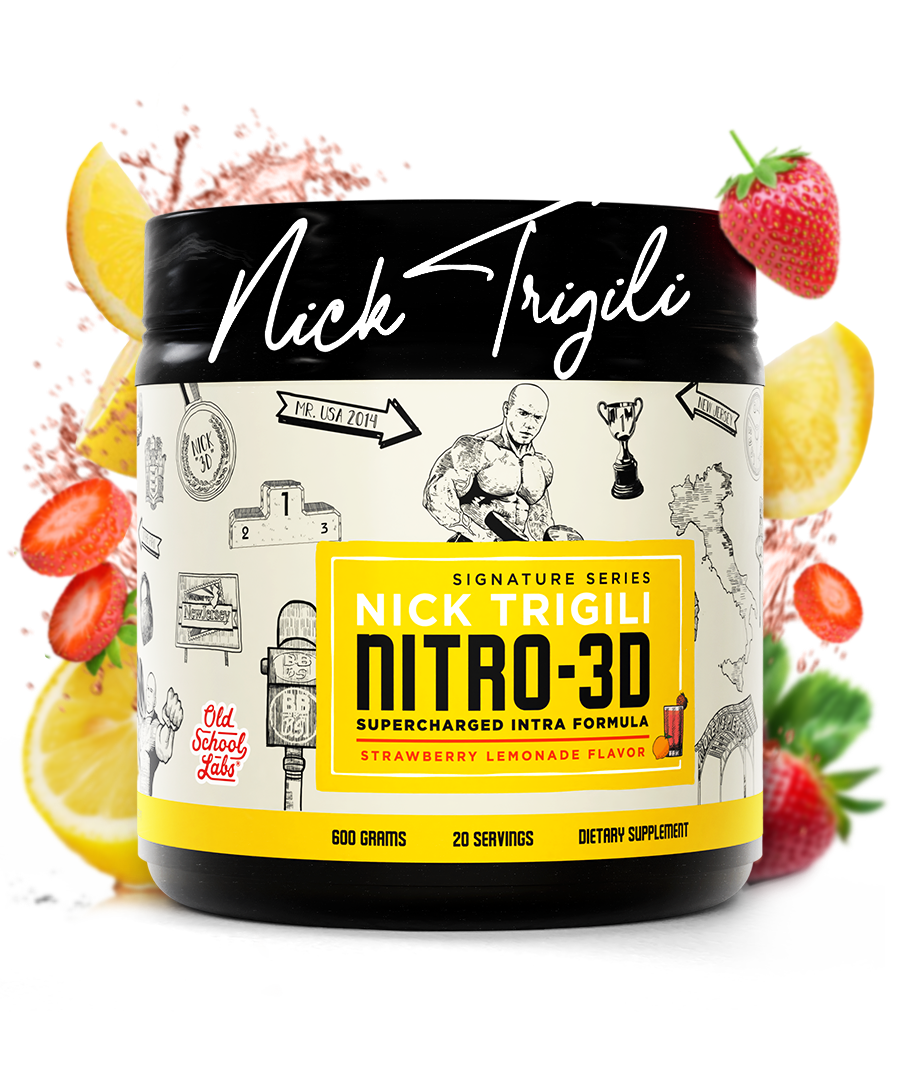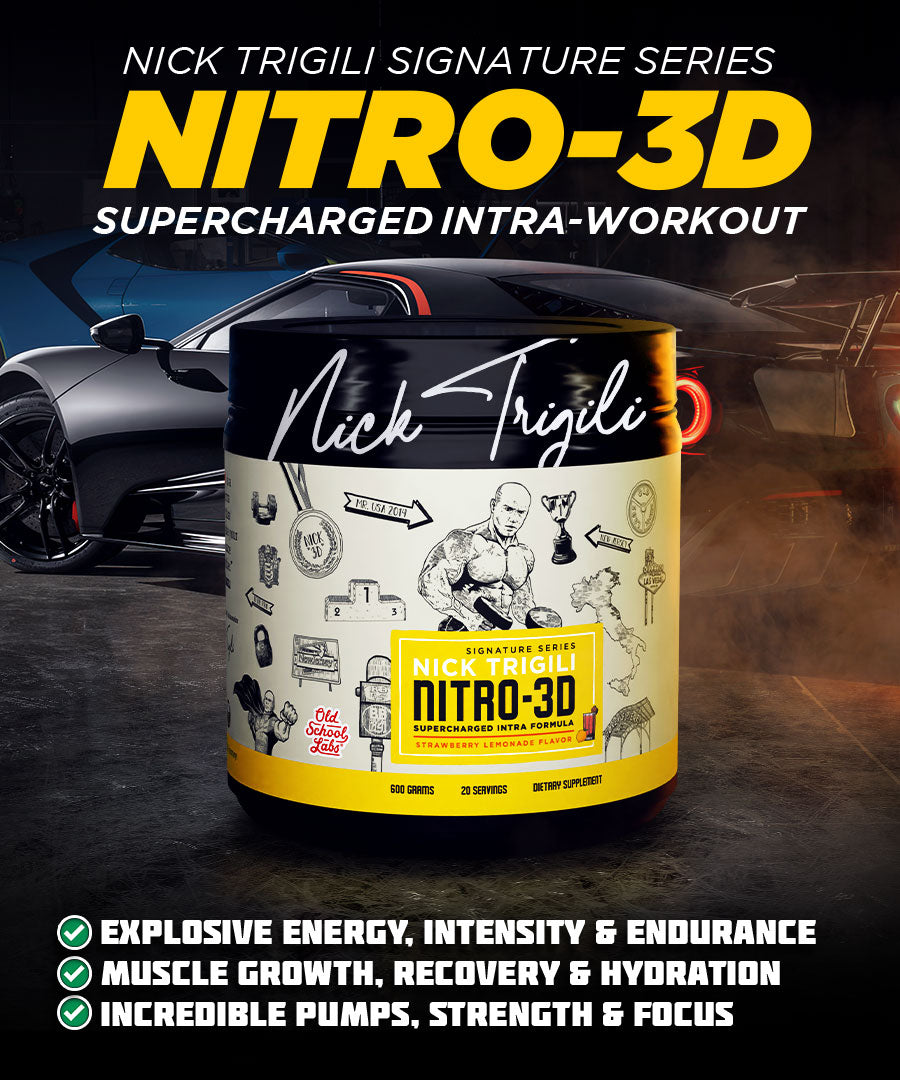 Supercharged Intra Formula
Nick Trigili NITRO-3D
NITRO-3D is an unmatched, supercharged intra-workout formulated to help you push harder and further than ever during your workouts. Experience heightened energy, delayed fatigue, amplified recovery, enhanced hydration, and improved muscle growth in an all-in-one delicious intra-workout supplement.
• The most advanced and complete intra-workout formula available anywhere
• Designed for the most elite athletes and fitness enthusiasts
• Refreshingly delicious natural flavor
• Simply mix 1 scoop with water and sip during workouts
• Officially licensed Nick Trigili x OSL Collaboration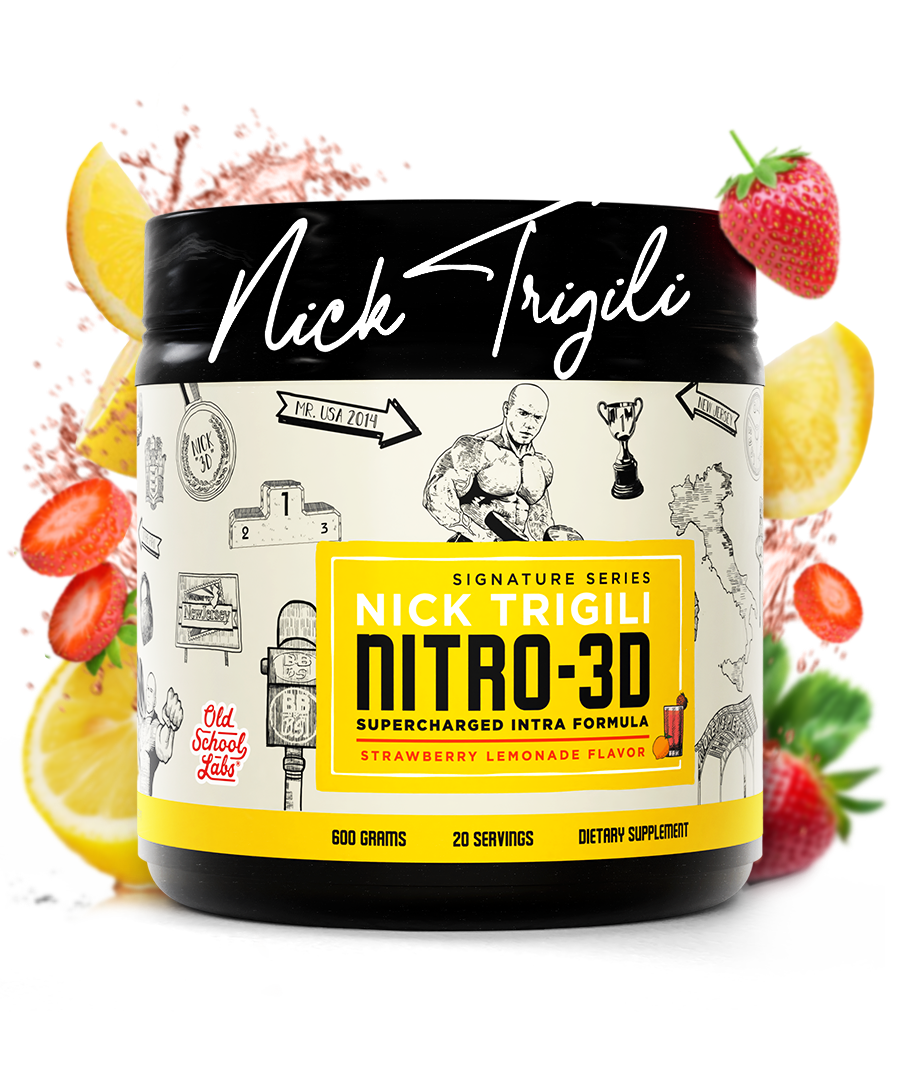 The Formula
Cluster Dextrin® (20,000 mg): (Highly Branched Cyclic Dextrin) A high-quality and high-performance patented carbohydrate. The reason for including this beneficial carb source in the formula is due to its ability to quickly pass through the stomach without upsetting it, causing any sort of bloating, or nausea. Cluster Dextrin provides you with a boost of sustained energy during your workouts, which aids in increasing workout performance.
L-Ornithine (500 mg): Building a muscular physique can be challenging, but L-Ornithine HCl plays a key role in boosting strength as well as improving muscular endurance. This amino acid also helps increase the production of the body's natural GH secretion. Additionally, L-Ornithine can aid in the removal of waste products from the body, such as ammonia.
---
L-Leucine (2,000 mg): Known as one of the most important BCAAs, L-Leucine can help boost protein synthesis, aid in rebuilding muscle tissue, support a healthy metabolism, and can be used to increase ATP production to maximize energy levels.
L-Isoleucine (1,000 mg): As one of the three BCAAs, L-Isoleucine can help support a healthy immune system while also playing a role in muscle growth, glucose transportation, protein metabolism, and muscle growth.
L-Valine (1,000 mg): Another piece of the BCAA equation. This critical branched-chain amino acid helps improve muscle recovery and repair following intense training sessions. Valine has also been found to help increase muscular endurance, which is incredibly beneficial during workouts.
PeptoPro® (1,000 mg): This patented ingredient is full of crucial benefits when it comes to improving your results. For starters, PeptoPro® helps improve muscle endurance and power. Additionally, this patented powerhouse reduces muscle fatigue during workouts, minimizes muscle soreness, and supports rapid muscle recovery post-workout.
L-Lysine HCL (500 mg): As an amino acid primarily found in animal products, L-Lysine helps the body better absorb calcium, which can then be used to support bone strength. Lysine has also been shown to aid in collagen formation to protect tendons, cartilage, connective tissue, and even skin.
L-Threonine (400 mg): An amino acid that has been shown to play a role in supporting a healthy metabolism while also increasing protein synthesis to effectively repair and build torn-down muscle tissue.
L-Phenylalanine (300 mg): This important amino acid can make proteins to be used for muscle recovery following grueling workouts. Additionally, it possesses mood-enhancing properties to lift your spirits and put you in the mood to crush a workout. Recent studies have also shown that Phenylalanine can even stimulate body fat oxidation to improve weight loss.
L-Histidine HCL (200 mg): Most notably known to aid in making blood cells, L-Histidine HCl has also been found to help repair torn-down muscle fibers and support the repair and growth of lean muscle tissue.
L-Methionine (50 mg): A powerful antioxidant and amino acid that can help fight free radicals so that they don't do harm to the cells of the body. L-Methionine can also play a role in enhancing weight loss by improving the body's muscle-to-fat ratio and boosting performance. This helpful amino acid can also help improve bone mineral content, bone volume, and bone mineralization.
L-Tryptophan (50 mg): While many consider L-Tryptophan as a means of improving your mood and helping you relax, it also helps support muscle growth and repair while aiding in fatty acid transportation and fat-burning.
---
Taurine (1,000 mg): A natural anti-inflammatory ingredient that supports proper brain function, improves muscle performance, promotes muscle recovery, and can improve mood.
Pink Himalayan Sea Salt (350 mg): This fresh and responsibly sourced sea salt helps to bring out flavor and aid in proper hydration. It also helps balance body pH levels, boosts brain health, reduces cramping, increases energy, regulates blood sugar, and supports a healthy metabolism.
CocOganic Plus™ Coconut Water Powder (250 mg): A trademarked coconut water powder that helps manage proper hydration levels, replenishes key electrolytes, and supports enhanced workout performance.
Calci-K® (200 mg): (Calcium Potassium Phosphate Citrate) This unique and patented ingredient combines calcium, potassium, and phosphorus into one easily absorbed complex. Not only does Calci-K play a role in supporting proper hydration levels, but it can also optimize muscle contraction when resistance training — which is essential when the goal is muscle growth.
Magnesium (200 mg): (as Magnesium Bisglycinate Chelate) (Albion®) A mineral involved in multiple biochemical reactions of metabolic function, including energy production, cardiovascular regulation, and exercise performance.
Astragin® (50 mg): A patented and 100% natural ingredient that has been clinically shown to help increase the absorption of ingredients and nutrients. This is incredibly important if you want to get the most out of the ingredients in a supplement formula.
---
Silicon Dioxide: This vegetarian-friendly compound, naturally found in many foods, is used to help prevent clumping.
Natural Flavors: Countless iterations of taste-testing allowed us to arrive to a flavor that tastes great and mixes easily but contains no artificial flavors.
Citric Acid: Naturally occurring acid found in fruits (notably citrus fruits such as oranges). We use it to bring out the flavor.
Malic Acid: This is what makes apples tart. It helps with flavoring.
Sucralose: A calorie-free sweetener that doesn't have a bitter aftertaste.
---
ALLERGEN WARNING: This product was produced in a FDA inspected cGMP facility that also processes ingredients containing eggs, milk, tree nuts, peanuts, soybeans, shellfish and fish.
WARNING: Consult your physician prior to using this product if you are pregnant, nursing, taking medication, or have a medical condition. Do not take if seal is broken. Keep out of reach of children.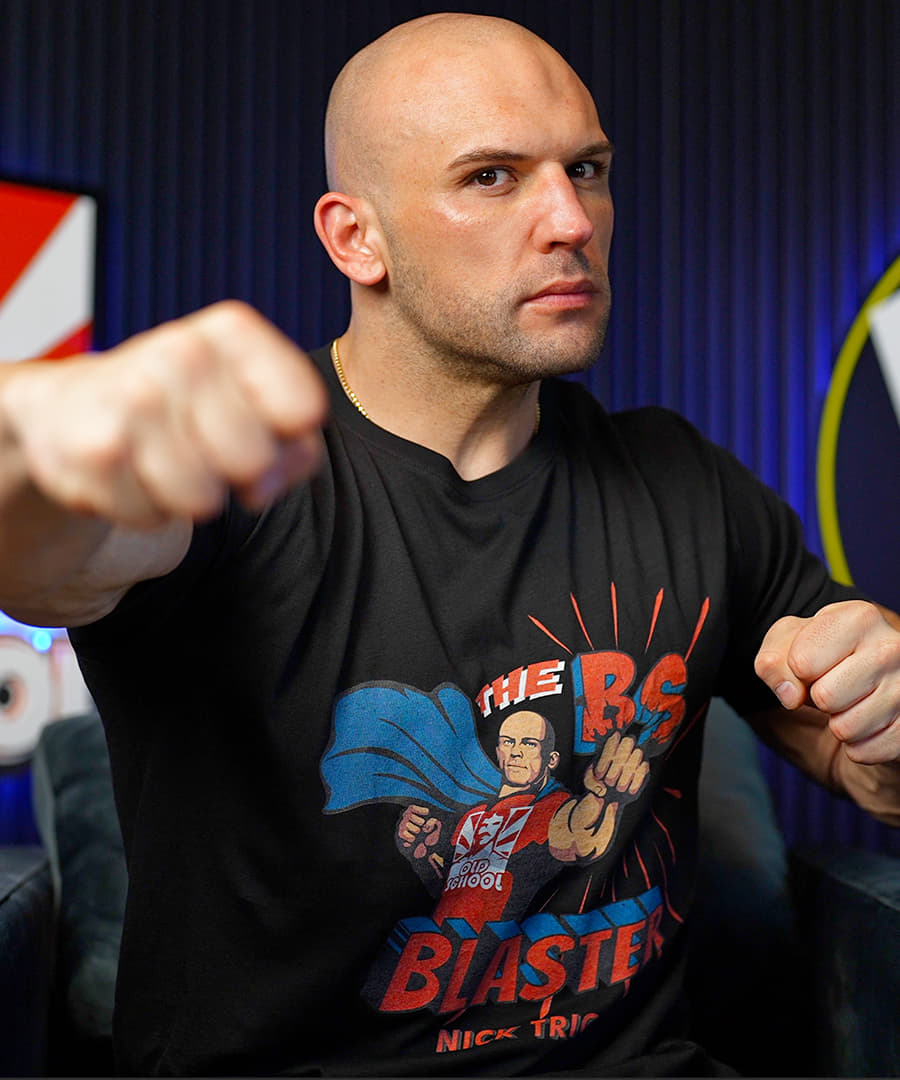 NICK TRIGILI
The Detective of Bodybuilding
Founder and host of Bodybuilding and BS on YouTube, Nick Trigili delivers the hottest scoops and most essential, up-to-date, honest bodybuilding and fitness news with an unmatched passion for the sport. His channel has become essential daily viewing for thousands of fans, and is one of the fastest-growing bodybuilding networks on the planet.
As a certified nutritionist with more than 20 years of professional experience in bodybuilding, Nick began his career at age 16, winning Top Teen at the Bodybuilding Teen Nationals. His award-winning career continued as he moved on to become an IFBB Pro and he won the highly coveted Mr. USA title in 2014. 
In an exclusive collaboration with Old School Labs, the Nick Trigili Signature Series combines Nick's unrivaled product and ingredient expertise with Old School Labs' proven product quality for the next-level results you desire!
Product Details
Get ready to take your workouts to the next level with the industry's most anticipated collaboration! Old School Labs has joined forces with IFBB Pro and Bodybuilding & BS Host Nick Trigili to launch this mind-blowing intra-workout supplement.
Introducing the Nick Trigili Signature Series with its inaugural product NITRO-3D, the supercharged, delicious, and extremely effective intra-workout supplement designed to take your workouts to new heights.
Carefully crafted using the superior quality standards you expect from OSL combined with the expert knowledge of the industry's most passionate personality, expect to experience heightened energy levels, delayed fatigue, amplified recovery, enhanced hydration, and greatly improved muscle growth.
Stop hitting the wall halfway through your workouts — finish strong!
Say goodbye to mediocre workouts and hello to the most intense and satisfying training sessions of your life! NITRO-3D's advanced formula is designed to help you push harder, lift heavier, and go further than ever before. You can't expect to see progress if you're unable to push yourself harder than last time, and with NITRO-3D, the sky is the limit.
NITRO-3D contains several patented ingredients like Cluster Dextrin®, PeptoPro®, CocOrganic Plus®, Calci-K®, and Astragin®, along with many pure & potent ingredients providing compounding effects that can help propel you through the most grueling training sessions.
The Fatigue Fighting and Low Osmolarity Carbohydrate Matrix helps keep your body fueled and energized throughout your entire workout so you can finish just as strong as you started.
The Muscle Protein Synthesis Activator & Recovery Amplifier Group is loaded with BCAAs and EAAs to improve recovery and support muscle growth.
The Bioavailability Enhancing Signature Hydration Blend contains critical electrolytes, nutrients, and absorption-enhancing patented ingredients to support proper hydration, allowing for sustained heightened performance by helping absorb and utilize all key ingredients.
Whether you're a seasoned athlete or just starting your fitness journey, NITRO-3D is the perfect supplement to take your training to the next level.
Don't settle for anything less than the best. Try NITRO-3D today and experience the ultimate intra-workout supplement to transform your fitness game and results!
Directions

Nick's Pro Tip: Combine with Blast Max™ pre-workout for incredible results.
Frequently Asked Questions
An intra-workout is a supplement designed for athletes or active individuals to consume during intense and prolonged training sessions where maintaining optimal energy levels and minimizing muscle breakdown is crucial. Properly formulated intra-workouts typically contain a blend of carbohydrates, amino acids, and electrolytes to help fuel and hydrate the body. They provide several benefits, including increased endurance, reduced muscle fatigue, enhanced hydration, and better recovery, making it an important addition to your workout supplement arsenal.
---
To be blunt, many intra-workouts on the market are very basic in the sense that they only add extra sodium and electrolytes along with your standard BCAAs. NITRO-3D is next level; not only are you getting patented fast-digesting carbohydrates to keep you fueled and energized, but you're also getting BCAAs, EAAs, and a full blend of patented and essential electrolytes and hydration ingredients. NITRO-3D is truly unlike any other intra-workout out there.
---
NITRO-3D is for those looking to elevate their workouts by providing their body with the means to push harder and further. This intra-workout is specifically formulated to help fight fatigue, support recovery, improve hydration, and prevent you from hitting the wall halfway through your training session. To use NITRO-3D, mix one scoop with 14 to 18 ounces of water and drink during your workouts.
---
Absolutely! Being that NITRO-3D is an intra-workout supplement and does not contain stimulants of any kind, according to your goals, you can combine this product with your favorite pre-workout (like Blast MAX or Vintage Blast, fat burner (like Lava 196 or Vintage Burn), post-workout recovery (like Replica GH or Vintage Build), protein (like Vintage Brawn or Vintage Bounty), etc.
---
While NITRO-3D delivers a very powerful formula, there is no need to cycle this intra-workout supplement. The ingredients found in the product do not cause any dependency or lose their effects over consistent use.
---
More Questions?
If you have any questions about this product please feel free to get in touch. At Old School Labs™, we pride ourselves in the quality of our products and our customer service.