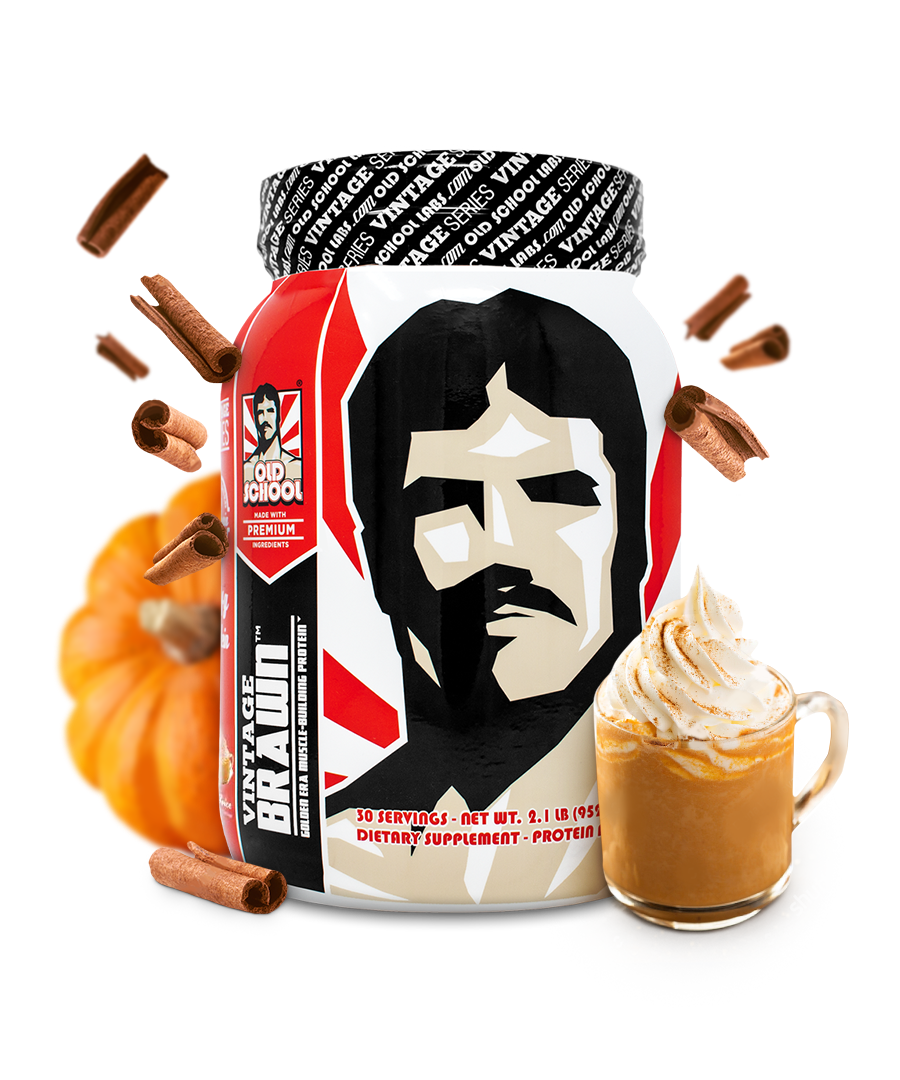 Whey, Casein, Egg & Beef Protein
Vintage Brawn™
Vintage Brawn™ is a blend of three protein sources: eggs, milk (casein + whey) and beef. It is far superior than any single-source protein like whey. Why? Because as a blend, it provides a complete amino acid profile and a powerful muscle-building effect that not only kicks in fast, but lasts for hours.
• Made of protein isolates with zero additives
• For athletes and bodybuilders of all fitness levels
• Lactose-free, zero sugar, easy to mix and digest
• 30 servings
---
The Formula
Egg White Protein
Eggs are the perfect bodybuilding protein, containing essential amino acids that support muscle recovery, growth, and strength.
Milk Protein Isolate
MPI is a perfect blend of whey and casein that leaves behind virtually all of the fat, sugar (lactose), and other nutritional "baggage.
Beef Protein Isolate
Our beef protein isolate is made from fresh beef, providing essential amino acids that are easy to digest.
---
Dutch Cocoa¹: This gives Vintage Brawn its signature rich, intense, and deep chocolate flavor that you'll love.
Monk Fruit Extract¹ ²: A natural, zero-calorie sweetener, monk fruit is also rich in antioxidants.
Organic Stevia Leaf Extract¹ ² ⁴: Stevia is a natural calorie-free sweetener.
Natural Flavors: Countless iterations of taste-testing allowed us to arrive at a flavor that tastes great and mixes easily.
Vegetable-Based Antifoam²: Helps reduce the formation of foam. It is made of Silica, Propylene Glycol, Mono and Diglycerides.
Sea Salt: This fresh and responsibly sourced sea salt helps to bring out flavor.
Xylitol Crystalline²: Also a natural sweetener.
Creamer³ ⁴: High oleic sunflower oil, tapioca food starch, tapioca maltodextrin, and mixed tocopherols.
Malic Acid⁴: This is what makes apples tart. It helps with flavoring.
Silicone Dioxide³ ⁴: Two ingredients that are used to enhance the natural coloring of the product.
Turmeric Rhizome & Annatto Seed Pericarp Powder⁴: A natural, zero-calorie sweetener, monk fruit is also rich in antioxidants.
Sucralose³: A calorie-free sweetener that doesn't have a bitter aftertaste.
Notes: ¹Rich Chocolate only. ²Vanilla Milkshake only. ³Lemon Cheesecake, Tiramisu, Pumpkin Spice, Mint Chocolate Chip, and Birthday Cake. ⁴Banana Milkshake only.
---
ALLERGEN WARNING: This product was produced in a FDA inspected cGMP facility that also processes ingredients containing eggs, milk, tree nuts, peanuts, soybeans, shellfish and fish.
WARNING: Consult your physician prior to using this product if you are pregnant, nursing, taking medication, or have a medical condition. Do not take if seal is broken. Keep out of reach of children.
CALIFORNIA PROP 65 WARNING: Consuming this product can expose you to chemicals including lead which is known to the State of California to cause birth defects or other reproductive harm. For more information go to www.P65Warnings.ca.gov/food.
Product Details
These days, chances are if you're using a protein powder, it's whey protein. Whey has become the protein choice for everyone, from kids to grandparents. A byproduct of cheese production, whey is particularly prized for its absorption speed. It's a good protein, but it's not the most effective way to build muscle, nor to reduce muscle loss. Yet, we've been told over and over again that whey is the only protein we need to achieve our goals.
For us at Old School Labs™, that just doesn't make sense!
Golden Era athletes relied on eggs, milk, and beef – the Big Three – to build high quality muscle. Today, science is catching up with what these athletes knew all along: that the combined proteins of the Big Three surpass the muscle-building and muscle-preserving properties of whey, or any single source. Why? Because together they deliver a synergistic muscle-building effect that's more powerful – it kicks in fast and lasts for hours.
Vintage Brawn™ is the first supplement to successfully combine the highest quality isolates of these three prized proteins. Which means you get all the muscle-building power without the extra fat, sugar, or cholesterol – in an incredibly tasty protein powder.
Directions

Add 1 scoop of Vintage Brawn™ to 12-14 fl oz of cold water, milk, or your favorite beverage. Shake or blend for 20-30 seconds and enjoy. Take one serving during the day: post workout on training days, and anytime on rest days. You can also take a second serving before bed to help muscle repair and recovery while you sleep.
Frequently Asked Questions
Have a Vintage Brawn protein shake right after your workout. You can also use Vintage Brawn as a meal replacement any other time of day, e.g. first thing in the morning (breakfast), as a mid-afternoon snack, or before bed.
---
Absolutely. Taking it after workouts will help you preserve lean muscle and boost your metabolism. Using it as a meal replacement – especially to replace a higher-calorie meal – can help you lose fat faster. Vintage Brawn can also help you regulate your appetite: Protein tends to be satiating. Plus, the delicious taste of Vintage Brawn™ helps satisfy cravings for sweets.
---
Having Vintage Brawn™ after cardio is a great way to enhance recovery. Plus, because it's high in protein but low in carbs, it won't cause your fat-burning metabolism to slow down, unlike what happens if you eat a meal high in carbs (especially high-GI carbs).
---
Yes. There are all kinds of protein powder recipes online. Protein puddings, cupcakes, pancakes, and so forth. Vintage Brawn™ can be used in many different recipes besides shakes and smoothies.
---
We can happily confirm that there is absolutely NO beef or egg taste or aftertaste (nor milk for that matter). The flavor is delicious rich chocolate, made with natural Dutch cocoa. Vintage Brawn™ is possibly the best-tasting naturally flavored and naturally sweetened protein powder on the market today.
---
Vintage Brawn™ shouldn't cause any negative side-effects for individuals who are lactose-intolerant, as their sensitivity stems from the inability to properly breakdown the SUGARS (lactose) in milk. Vintage Brawn™ contains milk protein isolate (MPI) – meaning the lactose and fat have been extracted and removed – to leave behind ONLY the two milk proteins casein and whey.
---
More Questions?
If you have any questions about this product please feel free to get in touch. At Old School Labs™, we pride ourselves in the quality of our products and our customer service.