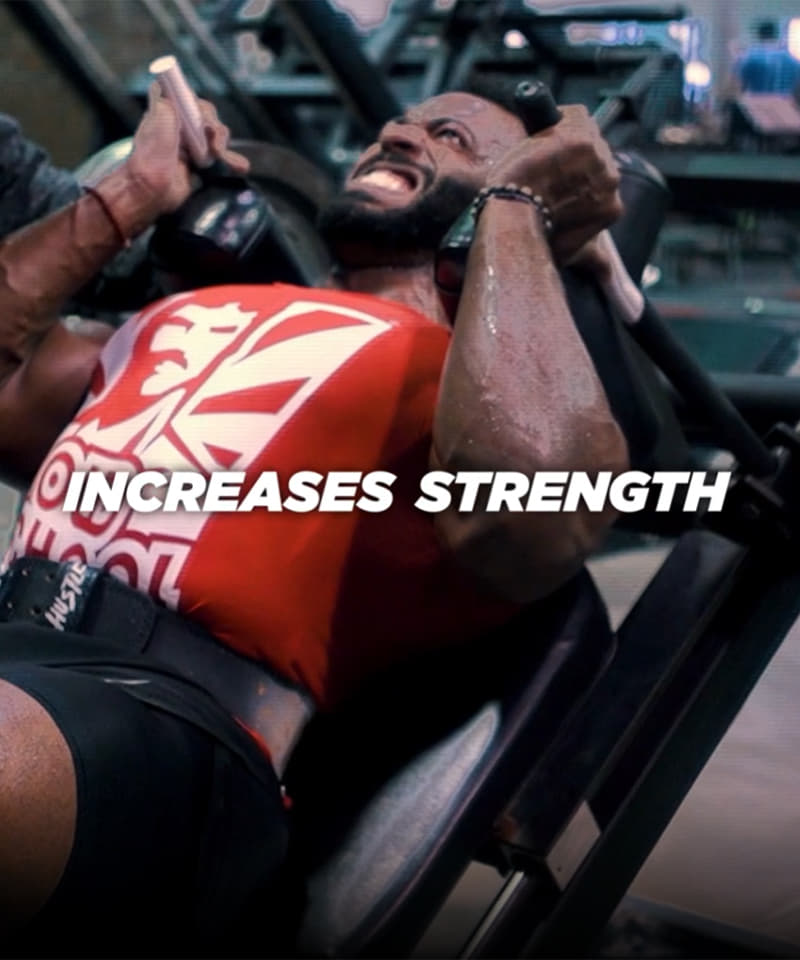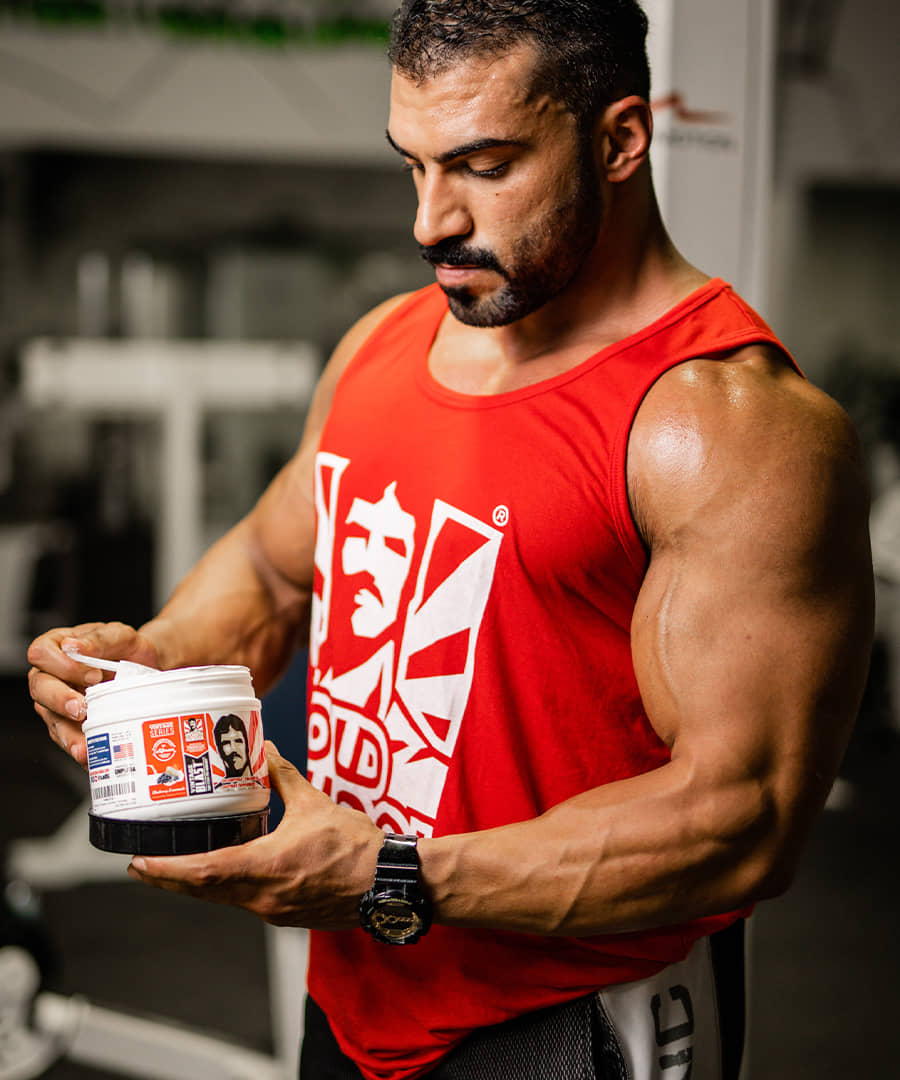 Vintage Blast™
Unlike other pre-workouts, Vintage Blast's unique two-stage formula delivers steady energy and pumps. This means no crashing, no dependency, just amazing workouts and gains.
• For all fitness levels
• For all types of workouts (weights, cardio, home, etc.)
• Delicious natural flavors
• Simply take 1 scoop 15-30 min before workout
---
The Formula
Amino Acids
L-Citrulline Malate (5,000 mg): A naturally occurring amino acid that improves endurance, relieves soreness and improves aerobic endurance.
Beta Alanine (1,000 mg): An amino acid that boosts athletic performance and exercise capacity, and helps improve physical functioning.
D-Aspartic Acid (2,000 mg): Helps enhance endurance and muscular development, and speed the recovery process.
N-Acetyl-L-Tyrosine (250 mg): An amino acid used by the body and brain to support peak performance by helping alertness, alleviating stress, and improving neural communication.
L-Arginine AKG (1,000 mg): Made from the amino acid arginine and alpha-ketoglutaric acid, this ingredient will dilate blood vessels, improve blood flow, and increase nitric oxide.
L-Carnitine Tartrate (250 mg): An amino acid that is important for heart and brain function, muscle movement, and many other athletic processes.
---
Caffeine
Caffeine Anhydrous (150 mg): Caffeine boosts your metabolic rate and energy expenditure and increases alertness and focus.
Micro-Encapsulated Caffeine (100 mg): A special form of caffeine that provides a controlled release into the body, helping boost alertness and focus longer, and preventing "caffeine crash.
---
Vitamins
Vitamin C (250 mg): Reduces oxidative stress and helps protect proteins from oxidative damage that commonly occurs during training.
Niacin (Vitamin B3) (30 mg): A vitamin that reduces oxidative stress and helps protect proteins from oxidative damage that commonly occurs during training.
Vitamin B6 (10 mg): A vitamin typically found in fresh vegetables and linked to amino acid, glucose, and lipid metabolism, as well as hemoglobin synthesis.
Vitamin B12 (50 mcg): A micronutrient used to convert protein and carbohydrates into energy while supporting oxygen delivery.
Pantothenic Acid (Vitamin B5) (10 mg): A water-soluble vitamin that plays an important role in energy metabolism and the biosynthesis of essential compounds in the body.
---
Minerals
Magnesium (50 mg): A mineral involved in multiple biochemical reactions of metabolic function, including energy production, cardiovascular regulation, and exercise performance.
Sodium (50mg): A macromineral that plays a key role in normal nerve and muscle function, as well as keeping body fluids in normal balance.
Potassium (99 mg): An electrolyte and mineral that plays an important role in proper neuron function.
---
Stevia Leaf Extract: A zero-calorie natural sweetener. A minimal amount of high-quality stevia is used to remove the bitterness and acidity naturally occurring in the ingredients of Vintage Blast™.
Natural Pineapple Fruit Powder: Adds a refreshing kick to the signature taste of Vintage Blast™.
Silicon Dioxide: This vegetarian-friendly compound, naturally found in many foods, is used in combination with calcium silicate as a flow agent.
Calcium Silicate: Also a vegetarian-friendly compound, naturally found in many foods, is used in combination with silicon dioxide as a flow agent.
Natural Flavors: Countless iterations of taste-testing allowed us to arrive at a flavor that is not only natural, but tastes great and mixes easily.
Natural Fruit and Vegetable Juice¹: This natural colorant is free of chemical solvents and GMO ingredients, and is made from high-quality fruits and vegetables to give Vintage Blast™ its light-cherry color.
Dicalcium Phosphate¹: Resulting from the addition of Vitamin B12, DCP is commonly used as a source of calcium and phosphorous.
Sucralose²: A calorie-free sweetener that doesn't have a bitter aftertaste.
Turmeric Rhizome Powder & Annatto Seed Pericarp Powder³: Two ingredients that are used to enhance the natural coloring of the product.
Organic Beet Root Juice Powder⁴: This super vegetable is used to give the product its distinctive and natural color.
Notes: ¹Blueberry Lemonade only. ²Caribbean Punch, Strawberry Kiwi, and Mango Peach. ³Caribbean Punch and Mango Peach. ⁴Strawberry Kiwi and Mango Peach.
---
ALLERGEN WARNING: This product was produced in a FDA inspected cGMP facility that also processes ingredients containing eggs, milk, tree nuts, peanuts, soybeans, shellfish and fish.
WARNING: Consult your physician prior to using this product if you are pregnant, nursing, taking medication, or have a medical condition. Do not take if seal is broken. Keep out of reach of children.
CALIFORNIA PROP 65 WARNING: Consuming this product can expose you to chemicals including lead which is known to the State of California to cause birth defects or other reproductive harm. For more information go to www.P65Warnings.ca.gov/food.
Product Details
Pre-workout supplements increase your strength and endurance, which in turn, help you work out harder and for longer. This means you can lift more weights and maintain your exercise intensity without getting tired as quickly.
However, that rush that you get from pre-workouts doesn't feel the same after a while. Why? Your body adapts and you soon stop feeling their effects. As a result, you find yourself upping the dose – at the expense of your health – or switching to another product.
For us at Old School Labs™, that just doesn't make sense!
Unlike other pre-workouts, Vintage Blast™ doesn't deliver all its ingredients at once. The two-stage formula ensures a steadier delivery rate, which works against dependency, and helps you power through your workouts and competitive events — from start to finish.
Directions

Assess your tolerance with half a scoop mixed with 8-10 oz of water, 15 to 30 minutes before your workout. Then continue with 1 scoop 15 to 30 minutes before workouts mixed with 14-16 oz of water.
Frequently Asked Questions
Yes. Vintage Blast™ will deliver excellent results for men and women wanting a pre-workout supplement to help sustain them through rigorous workouts and competitive events.
---
Vintage Blast™ is specifically designed to deliver its ingredients over an extended period of time, rather than all at once, by harnessing the ingredients' different digestive and assimilation properties.
---
Vintage Blast™ contains no carbs, no sugars, and no calories. The sweetening in Vintage Blast™ is provided by stevia leaf extract, a natural sweetener with zero calories and zero carbs.
---
Yes. You can stack Vintage Blast™ with Vintage Burn™, and many of our customers do exactly that to enjoy the combined benefits. You can start by taking a half-dose of Vintage Burn™ (1 capsule) with Vintage Blast™ and then move up to the regular dosage.
---
The micro-encapsulated caffeine in Vintage Blast™ is active for up to 3 hours after you consume it. Just as with any caffeine product, take your personal tolerance into account and adjust the consumption time accordingly.
---
You don't need to take time off from using Vintage Blast™. You can use it anytime you need it to support your training goals.
---
Vintage Blast™ is a 100% vegetarian product. There are no animal-sourced ingredients in it. On another note, the facility where it's manufactured processes milk, egg, soybeans, shellfish, fish, tree nuts, and peanuts – so please take that into account if you have any allergies.
---
More Questions?
If you have any questions about this product please feel free to get in touch. At Old School Labs™, we pride ourselves in the quality of our products and our customer service.