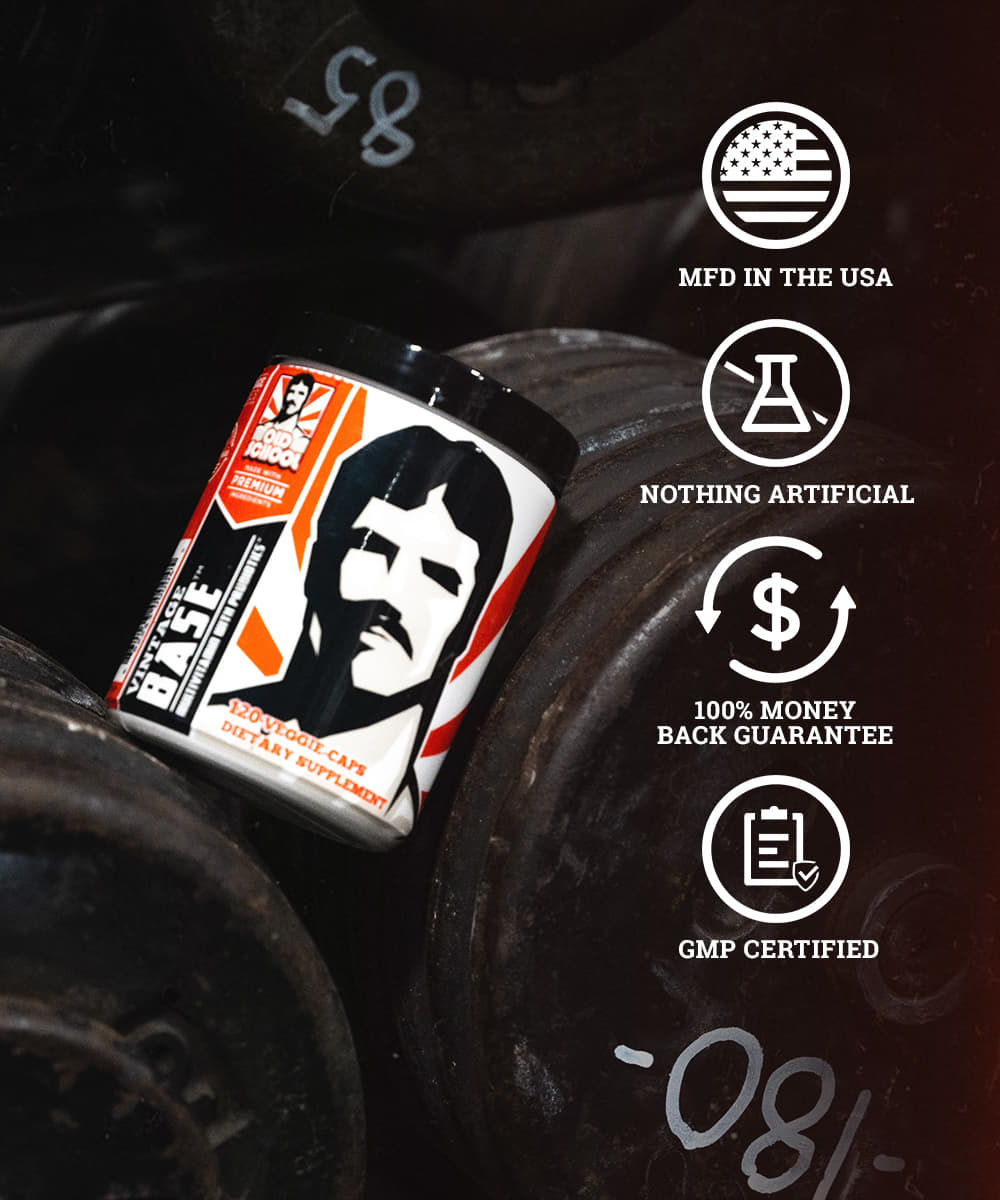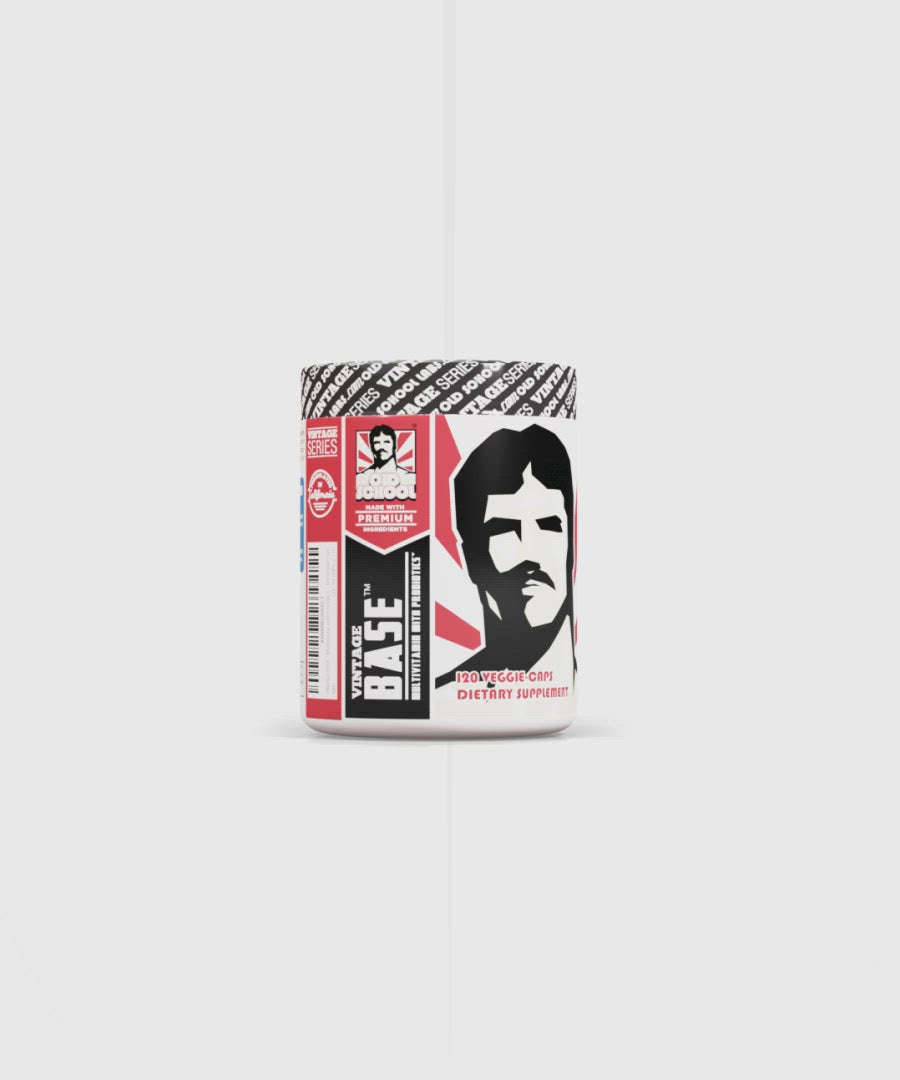 ​Multivitamin + Probiotics
Vintage Base™
Vintage Base™ is a 2-in-1 daily multivitamin with probiotics. It is formulated to be taken with meals to help in the absorption of nutrients in food as well as those in the product.
• 10 vitamins, 10 minerals, and 4 probiotics strains per serving
• Helps support your immune system, and bone and tissue health
• Free from artificial substances, additives, and preservatives
• 120 veggie capsules - 30 servings
---
The Formula
Vitamins
Vitamin A: Also known as beta-carotene or retinol, Vitamin A is essential for immune system function, and helps with the maintenance of normal vision and healthy night vision.
Vitamin C: Reduces oxidative stress and helps protect proteins from oxidative damage that commonly occurs during training.
Vitamin D3: Vitamin D has gained in popularity lately, and for good reason. This vitamin is important in insulin and prolactin secretion, muscle function, as well as immune and stress response.
Vitamin E: In addition to detoxifying free radicals and preventing damage to cell membranes, Vitamin E enhances immune response and protects the liver.
Vitamin K: Helps build bone, especially in conjunction with vitamins A and D, also present in Vintage Base™. Also helps with blood coagulation.
Vitamin B6: A vitamin typically found in fresh vegetables and linked to amino acid, glucose and lipid metabolism, as well as hemoglobin synthesis.
Folic Acid: Also known as folate, this vitamin breaks down and synthesizes amino acids, as well as synthesizing nucleic acids, which are essential in building new blood cells.
Vitamin B12: A micronutrient used to convert protein and carbohydrates into energy, and essential for getting oxygen to tissues in order to help peak performance.
Biotin: This vitamin plays a key role in metabolizing fats, carbohydrates, and proteins.
Pantothnic Acid: Part of the chemistry of coenzyme A, which is vital in the metabolism of carbohydrates, fats, and proteins – and is necessary for normal adrenal cortex function.
---
Minerals
Calcium: A mineral involved in the production of energy and maintenance of healthy immune function. It is also essential in developing and maintaining healthy bones and teeth.
Iodine: Plays an integral part in the thyroid hormones, which have important metabolic roles related to energy production.
Magnesium: Involved in multiple biochemical reactions of metabolic function, including energy production, cardiovascular regulation and exercise performance.
Zinc: An essential trace element that helps boost the immune system, as well as improve athletic performance and strength.
Selenium: This trace element is a constituent of multiple selenoproteins that play critical roles in reproduction, thyroid hormone metabolism, DNA synthesis, and protection from oxidative damage and infection.
Copper: An essential trace element that helps stimulate the absorption of iron and plays a key role in respiration. It also helps maintain cell membranes, and is part of the enzyme that protects against cell damage.
Manganese: A mineral that plays an essential role in several enzyme systems involved in protein and energy metabolism.
Chromium: Essential trace element that aids in glucose metabolism and regulates blood sugar. Some studies also suggest that it helps protect against cardiovascular disease and high blood pressure.
Molybdenum: An essential mineral that is vital to the correct function of several enzymes and is obtained through diet or supplementation.
Potassium: A mineral and electrolyte that is essential for a steady heartbeat, the transmission of nervous system signals, and correct muscle function.
---
Probiotics
Bifidobacterium Bifidum: A probiotic that helps stave off the ill effects of disease-causing microorganisms, particularly those that target your gastrointestinal tract. B. bifidum also helps to regulate or modulate the innate immune response. It has been proven to significantly help with the reduction of bowel issues such as constipation, diarrhea, gas, bloating, abdominal pain and cramping.
Lactobacillus Acidophilus: L. acidophilus is a probiotic that produces lactase, the enzyme that breaks down the sugar in milk, and organic acids that inhibit the adherence and multiplication of pathogenic microbes. It reduces overgrowth of pathogens in your digestive tract, and increases immune response. In some cases, it has also been linked to the treatment of respiratory infections like sinusitis and bronchitis and to the prevention and treatment of diarrhea.
Bifidobacterium Longum: A good bacteria that helps maintain a normal digestive tract, inhibits the growth of harmful bacteria, and boosts the immune system. This strain is frequently used in studies related to the antimutagenic and anticarcinogenic properties of probiotics.
Lactobacillus Rhamnosus: A facultative anaerobic lactic acid bacterium, this probiotic strain has been studied more than any other. It has a proven anti-inflammatory effect on the human GI tract, and is associated with a host of benefits ranging from boosting immunity to reducing anxiety.
---
Vegetable Capsule: Our rapid-release vegetable capsules are completely see-through and made only from plant cellulose. No gelatin is ever used.
Vegetable Stearate: The highest quality vegetable-based stearate is used to ensure that each and every capsule contains the same amount of active ingredients.
---
ALLERGEN WARNING: This product was produced in a FDA inspected cGMP facility that also processes ingredients containing eggs, milk, tree nuts, peanuts, soybeans, shellfish and fish.
WARNING: Consult your physician prior to using this product if you are pregnant, nursing, taking medication, or have a medical condition. Do not take if seal is broken. Keep out of reach of children.
Product Details
Vitamins and minerals are essential nutrients your body needs to function. Yet, it's not always possible to get enough of them, every day, from food alone.
However, by taking those one-a-day under-dosed multivitamins, or the 'athletic' mega-dosed ones, your body cannot absorb a large part of the vitamins and minerals it is being given. And, will simply pass them in urine (sometimes turning it to bright yellow).
For us at Old School Labs™, that just doesn't make sense!
Vintage Base combines key vitamins and minerals in an effective dose with potent probiotics. These 'good' bacteria help increase the absorption of nutrients in the product, as well as those in your food.
Directions

Take 2 capsules twice a day before or with meals.
For best results, use for at least 3 months to help establish optimal nutrient levels in the body.
Frequently Asked Questions
Yes. There are no animal products, including gelatin, used in Vintage Base™. This includes the capsule, which is vegetable based.
---
We recommend taking Vintage Base™ before or with meals, since the probiotics in the product will increase your absorption of the vitamins and minerals in your food.
---
In addition to being 100% pure, Vintage Base™ is designed not only to provide you with key vitamins, minerals, and probiotics – but aid in the absorption of nutrients in your foods.
---
This is not recommended, since Vintage Base™ contains all of the vitamins and minerals you need, as well as helpful probiotics.
---
Because of its probiotic content, Vintage Base™ has a high absorbency rate, which means that more of the vitamins and minerals are used by your body – instead of being excreted and flushed down the toilet, as with many products.
---
You don't need to refrigerate Vintage Base™ after opening the bottle. The probiotics inside are shelf-stable, and though some probiotics require refrigeration, most – including Vintage Base™ – just need to stay in a cool and dry place.
---
More Questions?
If you have any questions about this product please feel free to get in touch. At Old School Labs™, we pride ourselves in the quality of our products and our customer service.