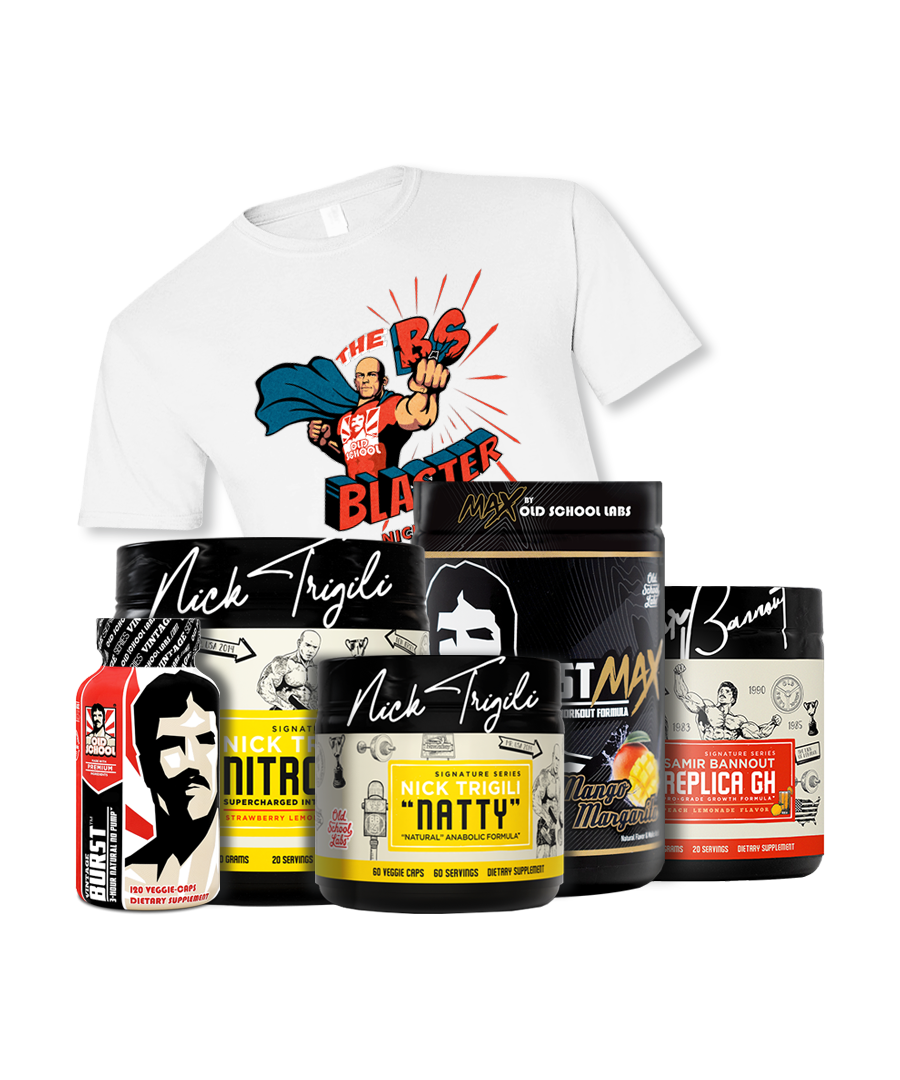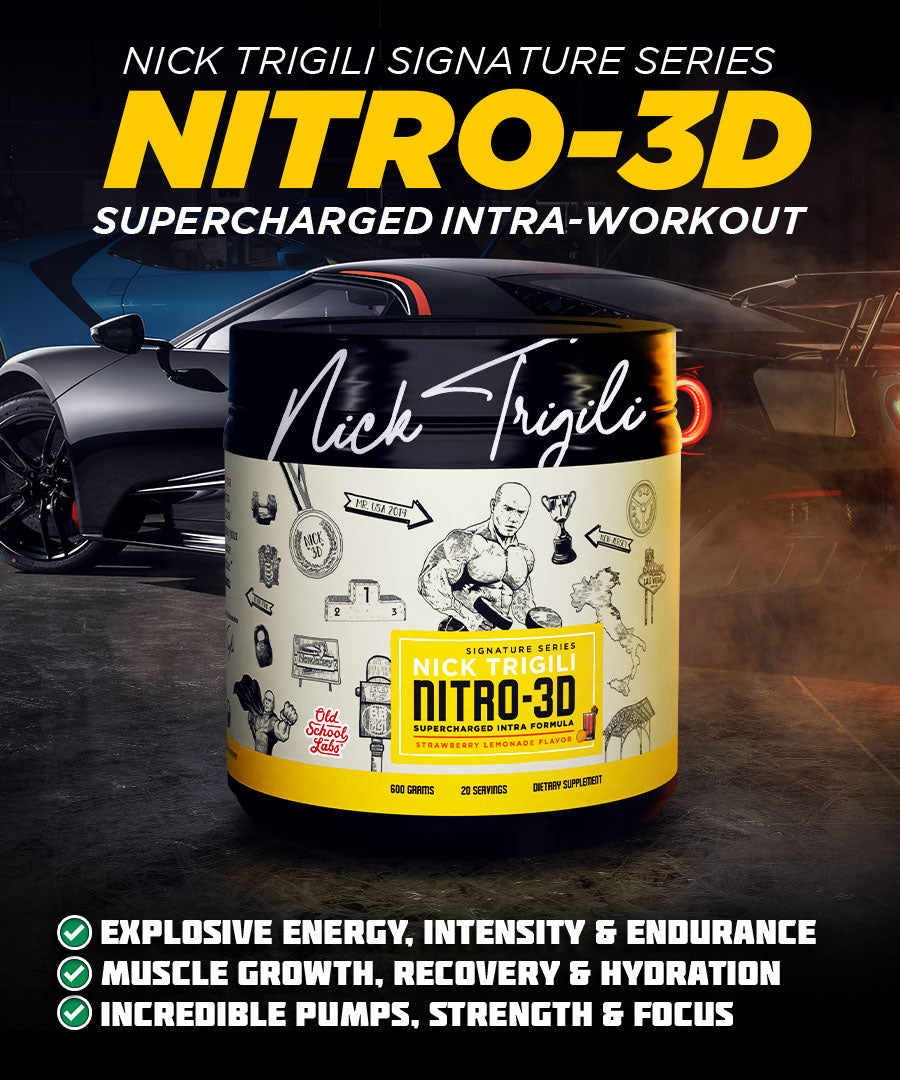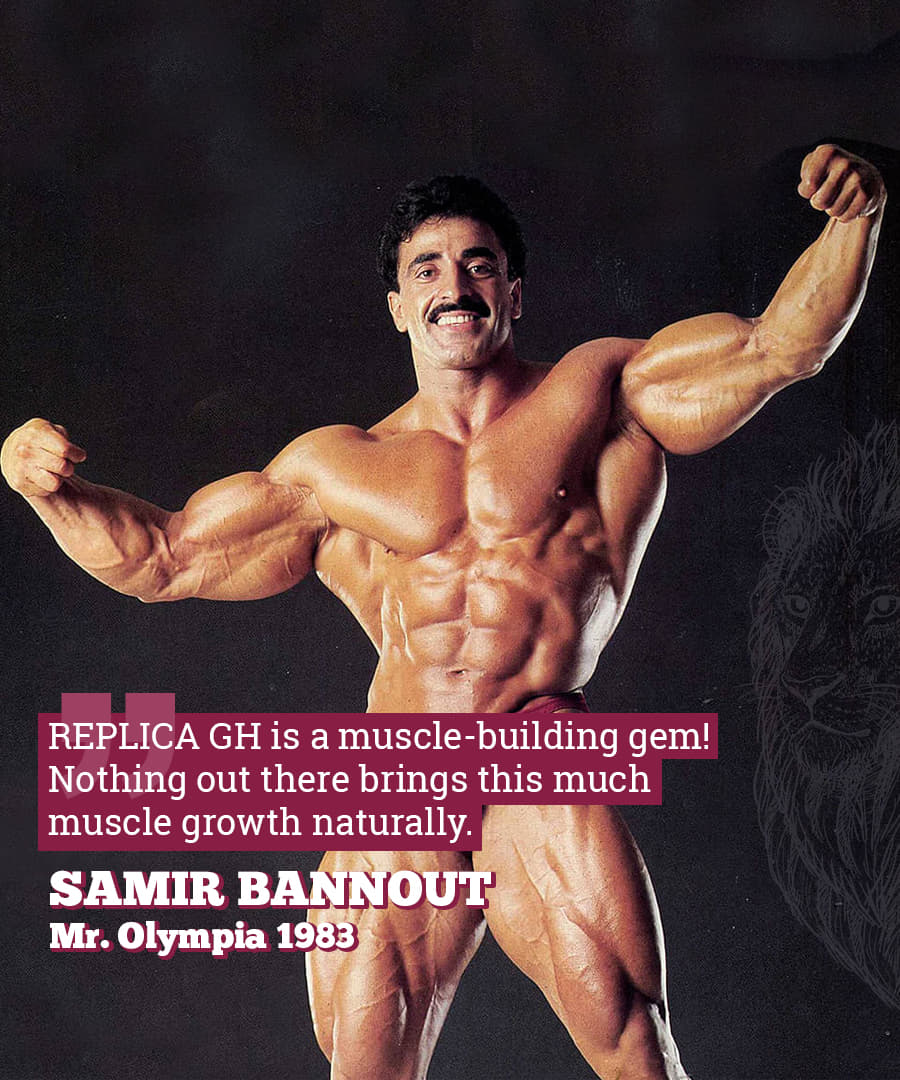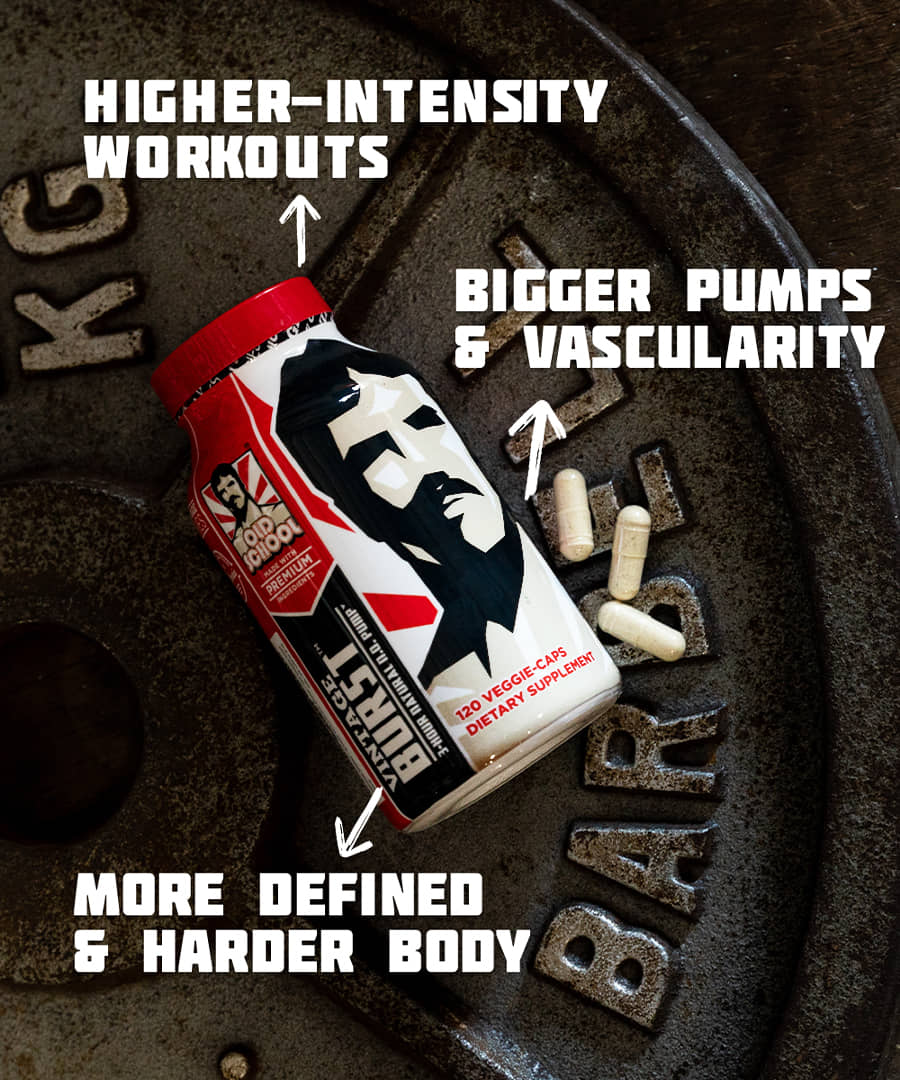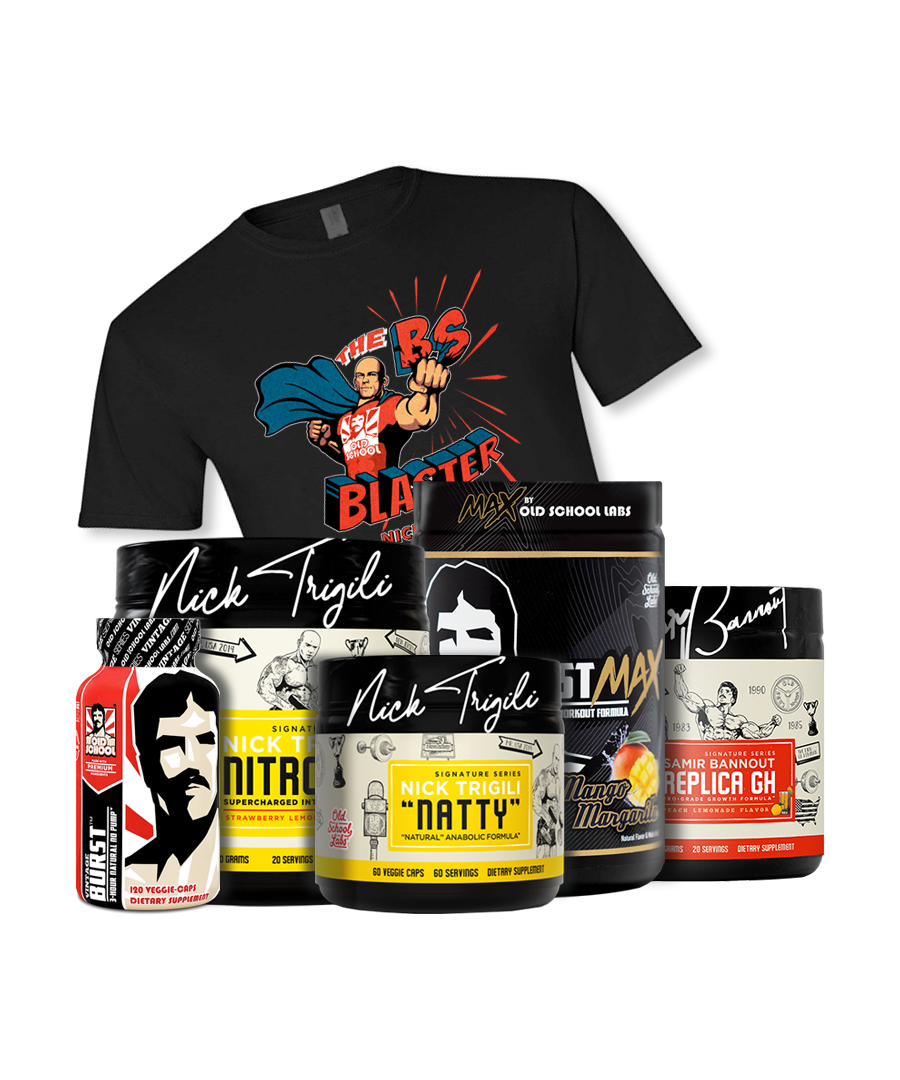 Advanced Pre + NO Booster + Intra + Anabolic & Growth Formulas + Shirt
No Joke Stack
& free shipping (U.S. only)
This stack has the best of the best: Blast MAX™ advanced pre-workout, Vintage Burst™ 3-hour N.O. booster, Nitro-3D supercharged intra-workout, "NATTY" anabolic formula, and Replica GH pro-grade growth formula.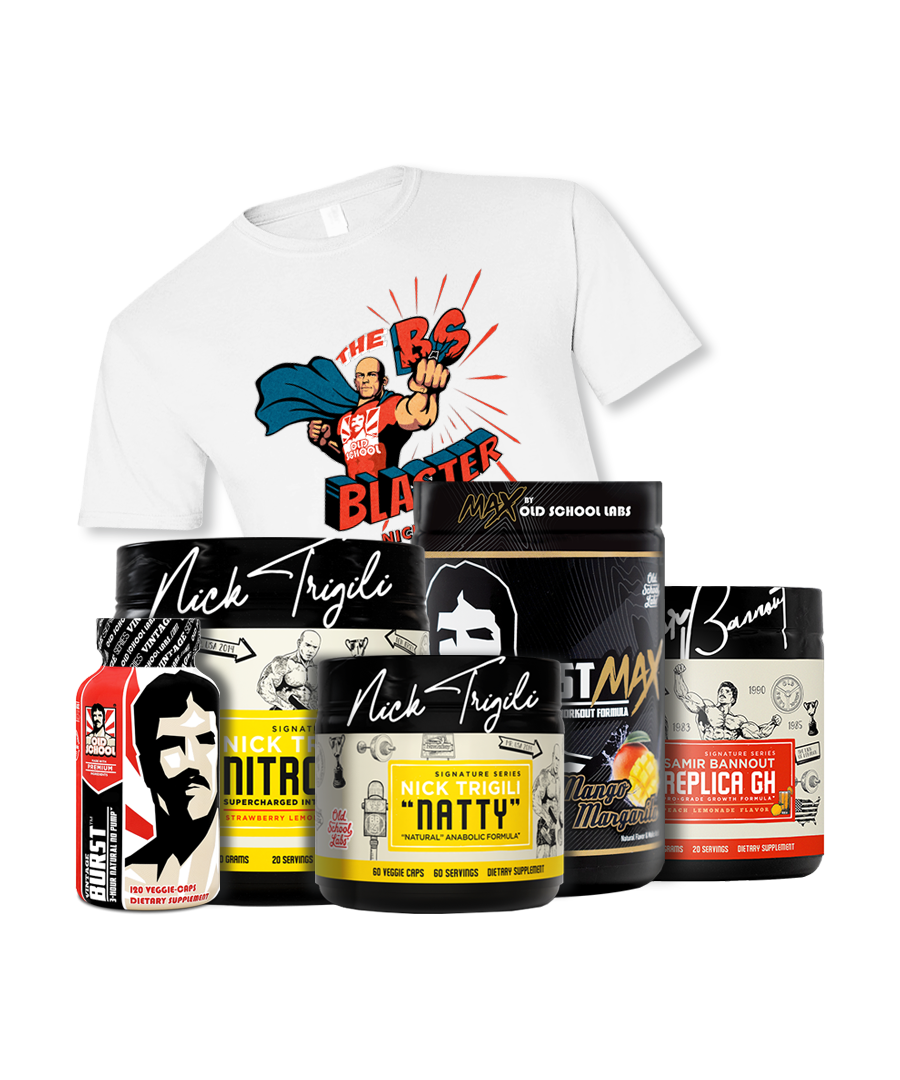 Stack Details
NITRO-3D
An unmatched, supercharged intra-workout formulated to help you push harder and further than ever during your workouts. More Details →
Directions: Mix 1 scoop to 14-18 oz of cold water, nd drink during your workout.
---
NATTY
A groundbreaking natural supplement that gives all athletes a legal, natural alternative to underground anabolics without any unwanted side effects. More Details →
Directions: Take 1 capsule 2 times per day.

---
Replica GH
The ultimate anabolic formula that helps maximize muscle fullness and vascularity while preventing catabolism, even when cutting and in a caloric deficit. More Details →
Directions: Mix 1 scoop with 14-18 oz of water and drink immediately after workout.
---
Blast MAX™
Unleash unchained energy, mind-blowing muscle pumps, surprisingly rapid muscle recovery, and an unbelievable drive and focus that will push your body past what you thought was humanly possible. More Details →
Directions: Mix 1 scoop in 12-16 oz. of water and drink 30 minutes before workouts or training.
---
Bintage Burst™
Specially formulated to help keep nitric oxide (N.O.) levels elevated for hours – enabling bigger and better pumps and higher-intensity workouts. More Details →
Directions: Take 1 serving (3 capsules) 15-30 minutes before your workout.
---
Frequently Asked Questions
An intra-workout is a supplement designed for athletes or active individuals to consume during intense and prolonged training sessions where maintaining optimal energy levels and minimizing muscle breakdown is crucial. Properly formulated intra-workouts typically contain a blend of carbohydrates, amino acids, and electrolytes to help fuel and hydrate the body. They provide several benefits, including increased endurance, reduced muscle fatigue, enhanced hydration, and better recovery, making it an important addition to your workout supplement arsenal.
---
To be blunt, many intra-workouts on the market are very basic in the sense that they only add extra sodium and electrolytes along with your standard BCAAs. NITRO-3D is next level; not only are you getting patented fast-digesting carbohydrates to keep you fueled and energized, but you're also getting BCAAs, EAAs, and a full blend of patented and essential electrolytes and hydration ingredients. NITRO-3D is truly unlike any other intra-workout out there.
---
No, "Natty" is a natural anabolic formula designed to deliver you PED-like results, without any of the PEDs. It is also a great off-cycle support supplement if you happen to be cycling off of PEDs.
---
Not at all, this formula was designed to allow for long duration of use without the need to cycle on & off. Enjoy your long, natural cycle!
---
Absolutely not. Whether you're a bodybuilder, an elite athlete, or just someone looking to get in better shape and condition, you can achieve fantastic results from this product.
---
None of that stuff. Samir's formula helps your body make more.
---
Blast MAX™ can be used by both elite athletes and fitness enthusiasts alike. Men and women love the effects and taste of this powerful and delicious pre-workout. If you want to take your results to the MAX and already love our original Blast formula, this pre-workout is going to blow your mind. Simply mix 1 scoop in 12-16 oz. of water and drink 30 minutes before workouts or training.
---
No. Due to the specific profile used in Blast MAX™, there is no dependency or adaptation that would cause you to stop feeling the effects. What you get is a hardcore pre-workout that utilizes maximum dosages and patented ingredients to provide you with unbelievable results.
---
Vintage Burst™ can be taken before any type of exercise. For the best pumps, we recommend keeping your rest between sets between 30 and 60 seconds.
---
Yes. Fat-loss or fat-cutting diets typically require eating less food (i.e., cutting down on your calories). This may cause your energy level to fall and your metabolism to slow, making it harder to lose fat. When you're on a calorie-reduced diet, you may also be eating fewer antioxidant-rich foods. Besides boosting your energy and metabolism, Vintage Burst™ supports healthy antioxidant levels with Spectra™.
---
More Questions?
If you have any questions about this product please feel free to get in touch. At Old School Labs™, we pride ourselves in the quality of our products and our customer service.