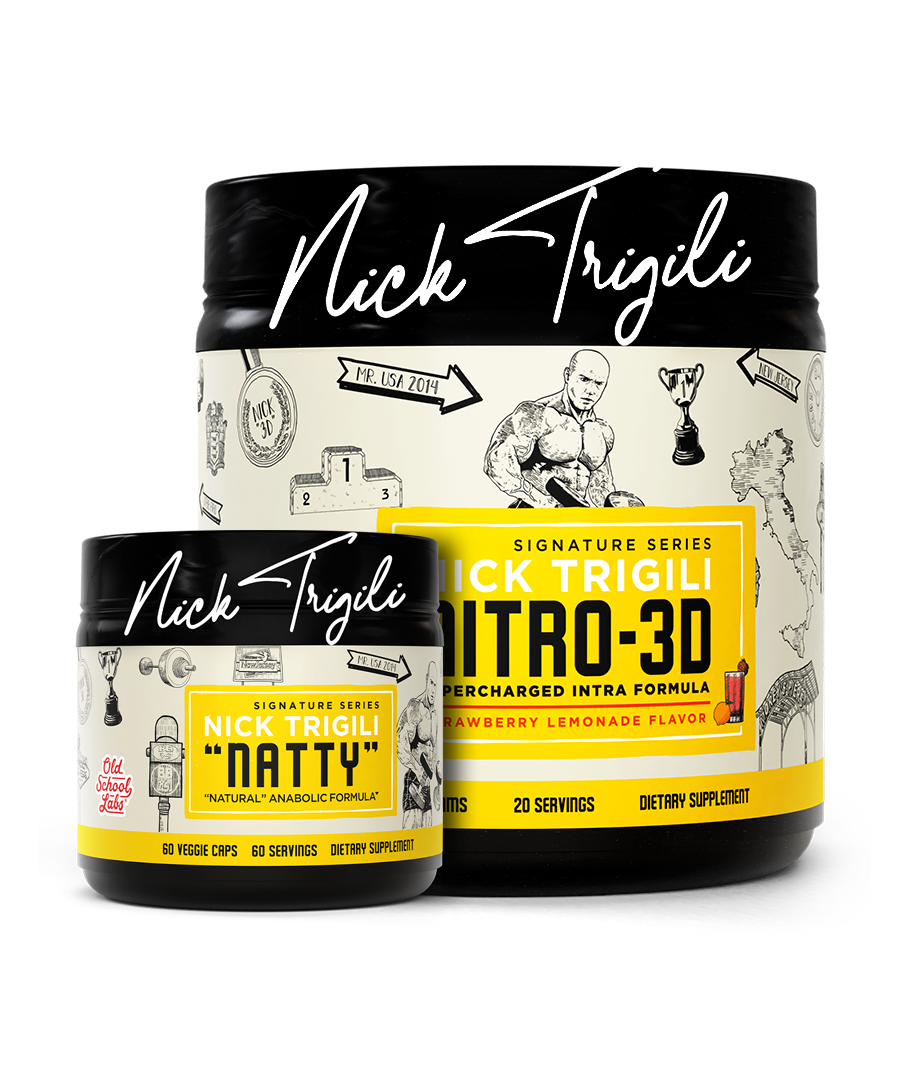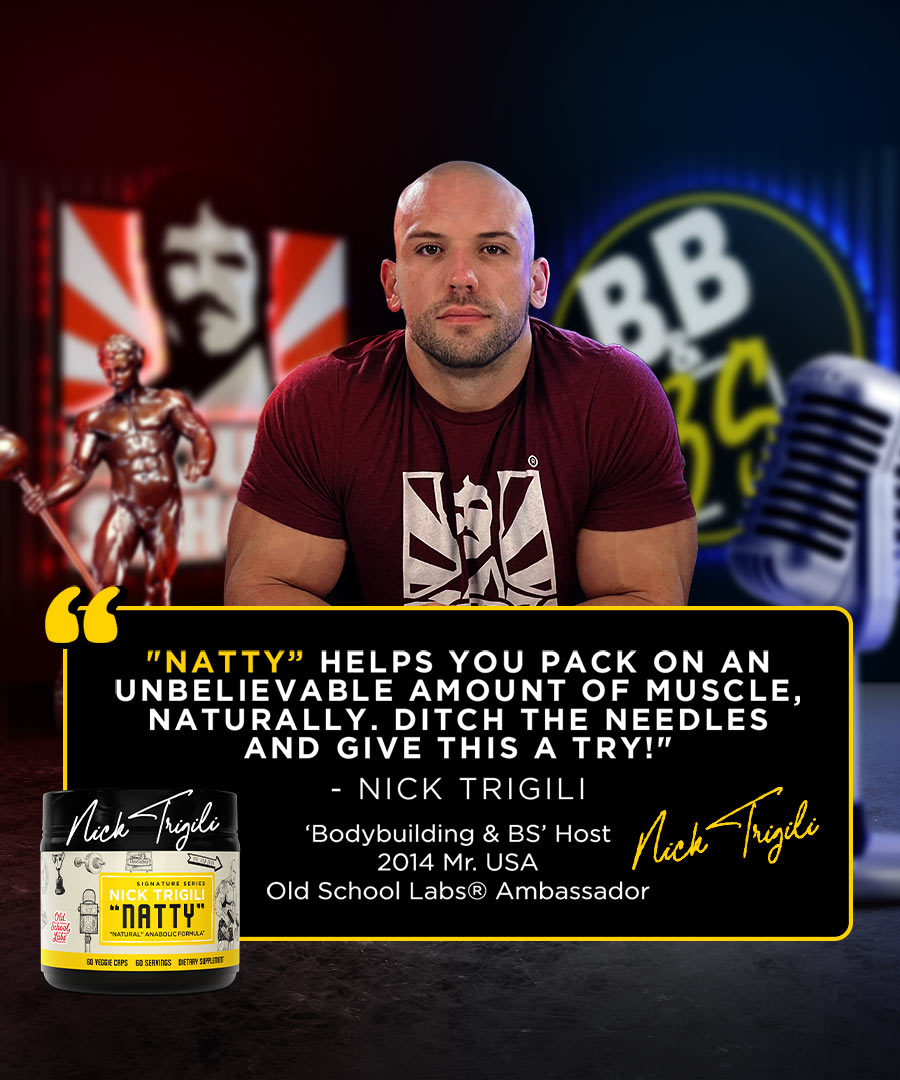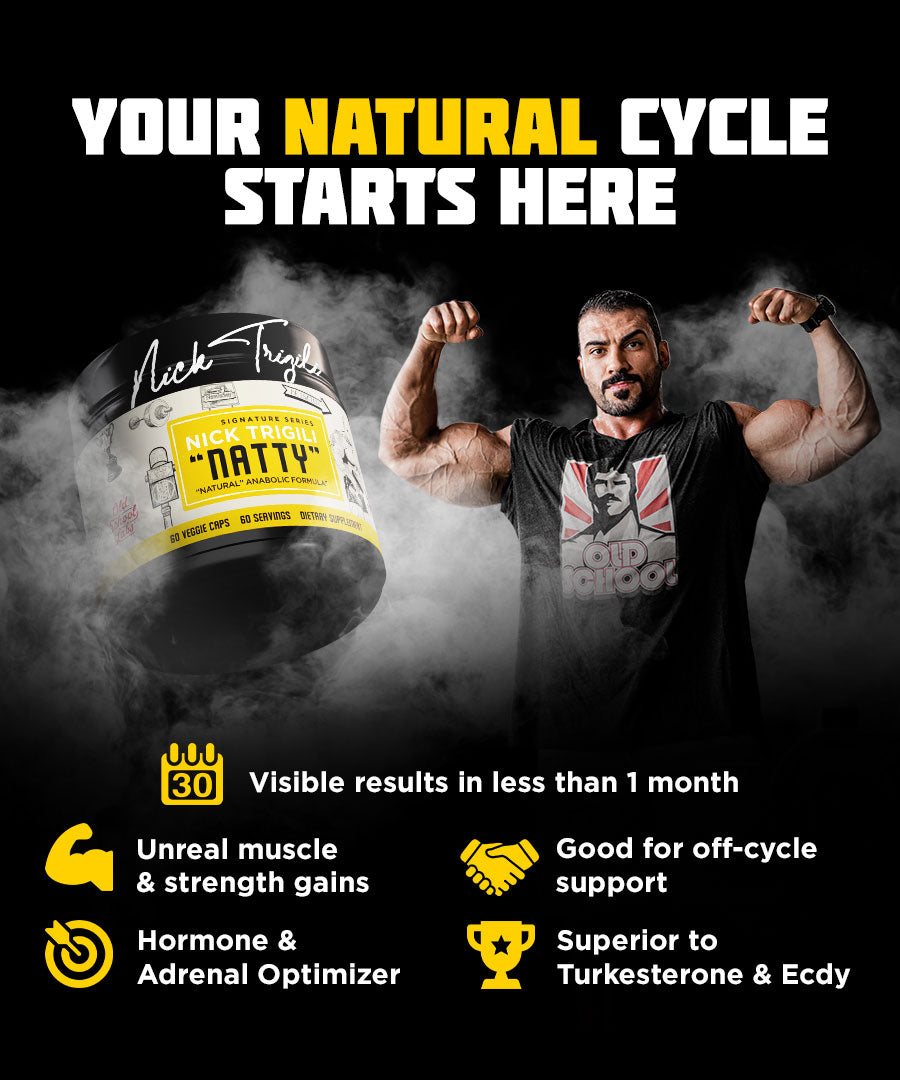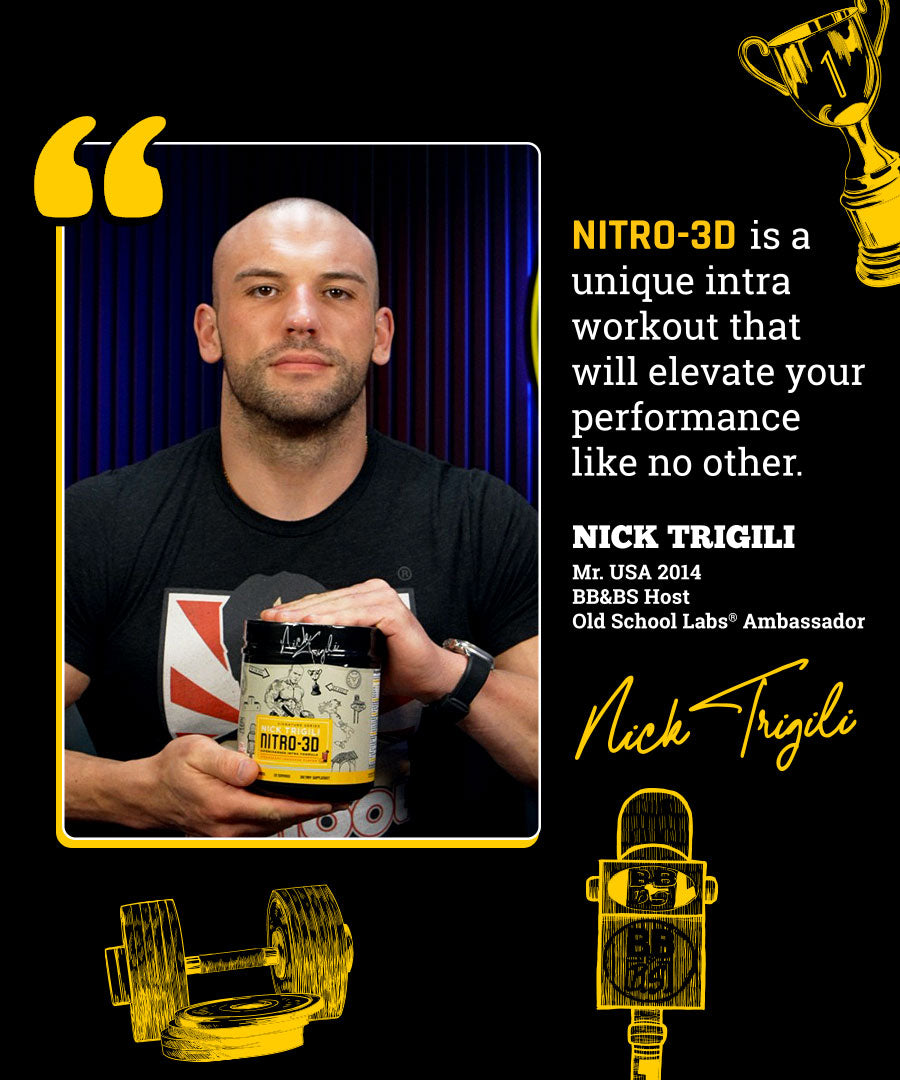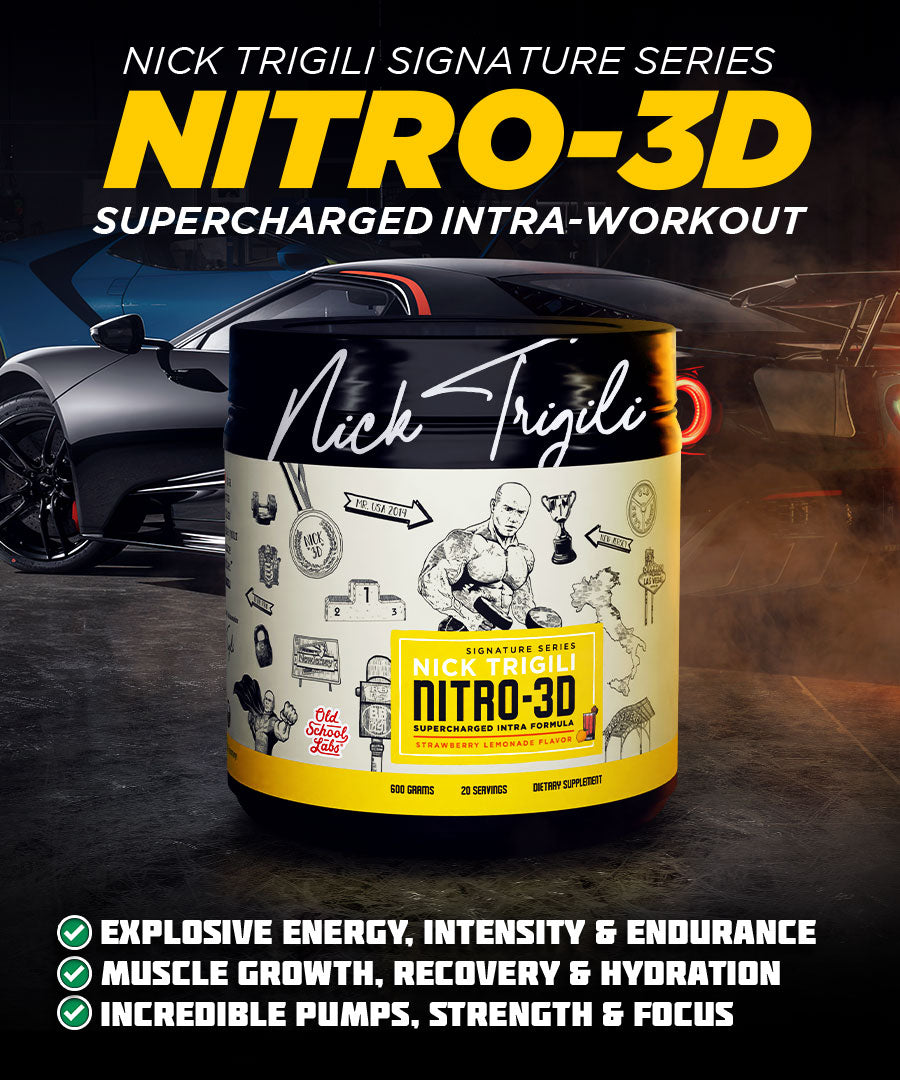 Intra-Workout + Anabolic Formula
Nick Trigili Mr. USA Stack
& free shipping (U.S. only)
This stack includes Nick Trigili's signature NITRO-3D intra-workout and "NATTY" a
nabolic formula.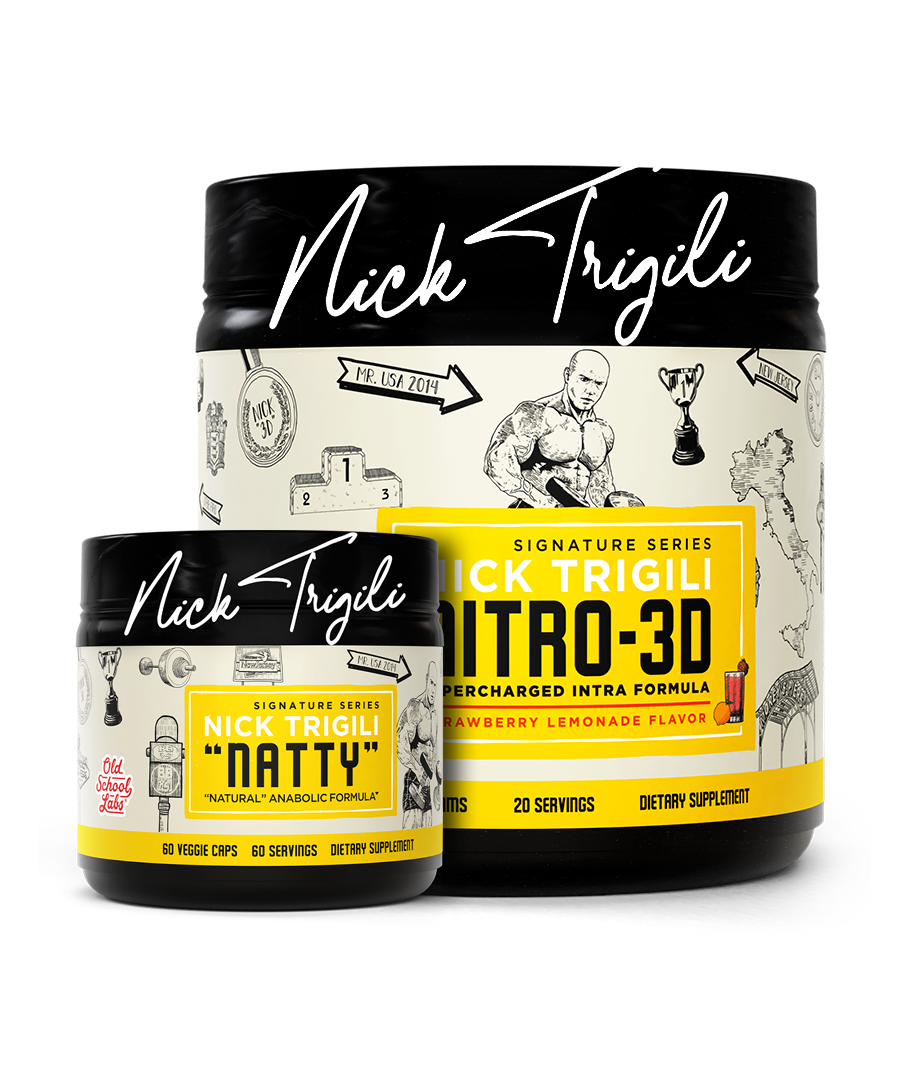 Stack Details
NITRO-3D
NITRO-3D is an unmatched, supercharged intra-workout formulated to help you push harder and further than ever during your workouts. Experience heightened energy, delayed fatigue, amplified recovery, enhanced hydration, and improved muscle growth in an all-in-one delicious intra-workout supplement. More Details →
Directions: Drink 1 serving during workout
---
"NATTY"
Whether you're a natural athlete considering their first cycle, or an enhanced athlete looking to keep progressing while you're off-cycle, "Natty" is a groundbreaking natural supplement that gives all athletes a legal, natural alternative to underground anabolics without any unwanted, internal & external, side effects. Formulated using a blend of meticulously selected ingredients, "Natty" is the game-changer you've been waiting for! More Details →
Directions: Take 1 capsule 2 times per day
---
Frequently Asked Questions
An intra-workout is a supplement designed for athletes or active individuals to consume during intense and prolonged training sessions where maintaining optimal energy levels and minimizing muscle breakdown is crucial. Properly formulated intra-workouts typically contain a blend of carbohydrates, amino acids, and electrolytes to help fuel and hydrate the body. They provide several benefits, including increased endurance, reduced muscle fatigue, enhanced hydration, and better recovery, making it an important addition to your workout supplement arsenal.
---
To be blunt, many intra-workouts on the market are very basic in the sense that they only add extra sodium and electrolytes along with your standard BCAAs. NITRO-3D is next level; not only are you getting patented fast-digesting carbohydrates to keep you fueled and energized, but you're also getting BCAAs, EAAs, and a full blend of patented and essential electrolytes and hydration ingredients. NITRO-3D is truly unlike any other intra-workout out there.
---
NITRO-3D is for those looking to elevate their workouts by providing their body with the means to push harder and further. This intra-workout is specifically formulated to help fight fatigue, support recovery, improve hydration, and prevent you from hitting the wall halfway through your training session. To use NITRO-3D, mix one scoop with 14 to 18 ounces of water and drink during your workouts.
---
No, "Natty" is a natural anabolic formula designed to deliver you PED-like results, without any of the PEDs. It is also a great off-cycle support supplement if you happen to be cycling off of PEDs.
---
Taken as directed, "Natty" is 100% safe to use & is formulated with carefully selected ingredients sourced from natural sources. If you have any pre-existing medical conditions or are taking any medications, it is always recommended to consult with your healthcare professional before starting any new dietary supplement.
---
Commonly, users start experiencing noticeable improvements within a few weeks. The majority of them experienced visible results within less than a month.
---
More Questions?
If you have any questions about this product please feel free to get in touch. At Old School Labs™, we pride ourselves in the quality of our products and our customer service.